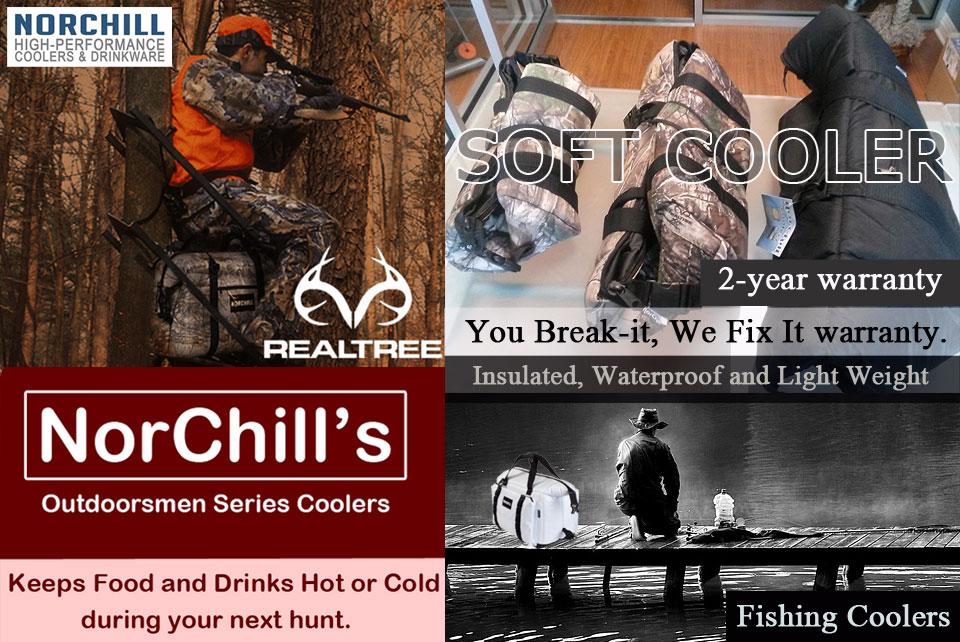 The fact that technology is changing practically everything. And if you fail to recognize it, look no futher than the old faithful standby, the cooler for picnics, going to the beach or traveling.

Pretty much every one of us in our 40s and above remember bringing along a hard- cooler that took two people to navigate, weighed up to 50 lbs when fully packed, and half the time the ice melted. Of worse, there were those flimsy Styrofoam-coolers with the beer ads on them that seemed to fall apart before you even left the store.


Compare that with the modern soft cooler or soft sided cooler from Norchill and you will notice a world of difference. A soft sided cooler or soft-cooler is not made of plastic but rather are made of durable tarpaulin. Strong, waterproof, yet very light, not only does a cooler bag weighs a fraction of what a hard cooler weighs, but their soft nature allows them to be packed in your SUV or trunk in ways a plastic-cooler can't.

Multiple Uses

There are many uses for insulated cooler, travel cooler, a beach cooler bag, a camo cooler, and a lunch cooler bag.

For example, soft sided, portable coolers are fantastic as a golf cooler bag. Having a portable cooler along to keep you cool and hydrated when golfing and the temperature is above 90 not only makes practical sense, but the light nature of these bags is the only way to store a golf cooler bag.

Are you going out on a boat? A boat cooler insulated bag makes perfect sense when out in the sun. Norchill makes marine cooler bags that stand up to the heat, the wind, and the corrosive sun to keep your drinks and sandwiches cool. A boat cooler or marine cooler practically pays for itself on just one outing on the water, keeping you hydrated and keeping your food cold.

Going out deer hunting? Norchill makes it's patented RealTree cooler for the outdoorsmen. A light, camo cooler, the Norchill RealTree cooler is perfect for hauling up in a tree stand, something you would never consider with a hard-cooler.

Going to the beach or out camping? You want a beach cooler bag that holds plenty of drinks and food, like the large, 48-can 25" x 13" x 19" cooler bag. It weighs well under two pounds, and packs enough to keep the entire gang filled.

On the other hand, if you are going hiking, you want a portable cooler like the AIR-SERIES backpack lunch cooler bag. They are incredibly light, and easy to carry with their revolutionary backpack design.

For the best travel cooler, most couples select a small, 12-can insulated bag or the medium-sized 24 can bag for their choice of the best small cooler. Some couples chose the medium size- because it offers more space as the best small cooler, but others just want to go with the minimum.

The best part of Norchill however, is that there is an insulated cooler for everybody.

Easy to clean

Another part of the technology is that Norchill insulated bags are easy to clean. Remember the amount of hard-coolers you've thrown out because they developed mold and mildew inside.

Norchill coolers are made of the same strong tarpaulin coated surface, inside and out. To clean the outside and the inside, all you need is a good hose, some water, a soft brush and some mild detergent, being careful never to clean the bags with anything containing chlorine or bleach.

The bags are stain-resistant, but will get dirty while being used. So be sure and clean them as doon sd you get home so stains don't set in.

Zippers can most easily be cleaned with a soft toothbrush and some water. After cleaning the zipper, add a bit of mild lubricant to keep the zipper action working to factory specs.

The inside are cleaned just like the outside, using water and mild soap.

Once the bag is cleaned be sure and hang the bag upside down with the zipper open to be sure there is no trapped water left within the bag.

When you think the bag is ready to store, take a couple of pieces of paper towel and go over the inside again to make sure there is no water left inside the bag.

Norchill also sells soft bags for fishing, as well as bait cooling bags. In addition, they have their own Artic Ice Packs, which are extremely efficient at keeping things cold, and will keep you from having to run to the convience store all the time to buy ice. Not only that, but ice melts, causing water to drip into everything, and ice is much heaver than the ice packs.

A Fantastic Warranty

Of course, you can buy other soft bags besides Norchill, but one of the reasons to consider the Norchill brand is their warranty.

Not only do you get a two-year warranty, which is one of the best of the industry, but they call their a You Break-it, We Fix It warranty.

This means that for just about any possible reason, including your 10-year-old wondering if a soft cooler bag can be used as a swimming float if enough rubber balls were pumped into it, Norchill has got you covered.

Not only that, but the company guarantees that you will have absolutely no out of pocket expenses in claiming warranty damage. None! How great is that?

Another thing the Norchill company has going for it is 24-hour support. Frankly, most questions can be answered through the knowledge base, but if it isn't there or you can't find it, just pick up the phone and call them.

Trading-up

Norchill is so confident you'll love their products, that they have a Trade Up program. Send them your old leaky ice chest, even that worn-out styrofoam thing that your dog uses as a chew toy and Norchill will l give you 25 percent off on the price of your new, Norchill soft cooler.

Frankly, this is the best deal going in the industry, but another reason you should consider Norchill.