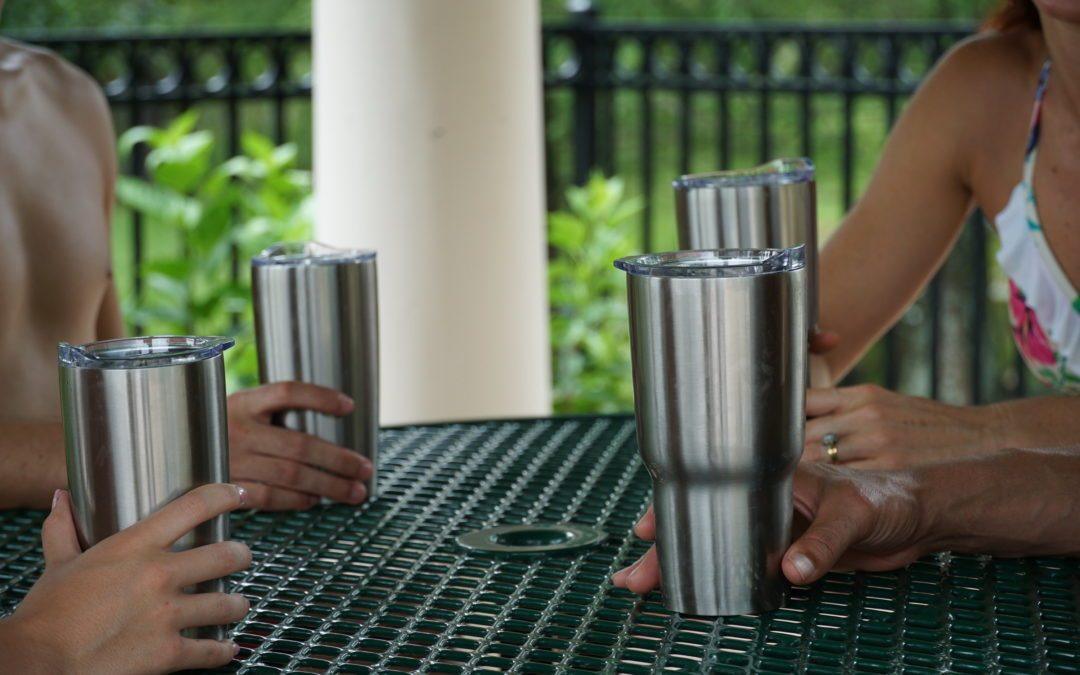 The goal of any great drinking container such as a water bottle or tumbler is to satisfy your thirst in a convenient way. Although you can grab a water bottle straight from the fridge or pantry with ease and take it with you, you will soon find out carrying around a tumbler can be much more convenient when you are out and about all day. Using a tumbler is better for your health, for the planet, and for your wallet. Here's why:


Refilling a tumbler won't kill you
Doctors recommend drinking 8 glasses of water a day to stay healthy, this is equivalent to four water bottles. Besides the fact that you can pour more liquid into a tumbler which means you don't have to run back and forth to the water cooler all day, reusing a disposable water bottle can actually harm you. As you continue to reuse your water bottle, it can crack and tear, breaking down the plastic. When the plastic breaks down in your water bottle, bad bacteria can nest. By slowly allowing these harmful chemicals to creep inside the cracks of your bottle, they leak into your water with the potential of getting you sick. The only way to get rid of this is to wash your water bottle after every use (except not in hot water because this will speed up the development of the bacteria). So, you have two options. Rinse your water bottle with soap and water after each use (which is very hard to do considering the tiny opening you have to work with) OR get a tumbler. Tumblers are made out of stainless steel, not plastic. Norchill stepped it up a notch and made their tumblers out of heavy duty 18/8 food-grade stainless steel, making them corrosion proof and virtually unbreakable so they will never crack and develop bacteria after you use them.
Your drink stays hot or cold all day
Water bottles stay cold for maybe half an hour or so after you take them out of the fridge, and then what? Most people don't drink a whole water bottle in half an hour. Are we supposed to give up our hot and cold drinks because we want to drink from a water bottle? Absolutely not. A Norchill tumbler is designed with a thermodynamic insulation system to ensure a hot or cold beverage for hours (you'll even see the ice still inside!). Some people may like cold coffee, but when it arrives hot they tend to want it to stay hot. There is no way a water bottle can put up with those results, not even the smart kind.

You get to save the planet!
We all want to save the planet which is why we take the time to reuse and recycle (right?). What is a better way to reduce waste then to not have any waste at all? With the amount of water bottles an average family uses a day, their recycling bin can be overflowing by trash day. With a tumbler, you just need to make space in the dishwasher for one cup. Now you're really reducing, reusing, and recycling, our science teachers would be so proud!

You save money
Grocery stores water bottles aren't too expensive, but big-name brands can become pretty hefty if you drink more than a pack in a month. Even if you do opt for the cheap brands, you're still spending at least $10 a month on water bottles. A 20-ounce Norchill tumbler is only $14.99. Buy one and keep it forever. You can fill it up water from the fridge, cooler, or even the sink if you're feeling a little frisky. You'll eliminate your water budget every month and can use that money to treat yourself to something a little extra.

You get to add anything you want in it
Some people like to fill water bottles with other things like vodka since it's clear. But water bottles are meant for just plain old water. Unlike a water bottle, a tumbler's opening is big enough to pour in thicker drinks like smoothies, or coffee, or anything that contains ice. You wouldn't be able to pour a chunky smoothie down a water bottle, and why would you want to anyway? A tumbler keeps your drink fresh and not watered down like the condensation of a water bottle can. Plus, your tumbler is sealed shut so it won't spill, and it won't get ruined if someone accidentally steps on it like a half-filled water bottle would. If you don't want to look odd or perhaps a little cheap, stick to a concealed container and add anything you'd like. Throw a chaser in that vodka, they'll never know.


If you have never had a tumbler, try one out for yourself. You can't throw marshmallows into your hot cocoa if you're putting it into a water bottle. Can you really enjoy hot cocoa without marshmallows? If you drink anything other than water, want to save the planet, or even save some money, then consider getting a tumbler. It won't break the bank if you want to try it, and you'll be able to enjoy hot or cold drinks all day, how refreshing!