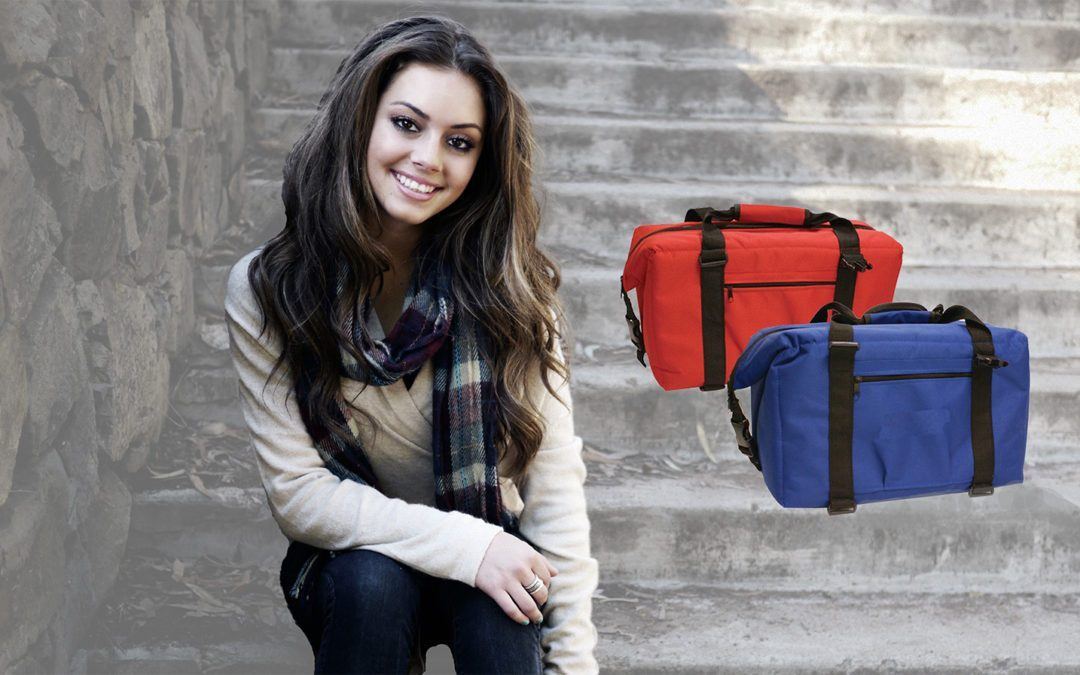 Keeping food cold is important. Keeping food at the proper temperature helps keep food safe. When you are having a picnic, or just packing a lunch for your child to take to school or for you to take to work, having a soft sided cooler makes transportation easy. 
A portable cooler offers convenience that a hard cooler does not offer. Being able to fold it and store it away helps because it is lightweight. You can keep a cooler bag in your car and you can put perishable groceries in it, while you run other errands. 
They come in a variety of designs, such as ones that are worn like a backpack or carried like a purse. Portable cooler bags come in a variety of sizes which make them ideal for many different uses. 
There are many uses for a beach cooler bag that can be used for the beach or different sporting events or going to the park. Packing soda cans in a beach cooler bag is great for a cold drink on the go, and can save money rather than purchasing a drink on the go. 
They have heavy-duty zippers for carrying heavier items. They are puncture resistant and can be used for many years. A travel cooler or a Realtree® Camo Cooler can be used on weekend trips, including camping trips, fishing and hunting trips. 
An insulated cooler is super portable, and you are able to use ice cubes or an ice pack to cool it. Travel cooler bags are constructed of either canvas or nylon. There are insulated cooler bags with two compartments, which is really great because you are able to keep hard objects such as a soda can on one side, and softer items, like a sandwich on the other side, this is a sign of the best small cooler. 
Bringing drinks to a sporting event or keeping drinks cold on a road trip is very convenient with a portable golf cooler bag. Sometimes you want to get out the door, and it is much easier to grab when trying to get out the door than trying to load up a big hard sided cooler that can barely fit in your trunk. They are much easier to store also, they can fold down and be stored in a drawer or a cabinet, or kept in your car. A golf cooler bag is convenient when you are going golfing or even to watch sporting events. 
An insulated bag, such as a lunch cooler bag, can be helpful if you are invited to a party or a potluck, you can easily pack your dish in the insulated bag and keep it cold, until it is ready to be served. Insulated bags, can also help if your power goes out, you don't want to risk losing your groceries, and dry ice can be very expensive. 
A camo cooler is ideal for when you go hunting, or even hiking in the woods. A RealTree Camo Cooler can easily blend in with its surroundings, a quality camo cooler is puncture resistant so you don't have to worry about setting it down on the ground. 
A cooler bag is made with a lightweight and comfortable design. Many of the midsize and large portable coolers come with shoulder straps to make transporting it easy. 
They are necessary for today's busy lifestyle (cooler bags make life easier). Going from school to work to extracurricular activities, and still trying to eat a healthy diet, is difficult. By planning ahead and packing it, you could save money and calories instead of eating from take out. 
The best small cooler vary in prices depending on the capacity and the materials used and how good the quality is. The best small coolers come in a variety of shapes which can differ depending on its use. Are you planning on using it for carrying mostly soda cans or a variety of items. If you plan on using it for soda cans, then the soft cooler you should try to purchase should be one that is more cube shaped. 
Most Realtree Coolers are used for the outdoors, though they do make a fashion statement as an accessory for many different applications, whether taking it to the office or on a road trip. Realtree coolers are used while hunting, one can be used for your snacks and drinks and one can be brought along to store meat, just put in big ziplocs, and then on ice in an insulated cooler bag. 
Fishing is a hobby that a lot of people enjoy, spending an afternoon or day out on the water can be relaxing. A marine cooler can be just what you need while out fishing (cooler bags make life easier), you definitely need to have some food and drinks with you, a marine cooler is perfect this. A soft-sided marine cooler can also help you store fish after its been caught. Again wrapping it in ziploc bags then storing it on ice will help keep it nice and cold, until you get back to land. 
Spending the summer days on a boat is a lot of fun, and it helps to have a boat cooler to keep the food cool until we are ready to eat. Boat coolers come in a variety of sizes. Depending on what length of trip you will be taking, you should own a few different sizes. Boat cooler bags are very convenient and helpful. 
If you do decide to own multiple sizes of soft coolers, the smaller coolers can fit inside the larger ones and make storage easy. Your lunch cooler bag can fit inside your road trip bag. Once you buy one you will wonder how you ever lived without one. cooler bags make life easier, if you have a soft cooler and a refillable water bottle, you can go about your day, without wasting time and money stopping while your out because you are thirsty or hungry. A little planning ahead can go a long way. You can even pack your soft sided cooler the night before and leave it in the fridge and just grab it on your way out the door. The best small cooler bags make life easier. 
If your on the go all day and then you want to stop at the store and grab something, you can always repack your cooler, and ensure it stays it cold and fresh. Soft sided coolers are flexible and will accommodate different sizes of containers, which helps make them really customizable.