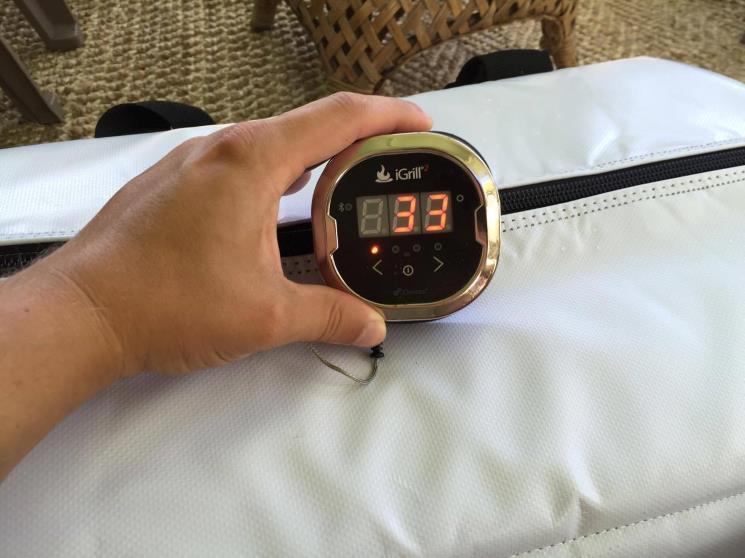 Editor's Note: This review comes to you from Chris R., a happy NorChill customer in Florida, U.S.A. The original review was posted to TheHullTruth.com as a completely unsolicited review. What you're about to read is the customer's summary of that original review. If you're looking for the best soft cooler on the market, this is a good review to start with. The performance characteristics of other NorChill coolers are nearly identical to the cooler featured in this review.
I purchased a large marine soft cooler BoatBag in August 2016. I have a lot of coolers, big, small, rotomolded, etc., but I was looking for something I can easily throw in my truck or onto the boat for a quick trip. After researching all of the soft cooler brands, I came across NorChill and they were offering a promotion at the time. I saved big money on the other brands (50%+) and figured I would give it a try. I live in Florida so it arrived at my doorstep in about 2 days.
I pulled it out of the box and was happy with its construction. It's well built. The zipper is strong and the stitching looks good. It arrived early on in the week and I was antsy to try it so I figured I would do some tests on it at my house before I took it on the boat.
My first test was for heat retention. I filled it full of hot water which measured 133 degrees from the tap. I was astonished to see it kept the water temperature at over 100 degrees for 24 hours inside my house which was 76 degrees inside at the time. I had a thermometer in it the entire time and noticed it would lose just about 1 degree per hour. About 18 hours into the test it jumped to 2 degrees per hour.
                     NorChill Large Cooler Bag Heat Test - Photo 1
                                NorChill Large Cooler Bag Heat Test - Photo 2
                                NorChill Large Cooler Bag Heat Test - Photo 3
                                NorChill Large Cooler Bag Heat Test - Photo 4
                                NorChill Large Cooler Bag Heat Test - Photo 5
                                NorChill Large Cooler Bag Heat Test - Photo 6
My next test was for cold retention. While this cooler will easily hold 20+ lbs of ice, I only had a 10lb bag left at home. I threw the ice loose inside my bag and set the bag on my back porch. That day the temperature was between 85-90 degrees. I checked the bag 4 hours into it and I had lost only 1 cup of water. I checked it again 8 hours into the test and I had now lost 5 cups of water. That translates to about 2.5 lbs of ice. 
                         NorChill BoatBag Cooler Bag with 10 lbs of Ice
So, after 8 hours in 90-degree heat, I had only lost 25% of my ice. I did my final check 12 hours into the test and still had half of the ice left. I was very impressed with how it held ice for so long. Obviously, you will get quicker melt if you load in warm drinks or are opening it up every few minutes. But, I am confident it holds ice much better than any other soft cooler I have owned in the past.
Conclusion
This is a well-built cooler, I am happy how it holds both ice and heat. It has tons of space for a day's worth of food and drink.
Be mindful of its size. It's a good size, and there is plenty of room, but if you fill it to the top with ice and drinks, it gets very heavy. I bet it was 60lbs+ when I loaded mine to capacity with ice and drinks. I would recommend not filling it to the top if you have to carry it far. However, when I filled mine up I had no worry that the strap could handle the weight. At capacity, it is perfect for a tailgate or to sit on the boat, but it will be challenging to carry it out onto the beach from the parking lot.
Another thing to consider is that the cooler is not spill proof, some other brands claim to be (NorChill does not claim to be) but if you thought it might be, it's not. This isn't an issue to at all to me but just something to consider if you plan on checking it on an airplane.
I took it on the boat on a Sunday with 20lb of ice and a homemade, 8lb gel ice pack, bringing beers, water, and lunch. We were out from 11am-5pm and I had the bag on the deck in full sun too. We were in and out of it the whole time. I was tired when I got home, so I just I threw the bag in my foyer. I went to empty the extra beers and water Monday morning and still had 5-8lbs of ice.
Overall I am very happy with the cooler. It holds ice and heat well. It's constructed well and I know I can put it through its paces for years to come without issue. I have turned a fishing buddy and family member onto them already and they are as happy as I am.