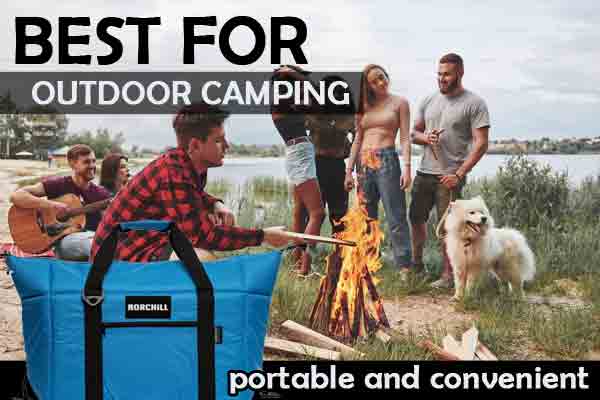 Travel cooler
offer you the versatility to transport beverages and snacks in an organized, easily accessible fashion. The bags make cleaning and maintenance simple with their easy-to-clean materials and removable liners, collapsible design, space-saving trackability, and collapsible design - making them the ideal companion whether embarking on outdoor adventure, beach trip, or tailgating at a sporting event!
Overview of Cooler Bags and Hard Box Coolers
Coolers, like
soft cooler
, are made from durable fabrics like nylon or polyester and feature insulated linings and zippered openings to maintain internal temperatures. These bags often feature adjustable shoulder straps or handles to make them easy to transport and transport food and beverages between events, from personal coolers to larger coolers suitable for accommodating Large gatherings of people.
The bags are known for their portability, lightweight construction, and versatility. The soft cooler can easily fit into tight spaces like car trunks and picnic areas. At the same time, some even include extra compartments or pockets to store items such as utensils, napkins, or sunscreen. Furthermore, their collapsible design enables simple storage when not in use.
Hard box coolers (also referred to as rigid coolers or ice chests) are made with sturdy materials like hard plastic or metal and feature solid walls and hinged lids for secure and sturdy storage. Offering excellent insulation properties that ensure long-term ice retention, hard box coolers come in various sizes from personal size up to large-capacity ones suitable for extended outdoor trips or events - ideal for
camping
,
boating
, and tailgating trips!
Additionally, their ruggedness makes them great for rough handling. They are often equipped with features like built-in cup holders, drainage plugs, and heavy-duty handles - making these ideal companions! Both bags offer distinct advantages that help individuals determine which suits their needs and the activities they plan on engaging in.
Advantages
1.Portability and Lightweight Design
Travel cooler bags
are much lighter than their hard box counterparts, making them much simpler to transport. Bags, such as portable cooler, beach cooler bag, and golf cooler bag, feature shoulder straps or handles to facilitate hands-free transport; their lightweight design, especially lunch cooler bag, is beneficial in activities like hiking, camping, or fishing, where mobility is essential.
2.Flexibility and Storage Capacity
The bags offer greater flexibility and storage capacity than hard box coolers- including the best small cooler, making them suitable for tight spaces such as car trunks or picnic grounds. They feature multiple compartments and pockets that help organize items more efficiently. Their large capacities make the bags an ideal way to transport food, beverages, and other supplies with you on any journey.
3.Simple Cleaning and Maintenance
Portable cooler
,
lunch cooler bag
,
soft sided cooler
, and best small cooler are usually constructed of materials that simplify cleaning and maintaining them. Some models even feature removable liners for easier washing - adding convenience during extended trips or outdoor adventures! The ease of maintenance adds further ease when using these bags.
4.Collapsible and Space-Saving Design
Golf cooler bag and soft sided cooler feature collapsible designs to help save storage space when unused. This feature makes them ideal for travelers or individuals with limited storage areas who want an accessible way of carrying all their supplies in one bag. This feature makes these coolers especially beneficial when traveling or packing light; travelers and individuals with limited storage can easily pack the coolers and other gear or supplies into one space-saving container.
5.Eco-Friendly and Sustainable
Beach cooler bags have eco-friendly features that make them more sustainable than hard box coolers. The best
beach cooler bag
is made from recycled or recyclable materials, reducing their environmental impact. Some bags are also designed to be reusable and durable, minimizing the need for single-use plastic or disposable coolers. Opting for these bags can reduce waste and promote a greener lifestyle.
6.Versatility and Multi-Purpose Use
An insulated cooler is not limited to keeping food and beverages cool. They offer versatility and can be used for various purposes beyond just cooling. The insulated bag offers insulation properties that work in reverse, keeping hot items warm. Additionally, the insulated bag makes the insulated cooler perfect for transporting hot meals, keeping takeout food warm, or carrying heated beverages during colder seasons.
The insulation can also help protect temperature-sensitive items like medications or electronic devices. With their multi-purpose functionality, the bags become versatile accessories that cater to many needs beyond simply cooling items.
7.Easy Access and Convenience
Camo cooler features zippered openings or flap tops to enable fast, convenient grabbing of drinks or snacks without fully unpacking their entirety - which makes camo cooler invaluable when working in fast-paced environments.
Considerations for Target Activities
When choosing between a hard box and a cooler bag, it's essential to consider what activities will occur. Different activities have unique requirements that must be considered when making this decision.
1.Outdoor Adventures
Soft sided coolers or marine cooler are an ideal choice for outdoor activities that require mobility, such as hiking,
camping
, or
fishing
- their lightweight construction allows easy transport so that supplies can remain comfortable to carry for extended periods.
2.Space-Saving Features
The
Realtree cooler
offers flexibility and space-saving during outdoor adventures, providing flexibility and convenience. They fit snugly into backpacks or can be tied around other gear, offering added flexibility for outdoor excursions.
3.Durability and Weather Resistance
Boat cooler and marine cooler bags are constructed with strong materials that can withstand outdoor elements and feature water-resistance or waterproof features to safeguard food and beverages against unpredictable climate shifts.
4.Coolers for Beach Trips and Picnics make Easy Maneuverability
Boat cooler bags easily transport coolers across sandy or uneven terrain with shoulder straps or handles, enabling users to carry them comfortably, even for long distances.
5.Bags Are Ideal for Sports Events and Tailgating
Soft-sided coolers provide portability and space efficiency at sporting and tailgating events, where space and mobility are paramount. Their compact size enables them to fit easily in crowded spaces, while their lightweight construction allows easy transport without hassles.
In conclusion, cooler bags provide many advantages over hard box coolers for activities requiring mobility, flexibility, and convenience. Their lightweight design and portability, for example,
Realtree cooler
, make them the perfect companions on outdoor adventures such as beach trips, picnics, and sporting events - not to mention being easy to carry around tight spaces thanks to additional pockets that provide greater organization.
If you're shopping for high-quality bags, look no further than NorChill Coolers and Drinkware on Norchill.com (
https://www.norchillcoolers.com/soft-sided-cooler-blog
). NorChill provides durable yet innovative bags designed to meet any outdoor activity imaginable; with them comes convenience and versatility specifically tailored for you - choose NorChill to make sure that functionality and style meet for an unforgettable journey!
Are you tired of hauling around a heavy, bulky bag whenever you set out on an exciting outdoor adventure or relaxing picnic? Consider purchasing a cooler bag as the solution. This post will outline its advantages over traditional hard box coolers for activities you love participating in! The bags are designed to be portable and convenient. Their lightweight construction makes them easy to carry while hiking or strolling along sandy beaches.