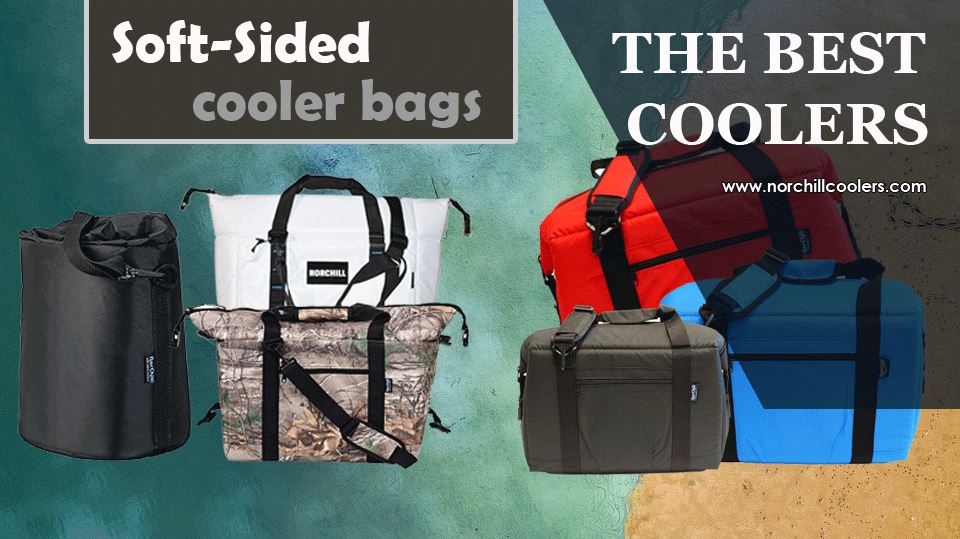 For outdoor enthusiasts, especially in summer, it is essential to keep food and drinks cold while away from accessible refrigeration. There is a plethora of bonuses to a soft cooler instead of a hard-sided cooler for any adventure. A soft cooler provides added flexibility and portability, meaning that you can go farther for longer. This article will highlight the many benefits of a cooler bag versus a hard bag. 


In the past, cooler bag products on the market were not strong enough to compete with their hard-sided relatives. With increases in technology, however, a soft sided cooler can be a fantastic outdoor accessory. Storage, for instance, is a great benefit of the soft sided cooler. When full, their handles make them easy to carry around or stow in a car or boat. When emptied, you can stow your cool bag anywhere, as it isn't rigid. Thus, it can be squeezed into small spaces or folded up. For those who need a cool bag, but also work outdoors in a small space, this can be a huge bonus. For instance, using these as a golf cooler bag, or boat cooler would allow you to make the best usage of a small space. A golf cooler bag can be stowed inside a golf cart or in a club bag. A boat cooler can be stowed in the small, storage cabinets on most vessels. In similar situations, a hard-sided cool box would take up a significantly larger footprint. 

New technology in the different varieties of marine cooler keep goods much colder than those of even a decade ago, especially when paired with an ice pack. A marine cooler will typically come with a strap, as well as a zippered or fold over bag. The fold over design is like dry bags used to keep electronics and sensitive items dry on kayaks or boats. Insulated cooler designs are often made with heavy-duty materials as well, ensuring that they can withstand harsh outdoor conditions. The best small cooler for you will be one that combines these heavy-duty materials with a smart design. Plus, a UV proof outside material, to make sure that your food won't go bad if it sits out in the heat of the day. Finally, the best small cooler is one that you will use, so make sure to get out there! 

Obviously, a soft, travel cooler is significantly cheaper than most hard-sided coolers. There is a limit to the size of a travel cooler, however, but they are way easier to carry than massive, rigid coolers – even those with wheels. Despite the lower price and lack of size, these can keep food cold for two days on average, impressive for a soft-sided cool bag. If you are using these as a beach cooler bag, there is plenty of insulation for a single day, even out in the sun. A beach cooler bag will also be easy to carry out on the sand, whereas a hard cool box (even with wheels) will be an arduous affair. For the best results with any insulated bag, regardless of brand, would be to use it in the shade. Keeping your insulated bag out of direct sunlight will ensure that the contents stay colder for longer. 

There are tons of outdoor uses for your portable cooler. For hunters, a camo cooler may be an awesome option. A camo cooler will blend in with your surroundings, whereas some neon-colored options may not. It will be a great addition to any hunt to have cool snacks and drinks. Plus, if you are fishing, it will be a great place to store worms and other bait. Some models even have backpack-like straps, making them super easy to carry long distances. If you work outside, a lunch cooler bag might be a great option. It will mean that you no longer must carry only dry goods for your daily lunch. A lunch cooler bag also means that you won't need to rely on nearby restaurants for takeout, which can be expensive and unhealthy. With a high-quality portable cooler, you don't have to worry about your lunch going bad, either. 

There are literally so many activities that would be benefitted by the addition of a realtree cooler that it is impossible to list them all. From tailgating, to sporting events, to camping, hunting and fishing, road trips, and more; a realtree cooler is a huge benefit. The ability to keep a drink cold is a fantastic addition to most trips. Plus, having cold ingredients present on a camping trip truly ups the ante on the variety of meals that you can make as well as their taste. Regardless of how you spend your time in the outdoors, consider picking up a realtree cooler to make the time spent even more refreshing and enjoyable. 


The last two decades have been remarkable for insulation technology. Both hard-sided and soft-sided coolers have become drastically more effective and can keep food and drinks cold for several days. Additionally, soft-sided coolers offer more functionality and freedom than hard-sided coolers. The ability to fold or crush down an empty soft-sided cool bag is a great benefit, as they can fit in smaller spaces when not in use. This is a benefit not just while on the road, but also while storing it in your house. Carrying handles combined with a smaller body and lighter weight also make these much easier to transport. You wouldn't necessarily want to drag a 45lb hard-sided cool box through the woods, but a lighter soft-sided one would not be such a burden. 

Nearly all activities and occupations can benefit from a soft-sided insulated bag, as it allows you to take cold food and drinks everywhere without worrying about finding adequate refrigeration. Whether this is to a campsite or the construction site is up to you. Regardless of how you plan to use your soft-sided cooler, there are benefits of using one that can make your outdoor activities more fun and more enjoyable. There's nothing better than a long day on the trail that ends with a cold beer and a cookout and for that, you need an insulated cooler