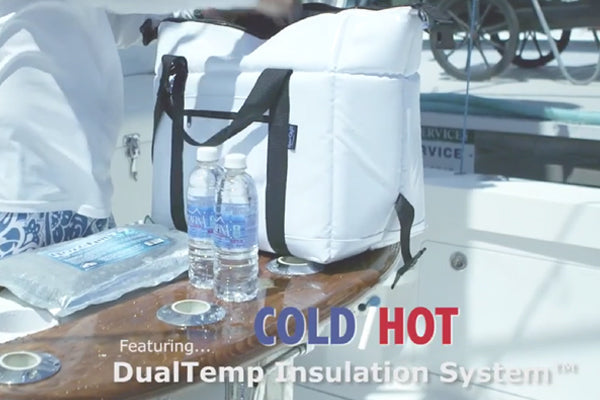 Why a Cooler Bag is Better for Active Lifestyles
Are you active and enjoy outdoor activities such as boating, fishing, hiking, camping, and sports? Do you attend concerts, festivals, and fairs often or travel often? If this describes you, a marine cooler that keeps drinks and food fresh and cold may be essential - which one to choose: a hard box type of insulated bag or a soft sided cooler? In this article, we'll outline why soft-sided bags may be more suited to active lifestyles than hard-box coolers.
Benefits of a Hard Box Cooler
1. Durability

One of the key advantages of a hard box travel cooler is its durability. Made of sturdy materials such as hard plastic or metal, a hard box marine cooler is built to withstand rough handling while providing both seating and table surfaces - ideal for camping trips, hikes, tailgating, and serves as a golf cooler bag among other events where something sturdy to store food and beverages may be required.
2. Larger Capacity

A hard box insulated cooler offers a larger capacity than its soft travel cooler counterpart, making it the ideal solution for larger groups or longer trips. You can pack more food and beverages into it. Indeed, some even come equipped with separate ice compartments. Thus, your items stay separate from each other. This makes hard box coolers the ideal option for family reunions, fishing excursions, or trips to the beach with multiple people in tow!
3. Improved Ice Retention

A hard box insulated cooler has a greater ability to maintain ice levels for an extended period than its soft insulated counterpart due to being better insulated and featuring thicker walls. Some hard box coolers even include drainage systems that simplify removing melted ice without tilting the insulated cooler over. This makes hard box coolers the ideal choice when tailgating or camping, where fresh ice may only sometimes be available.
4. Easier to Clean

Hard box coolers are much simpler and faster to clean than the soft travel cooler bags, requiring only damp rags for a thorough scrub and disinfection with a mild cleaner. Furthermore, their smaller surface area makes them less likely to retain odors than their soft cooler carrier counterparts. Thus, it becomes ideal for camping and fishing where fish or other smelly products need storing!
5. Can be Used Both as a Seat and Table

Hard box coolers are designed to serve multiple functions, one as a seat and one table. This makes them perfect for tailgating events with limited tables or chairs. They can also serve as seats while camping or fishing, offering versatile solutions to fit into an active lifestyle.
Why A Soft Beach Cooler Carrier Is Best Suited for Your Active Lifestyle
1. Lightweight and Portable

A lightweight and portable camo cooler makes it the ideal companion for daily life. You can easily carry it on your shoulder or in your hand for trips to the gym, office, park, or playground; plus, it takes up minimal space in your car or locker, ensuring that fresh food and drinks will always be within reach!
2. Versatile Design

Being the best small Cooler bags, they offer versatile designs and sizes to accommodate the daily life needs of consumers. From compact models that hold snacks and beverages for quick trips to larger ones that provide ample room, a golf cooler bag can simplify life! Several of today's soft cooler bags even include additional compartments or pockets to store utensils, napkins, or condiments. This provides the ideal way to stay cool during your workday or park visit!
3. Prolong Freshness for Longer

A beach cooler bag is designed to keep food and drinks cold for as long as possible, using insulated material which helps regulate their temperature to ensure they remain fresh throughout the day. Some boat cooler bags even feature removable ice packs or gel packs, which can be frozen to further chill your food and beverages.
4. Easy to Maintain

A bag's ease of care makes it an excellent addition to your daily lifestyle. Wipe down with a damp cloth or disinfect with a mild cleaner to maintain hygiene and free from bacteria build-up. Many cooler bag allow machine washing, keeping them fresh even simpler!
5. Environmentally-Friendly Solutions
A
boat cooler
carrier is an eco-friendlier alternative to hard box coolers, as its materials are biodegradable and recyclable. Furthermore, production and transport require significantly less energy than their counterparts making this option a more sustainable solution for everyday life.
6. Perfect for Any Occasion

As the best small Cooler bags, they serve most of the everyday life, from gym sessions and work meetings to outdoor adventures like hiking or camping trips - no matter the season! A soft sided cooler provides the ideal means for keeping food and drinks cool throughout the day and can even be an indispensable companion when on the go.

They're great companions when heading off for gym class, meetings, or lunch at work! And you never know when one might come in handy when camping or picnicking too. These features make a carrier an indispensable component of everyday living.
7. Superior Insulation

The insulation capabilities of a boat cooler carrier make them an ideal option for keeping your food and drinks cool during outdoor activities. Due to the heavy-duty materials, it is made in, the insulation of a beach cooler bag makes it the ideal option for outdoor trips and camping.

Contrary to popular belief, soft camo cooler bags may offer superior insulation than hard box coolers. Made up of multiple layers of insulating material that trap cold air inside. They have an airtight seal to keep warm air at bay and cold air from escaping, soft coolers offer better temperature regulation than hard box coolers.
8. Maintain Freshness

In addition to the insulation capabilities, a soft sided camo cooler is the ideal solution for maintaining the freshness of your food and drinks. Coolers bags are designed with designs that are easy to clean and maintain, meaning they will always look clean and fresh.
9. Aesthetics

A soft insulated bag look much nicer than hard box coolers. There is an impressive variety of designs and colors available. These range from camo coolers to Realtree cooler. This makes bags like realtree cooler among those that matches your style and personality easier. You can even personalize it by customizing it with your name or logo!
Final Thoughts
Marine cooler bags have advantages that beat hard box portable cooler bags when planning camping or
fishing trips
. However, the hard portable cooler bags have good durability, larger capacity, improved ice retention, and doubled functionality as a seat or table.
However, a soft-sided bag may be the better option for your active lifestyle, such as serving as a lunch cooler bag. It is lightweight, portable, flexible, provides better insulation, is versatile enough for various activities from beach trips to grocery shopping, and looks great. Besides, it can be customized with unique designs for added flair! So, when selecting your next lunch cooler bag among other uses, consider investing in this versatile accessory to support active living.