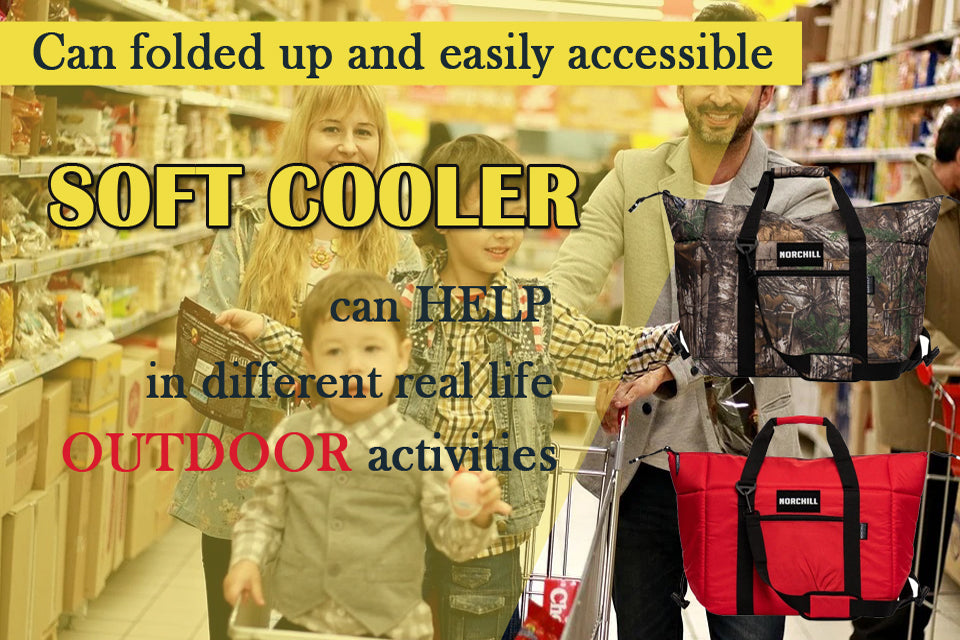 An active lifestyle calls for a soft cooler that is just as active to keep all of your energy food and water cool. If you're always on the go and outdoor activities are your favorite thing to do, you've come across the problem of dragging around a heavy hard cooler for miles and you know it can be a burden. Whether you're hiking, boating or camping, a soft cooler will be more efficient and convenient to use than even the best hard-sided coolers. Traditional hard-sided coolers are inconvenient, clunky and heavy. This doesn't come close to the usability of a cooler bag that is soft sided. Soft sided cooler bags are foldable, easy to store, can be used as a hot or cold bag because it is still an insulated cooler. It's a travel cooler that comes in a wide range of convenient sizes that work perfectly for the activity you have planned. Having a cooler bag is the way of the future and if you're lugging around a clunky hard one, you're missing out on a bag that can help you in a ton of different situations. Read on to see how a soft sided cooler can help in different real life outdoor activities.


Golf Bag
Keeping your water and other drinks cool in a soft cooler bag is much more convenient than a hard one on a golf course. You can easily carry your golf cooler bag to your golf cart and put it virtually anywhere without any hassle. You don't need to find a space for your golf cooler bag because it will easily fit on the back of the cart or under your feet. The best part is when you're done, you can fold it up and it won't be in your way for the rest of your golf outing. A soft side cooler bag on the golf course is much more of a portable cooler than any hard cooler you could find. You will not find a better bag for your golf outing than this bag. While your peers are dragging their clunky coolers around and trying to figure out how to fit in their golf carts, yours will be folded up and easily accessible.

Boat Bag
Whether you're fishing on your boat or taking the family out, a boat cooler is more convenient a works better than any hard box one. You can select a boat cooler from a huge range of sizes that work the best for you. This means that it's easier to store any size of fish you might catch or some drinks for your family so you can spend all day on the water. The materials in this portable cooler are durable and insulated to withstand the heat and still stay cool. A marine cooler bag could work just as well in these same situations. The marine cooler bag is a more cost-effective version of the boat cooler, it's usable if you're fishing without a boat and is still an insulated bag.

Hunting Bag
A camo cooler will blend in perfectly while you sit in a tree stand and hunt. The camo cooler even comes with camo colored strap so it can blend into your surroundings effortlessly. The realtree cooler camouflage pattern is ideal for any hunter or outdoorsman. It's perfect for any hunter or fisher because the realtree cooler comes in three different sizes and is still an insulated bag. You can spend all day in tree stand and not have to worry about your drinks getting warm because of these soft bags, and when you're done with all of your drinks you can fold it up and don't have to worry about dragging it back home. It's the perfect bag for any hunter on the go.

Beach Bag
Keeping your drinks cold is exactly what a beach cooler bag will do. Besides it being a great travel cooler, the beach cooler also has a soft strap making it the best small cooler you can find. It can also be used in other ways besides a beach cooler bag. It can be used to hold personal belongings while you're on the beach. It's very easy to lose personal items while you're lounging on the beach, so having a reliable bag that you can put your things in is a high priority. The beach cooler bag is the best small cooler bag, but can still fit all of your essential beach items like sunblock, your wallet, drinks, sunglasses and anything else you might need.

Lunch Bag
Instead of using a brown paper bag for your lunch, keep your food cold and convenient in a lunch cooler bag. All of the bags are insulated coolers, so using one to keep your lunch cold, or hot, will work perfectly. When you're done with your lunch, you can easily fold your bag and store it without taking up any space. Using a soft-sided bag as a lunch box is the way of the future and more people in the offices are seen doing it. It eliminates the need for a traditional brown paper bag that goes straight into the trash when you're done because it is a reusable bag that is made with materials that are sure to last.

A lunch cooler bag will save your headaches on your way into the office and will make sure the lunch you packed is perfectly cold. It makes it easy to store your lunch under your desk or in your fridge because of how compact and convenient it is. If you don't enjoy getting up and walking to the fridge at work, the lunch cooler bag is so convenient that you can store it next to you all day and won't have to go anywhere to get your cold water or snacks. It's a great insulated cooler that doubles as a travel cooler and can be used for any outdoor excursions like picnics or baseball games. It's the perfect portable bag to keep your food and beverages cold, without being too heavy or hard to transport.

Traditional hard-sided coolers are a way of the past and aren't convenient enough to use in real-world activities. Soft-sided bags are durable, insulated and work perfectly for a number of different activities or events that you have planned and need to keep your belongings cold. Browse the large selection of products at Norchill to see what bags fit your needs the best.