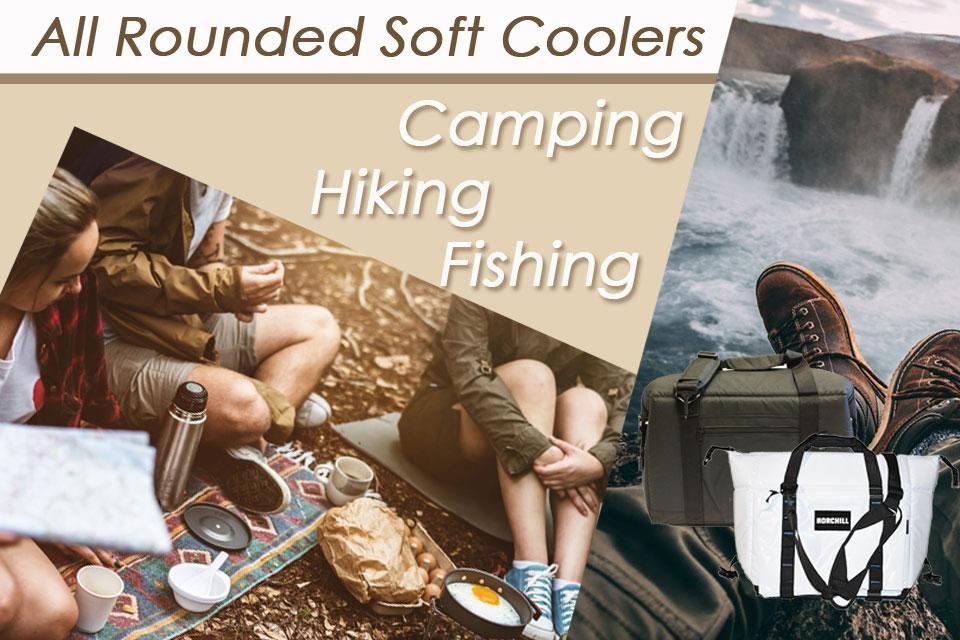 Winter is still a few months away, but that doesn't mean you should not start preparing for it already. The thing about Mother Nature is that it can be unpredictable. Just take this year's example. No one had any idea that the polar vortex would cause Lake Michigan to freeze. But it still happened. People who were proactive were safe during that season. They had taken all the necessary measurements to protect themselves from the cold weather. Others, however, were not ready for it, and they had to bear the consequences.


Luckily, you still have some time to prepare for it. This is especially true for people who have active lifestyles- such as people who love outdoor activities, including going fishing, hiking, or camping, and people who love attending festivals and music events. One common and essential item that such people should keep with them is a soft cooler. 

All the aforementioned activities are time-consuming. And after the end of a tiring day, what better than to have your favorite snacks and drinks, absolutely fresh? You might find different types of portable cooler such as a hard type box cooler, but the following are some reasons why you should not buy it and why a soft cooler bag should be your top priority:

Balanced Temperature

Soft cooler bags are known to keep the food and drinks at a temperature in which they were stored. In simple words, when you open your soft sided cooler bag after you spent the whole day at the beach, you will find your stored snacks and beverages in fresh form. Regardless of whether you are eating a cold meal in a warm room or a hot meal in a chilly environment, you will find it according to your liking. One thing that would be recommended here is to make sure you keep the bag in a fridge so that the food remains at a safe temperature. 

Spill-Free Storage

Typically, a soft sided cooler bag contains a safe closing system. Most of them come with zippered pockets in the front that makes it strong enough to protect whatever's stored in the cooler bag. You would not have to worry about your food sauce or your beverage spilling outside of the bags, even after the closing system fails. As long as the zipper is closed, you are good to go. 

Eco-Friendly

If you are worried about leaving a lot of carbon footprint behind you, then a cooler bag will definitely win you over considering it is plastic-free. To understand how it is eco-friendly, we need to understand how it works. A lot of times people marvel at the fact that a soft sided cooler bag is able to preserve their food, yet there are no wires connected to it. 

The method is really simple: insulated cooler bags are large sized thermoses in which people can store cold or hot food. The bag includes two layers of nylon fabric. Between these two layers, a layer of foamed polyurethane is placed. Due to these materials, the temperature inside the insulated cooler bag is retained. Since they are hypoallergenic and give away no foul smell, it makes them the ultimate bag for storing food. Insulated cooler bags are long-lasting and reusable bags. 

Universal Use

Insulated bag come in a lot of different shapes and sizes, ranging from 6 cans to 30 cans, depending on their price and how people are going to use the insulated bag. When you are not using an insulated bag cooler tote, you can easily fold it and store it. They are also very stylish, and people of all ages can flaunt and wear them. Such best small cooler bags are perfect for all occasions, whether someone wants to wear it to his school/university or even wear it in his office. 

Easy to Transport

One of the biggest disadvantages of having a hard type portable cooler is that it can be difficult to carry it anywhere. Whether you are carrying it in your hand or traveling on a bike with it- it makes your journey uncomfortable. Luckily, with a best small cooler bag, that would not be the case. Due to the small, medium and large sizes of the insulation bags, best small cooler bags can easily fit into different kinds of bags, including sports bags, leisure bags, and fashion bags. 

Tastier Food

A lot of times people complain that after storing their food in a storage bag, it gets a weird taste in it. That is because of the storage bag not being able to preserve the food's freshness. But when you use a portable cooler bag to store your food, you will be able to retain the food's freshness as there would be no odd flavor in the food you have stored. Moreover, if you are someone who likes to enjoy their salad fresh, then you can store the ingredients in a cooler bag and then make a salad when you want to eat it. It doesn't get harder or softer due to being stored in this bag. 

How Can People Use Them?

As we have already mentioned how people can use them for different activities and occasions, here we will have a look at what those activities can be:

Golf cooler bag: People who love playing golf can take their golf cooler bag with them so they can consume their drink to reenergize themselves. A golf cooler bag would prove to be of great help. 

Boat cooler: Out in the sea, while fishing or just enjoying on a boat, it can be hard to get your favorite food without a boat cooler. That is why you need a boat cooler so you can eat your favorite snacks without any trouble.

Marine cooler: Those who have been away from their homes for too long often miss meals cooked at home. With a marine cooler, they can make sure they don't have to. A marine cooler would remind them of their homes even when they are away from it. 

Travel cooler: Travelling can be an exhausting experience, but fortunately, with a travel cooler, it can be made easy by consuming your favorite drinks and snacks whenever you want it. A travel cooler is a friendly and beneficial item. 

Beach cooler bag: Summer sounds fun, but it is also a cause for a person to dehydrate a lot. But with a beach cooler bag, you would not have to worry about it as you can store water bottles in them. Beach cooler bag is the ultimate summer item.

Lunch cooler bag: Not everyone likes the lunch they eat at their office; some people prefer home-made food. With a lunch cooler bag, you can have homemade lunch while it is still fresh and tasty. A lunch cooler bag would help people with their 'where to eat' problems. 

Camo cooler: For people who are looking for a different kind of a design, a camo cooler would do the job for them. A camo cooler would store food while also making the person wearing it look stylish. 

Realtree cooler: Hunting can be a daunting experience. Without a Realtree cooler, it can be even more exhausting. A Realtree cooler is also perfect because of its color, perfect for hunting.