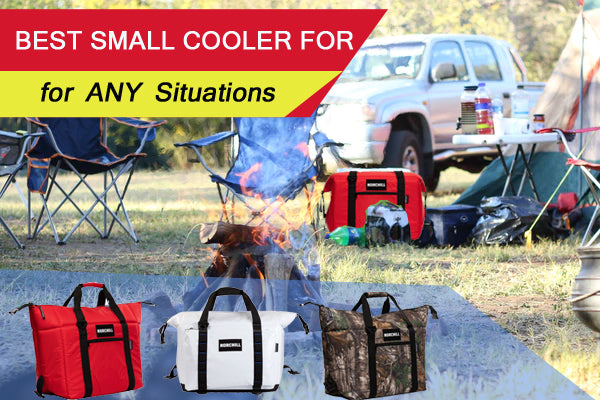 Soft Cooler Bags
An insulated cooler is a great option for anyone who is looking for a good way to keep all of their food and drink items cool while they are on the go. There are different types of portable coolers and portable cooler bags available for purchase both in store and online. Insulated bags are lightweight and they do an excellent job of keeping food and beverages cold for an extended duration of time. A soft portable cooler is a great option for anyone who needs an insulated cooler but does not want to travel with any extra weight.


10 Situations Where It Is Better To Use a Cooler Bag Than a Hard Cooler
There are several situations where it may benefit you to bring an insulated cooler bag. While traveling, participating in sports, or participating in outdoor activities, you may wish to use a soft sided cooler. When searching for the best small cooler for any of these ten situations, you may want to consider a soft cooler. They will often be the least expensive and most effective options on the market.

Situation No. 1: On the Golf Course
It is important to stay hydrated and keep your energy level up while on the golf course with friends, family members, or coworkers. A golf cooler bag is a great way to store cold water bottles, sodas, juices, or alcoholic beverages. When shopping for a golf cooler bag, consider a lightweight and portable cooler bag as an option. This bag will keep your items cool all day but it will also be easy to transport on the golf course.

Situation No. 2: At the Beach
A beach cooler bag is an important essential to include on your beach day packing list. A beach cooler bag will help you to keep all of your beach day snacks and beverages cool, even on very hot and sunny summer days. It will also help to protect your items from sand or water. At beach destinations, snacks and drinks can sometimes be expensive. Packing your own ice cold sodas, waters, juices, and other beverages will help you to stay hydrated, cool, and budget friendly.

Situation No. 3: When You Are Traveling
When traveling, you can roll up an empty cooler bag to put into your luggage. It is unfeasible to bring a full cooler onto a plane, but you can still bring a travel cooler. You can pack drinks and snacks in a travel cooler to consume while traveling by boat, car, train, or plane. You can also use your soft sided cooler bag while you are at your destination to carry all of your favorite lunches, beverages, or snacks.

Situation No. 4: When Packing Lunch for Work or School
A lunch cooler bag is an excellent way to keep up with healthy eating habits at work or school. You can use a lunch cooler bag to pack lunches for children when they go to school or for yourself when you go to work. It is important to store foods at the correct temperature so that you do not get sick. A quality lunch cooler will help you to store food safely and avoid eating out every day.

Situation No. 5: For Picnic Outings
A picnic basket is a classic way to transport all of your sandwiches, fruits, snacks, and drinks to the park for a picnic. One major downside to these baskets is that they do not keep food and beverage items cold at all. Bringing an insulated soft bag to a picnic will help you to keep all of your food and beverage items as safe and cold as possible for as long as possible.

Situation No. 6: During Hunting Trips
When planning a camping trip, you may want to purchase a realtree cooler or camo cooler. A camo cooler or realtree cooler in a soft style will help you to keep a low profile as an alternative to a brightly colored bag while hunting. When hunting, it is important to stay fed and hydrated but you will often be far away from restaurants or grocery stores in the woods during these trips. Bringing a bag of safely stored food and drink will help you to hunt more efficiently and for a longer duration of time. These will also have a cool look to them away from the hunting trail.

Situation No. 7: On Camping Trips
When you go camping, there are many different items that you will need to bring. Food and beverage items are especially important. Some camp sites are far away from civilization and you will not always have easy access to water bottles or cold food items. When packing an insulated bag for a camping trip you may want to include hot dogs or sausages to cook over top of an open fire. You will also want to bring adequate hydrating beverages.

Situation No. 8: When You Go River Rafting, Boating, or Kayaking
While traveling on the water, it is a smart idea to bring along a boat cooler or a marine cooler. These coolers can be used to store fish or other sea life while on fishing trips. They can also be used to transport food and drink items or bait for fishing. A boat cooler can be purchased in a large size or a smaller size. A marine cooler can be found at a high price point or at a lower price point depending on your needs.

Situation No. 9: While Hiking or Backpacking
Depending on the length of your hiking or backpacking trip, you may want to bring an insulated bag for cold goods like food and drinks. When searching for the best small cooler to take hiking, a soft option will be easier to pack up once it is empty. If you are taking a short hike or backpacking trip, your cold goods should stay fresh for the entire time. On longer trips, you can still bring these bags but you will want to consume the items in them early in the trip.

Situation No. 10: During Long Trips
When taking a long trip in the car, it can be annoying to have to stop multiple times to eat and drink. Bringing your own food and beverage items in a portable cold bag will help you to save money and time. It also is often easier to eat healthy during long trips if you have prepared healthy snacks ahead of time. Before a long trip, you might wish to pack healthy snacks and drinks like fresh fruit, deli meat, cheese cubes, juice, fresh vegetables, hummus, iced tea, and cold water.