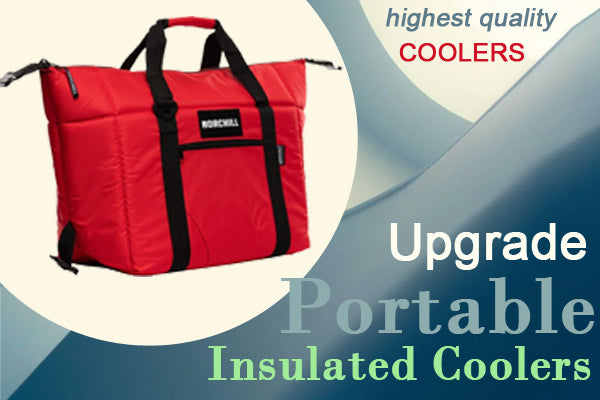 If you're still using an old-fashioned cooler box instead of a high-tech cooler bag, then you're doing yourself a major disservice. You see, portable cooler technology has advanced quite a bit in the past few years, and now you can carry drinks, ice, meat, and other things that you need to keep cool in a stylish and comfortable cooler bag instead of a big bulky cool box. Why make the change? There are a ton of practical reasons, let's take a look.

1. Comfort

Let's face it, carrying around a cool box is a pain, especially if it has a ton of ice in it. In some cases, it might even take more than one person to get it to where it needs to go. Who wants to deal with that? Even worse is the fact that lifting it from the ground can cause back or knee injuries if you're not doing it right. This makes old-fashioned cool boxes a major liability if you're not careful.

On the other hand, cool bags are designed with both comfort and portability in mind. Instead of having to squat down and carry it like a box, a cool bag can be picked up and carried under your arm with the strap going over your shoulder like a satchel. This is much more convenient and makes it super easy to transport your cool bag.

2. Smart Design

Speaking of improvements in design, soft cooler bags have other key features that set them apart from old-fashioned cool boxes. These features provide additional comfort, utility, and portability, making life easier for you.

Roll-Up

When you're done using a cool box you can dump the ice to lighten the load, but it's still big, bulky, and a pain to carry around. Fortunately, cool bags fix this problem. For example, if you've taken an insulated cooler bag, camo cooler bag, or boat cooler bag with you on a trip and no longer need to use it, you can dump the ice and roll it up. This makes it easy to carry with you, or stuff back in your vehicle.

Pouch Pocket

Another great feature of cool bags is the fact that they come with pouch pockets. This allows you to store additional items that don't necessarily need to be kept cool but are still essential to your trip. An example of this would be storing the necessary tools to clean a dear in the pouch pocket while storing the actual dear meat in the cool bag itself. Or, if you are using a beach cooler bag/lunch cooler bag you can put the food in the bag to stay cool, while the utensils go in the pouch.

Easy to Clean

Once you're done using your cool bag it's always a good idea to clean it. This is a chore if you're using an old-fashioned cool box, but cooler bags are much easier to clean so that they're ready for your next trip. This is because the soft design and pullout liner makes it simple to get to every part of the bag and ensure that there is no debris or mess left inside. When it comes time to clean your cool bag, you really will be grateful that you didn't use a cool box instead.

3. Maximum Durability

One area in which you may think that cool boxes have an advantage over cooler bags is durability. However, the truth of the matter is that this really only applies to short term durability, such as resisting a powerful blow or impact. And really, you probably shouldn't be carrying anything super fragile in a cool bag/box anyway.

When it comes to long-term durability, such as lasting for years, resisting wear and tear, and maintaining a temperature-controlled environment, soft-sided cooler bags win every time. This is because cool bags are made with a super heavy-duty nylon shell which is designed to resist tears, repel water, and stain resistance. This means you'll be replacing your soft-sided cooler bag much less often than a cool box, making it the superior investment that really gives you more bang for your buck.

Soft cooler bags also have a very high standard construction thanks to features such as being made from corrosion-free materials and double-stitched construction. The padded carry handles are built for comfort, while the fusion-welded liner seams are literally melted together to form a durable bond that's leakproof.

4. A Bag for Every Occasion

When it comes to old-fashioned cool boxes, the general design doesn't really change much. This means that you don't have many options other than picking the size you need, and finding a box that fits a specific need isn't always possible. The good news is that cool bags come in a huge variety of designs allowing you to get the bag you need.

For example, if you're into fishing you can use a marine cooler bag, or if you like spending time with nature then a Realtree cooler bag might be your thing. Picking a cool bag that is specific to your interests is easy.

In any case, here is a shortlist of some of the types of cool bags you may be interested in:

Golf Cooler Bag
Boat Cooler Bag
Marine Cooler Bag
Travel Cooler Bag
Beach Cooler Bag
Camo Cooler Bag
Lunch Cooler Bag

5. Customizable

Another great thing about cool bags is the fact that you can really make them your own using patches. This is great not only for adding a bit of style to your bag, but also excellent for branding if you run a business and plan on giving out cool bags as gifts or awards to your employees or customers. Now, you might be thinking that you could always just slap a sticker onto an old-fashioned cool box, but the condensation that builds up the outside of it can quickly strip it away, making it much less practical.

It should also be noted that cool bags come in a wide variety of colors. This lets you choose a bag that really suits your tastes. In fact, there are even specialized cool bags, such as the camouflaged Realtree cooler, that have practical purposes.

Picking The Portable Cooler Bag That's Right For You

As you can see, there are plenty of options when it comes to getting your perfect cool bag. You can choose from specialized models such as a golf cooler bag, or go for something more generalized like a standard travel cooler bag. In any case, there are tons of options whether you're looking for a large insulated bag or the best small cooler.

The key to getting the insulated cooler bag that's right for you is to think about where you'll be taking it. Your needs will be different if you're just going to be using it to cool drinks for a backyard barbecue than they would if you need an insulated bag for hunting. In the end, the best small cooler bag is a matter of personal preference, and they can all make your life much easier at home, at work, at the park, at the beach, or anywhere out in the great outdoors.