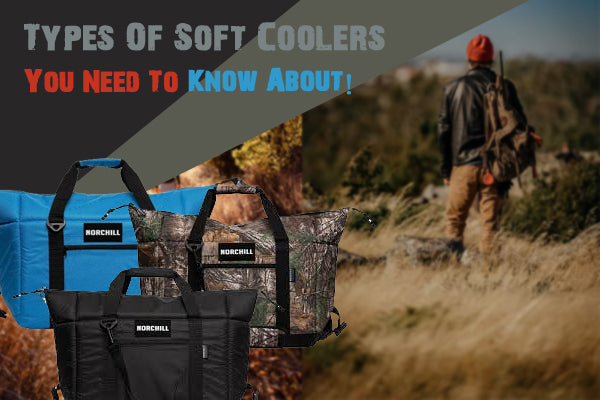 A cooler bag has multiple layers of insulation. They usually have an exterior coating, a liner, and an insulating layer in the center. The inner layer is the most crucial. Warmer bags have a firm foam core layer that keeps food and drinks warm or cold. The greater the protection, the thicker and denser the foam. The foam layer stops heat from leaking to the outer layer, preventing cold or heat from reaching the bag's contents. When packed with warm things, you may notice that the outside of the hydration pack does not heat up because the heat keeps from dissipating in the environment. (The outer layer of the insulated bag is usually non-woven cloth, vinyl, or thick fabric.) Many colder bags have a waterproof and heat-reflective innermost surface or covering consisting of foil, thick vinyl, or plastic as an added protective layer.
Boating and Fishing Industry

Dirt and aroma materials, UV inhibitors, and foam insulation with up to 7 days of ice retention are standard components of a marine cooler. This cooler is the ultimate ice chest for getting the job done right. It's survives fishing expeditions, damp weather, and bright days. You wear non-marking shoes to keep your boat clean, and the bag has non-marking feet as well. You'll want to consider making sure the rubber feet on your boat cooler are non-marking and won't damage your boat's nonskid over time.

A beach cooler bag is as essential to carry on board as a life preserver, whether you're in a small motor or a substantial offshore fishing boat. Anglers use a beach cooler bag to transport cold refreshments out on the water and fresh fish on ice back to shore. A marine cooler is with a purpose in mind. Because the boat cooler is so sturdy, it acts as a seat on smaller vessels, a fishing platform on the front, or a cutting board for chopping bait or cleaning fish for a nice shore supper. Not only will you do that on the boat, but you'll also take it camping or hunting with you.
Hiking

Contemporary coolers with extensive insulation provide outstanding durability for extended excursions or serious adventures. A less insulated bag is often more mobile if you don't need your ice to last a week. If you frequently put your equipment through the wringer, a rugged-cooler that will last several years is probably a good investment. Our top grizzly bear-proof options are tough enough to withstand a considerable bear attack. A soft cooler is the most convenient if you're on the run. They're easy to carry, lightweight, and versatile. Choose a lightweight or wheeled warmer if you want a large-capacity warmer that is portable. You might also want to consider getting a wheel kit soft cooler.
Camping

Buyers looking for the best small cooler, camo coolers now have a plethora of options that are far more effective, far more durable, and generally more trail-ready than ever before. The contents of coolers with thick walls stay cold for an extended period. The greater the thickness of the walls, the less you can fit inside. A lightweight lunch cooler bag with medium insulation would be your best bet if you want to do as much ice, foodstuff, and liquids as possible to allow for upsizing.
Workouts

A soft sided cooler has capacities specified in gallons or liters in most cases. The best approach to pack a cooler will differ depending on the requirements. Some folks would prefer to use less ice to keep more cans in the soft sided cooler. Some folks may use more ice to get the best cooling results. Selecting between boosting capacity and ice durability is a good compromise.

The main issue with transporting your product in a large card box, a more excellent box during workouts, is stowage. These large cooler-boxes take up a lot of room. And, if you don't have any more space, you'll have to hold them in your arms, which is the most challenging task. You can alleviate this problem by switching it with an insulated cooler when working out. This insulated cooler takes up very little room and is convenient to move.

If you don't have enough room, you can also wear this luggage on your shoulders. Furthermore, they offer a great function that we are confident you will appreciate: you can fold it and store it in your vehicle's cockpit when the cooler bag is empty. On average, a golf cooler bag keeps beverages refrigerated for 2-4 hours. A golf cooler bag is ideal for keeping your favorite cold drink on hand at all times.
Travelling

Take sturdy, gorgeous things that evoke mystery and thrill on your next vacation. Travel cooler bags and well-insulated and portable cooler bags will make your next trip go more smoothly. It is vital to utilize portable travel cooler bags when travelling because they are relatively lightweight. If you're going to an adventure park or a museum, you can wear the best small portable cooler in your back pocket like a backpack. Many individuals have tried them, and all they have to say is how great it is. The most acceptable best small cooler bag is a terrific way to make your hike more enjoyable rather than miserable by carrying heavy loads.
Attending Sport Events

It isn't your mother's old soft-sided-cooler. In 120 degree temperatures, the camo cooler is tough as hell and holds ice for up to 24 hours. The camo cooler is more durable than any other soft-sided-cooler, and it is UV-protected to prevent fading. These liquid coolers keep your beverages icy cold with almost an inch of insulation. Turn it into a dove hunting, deer hunting, or beach-cooler. It is for storing dry goods in the outer compartment. For everyday use, soft-sided coolers are suitable. One of the most appealing features of a soft-sided cooler is its lightweight than a hard-sided-cooler.
Hunting and Picnics

Any outdoor lover, camper, or serious outdoorsman will appreciate the realtree cooler. In the fall, winter, and early spring, it's 12 warm, natural hues and 3D design merge well. Load your food and beverages in the realtree cooler, freeze it, and you're ready to go on any picnic. To save room while traveling, roll them up. The lunch cooler bag is ideal for carrying around with you daily. Its 12-can size makes it perfect for athletic events, every day luncheon coolers, or simply bringing food and drinks to a picnic. The most versatile bag we provide is the lunch cooler bag. Its 24 can capacity is ideal for hot or cold food and beverages, whether you're hunting fowl, doves, or having a fun day on the lakeside.
Shopping and Outdoor Market

Your Market Coolers pack allows users to find frozen items, dairy, meat, and fruit at the market and continue driving around town on their way back home without having to worry about the time. This bag takes on the temperature of whatever you put in it and maintains it for up to 6-8 hours without the need for any artificial means. The temperature retains coldness by the object you put in the pouch. The bag's contents will stay cold in the refrigerator for up to 24 hours. This ice-free cooler' is perfect for the beach, boat, tailgate, picnic, golf, swimming, hiking, youth football, and more.

The cooler' is large enough for you to prepare your kill in the field and keep it fresh for the trip back, if you're looking for substantial game species or not. The more remarkable features are:

● A heavy-duty corrosion-free zipper.
● An ultra-tough gator-skin lining.
● Leak-proof fusion-welded liner seams.

It is puncture-resistant and stain-resistant, and it slides out for easy cleaning. All coolers have a tear-resistant nylon shell with challenging stitches, heavy-duty carry straps, and comfortable cushions.