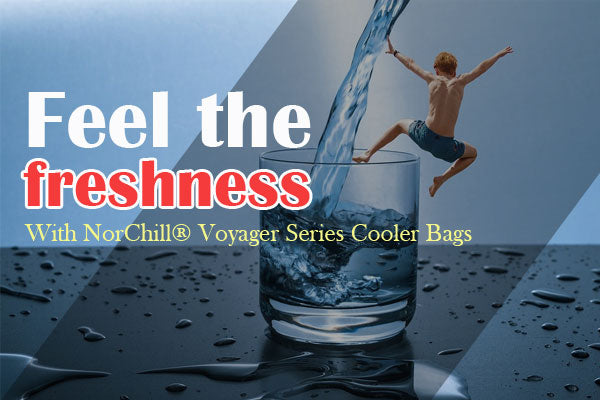 When it comes to outdoor activities such as camping, hiking, fishing, and picnicking, having reliable coolers to store your food and drinks is essential. They are different types available in the market, but the two most popular are hard box coolers and cooler- bags. While hard box coolers have been around for a long time and are well-known for their durability, cooler- bags have gained popularity in recent years for their convenience and portability. Here, we will discuss the advantages of using a cooler- bag compared to a hard box coolers for outdoor activities.
1. Portability

Portability is a significant advantage of using a cooler- bag, particularly when it comes to beach cooler bag. Unlike hard box coolers, which are often bulky and cumbersome, cooler- bags are designed to be lightweight and easy to carry. This makes them ideal for people who want to bring their food and drinks to the beach without having to lug around heavy coolers. Most beach cooler bag come with shoulder straps, making it easy to sling them over your shoulder and walk to your favorite spot on the sand. Travel cooler bags come with wheels for easy transportation, making them an ideal choice for people who plan on moving around with their coolers.
2. Space-Saving

One of the most significant advantages of an insulated bag compared to a hard box -cooler is its space-saving. Insulated bags are designed to be collapsible and foldable, making them easy to store in tight spaces. Unlike hard box coolers, insulated bag can be flattened, rolled, or compressed when not in use, making them ideal for those with limited storage space. This feature is particularly useful for those on camping or road trips, where the area is at a premium. Additionally, insulated cooler bags come in various sizes, allowing users to choose the one that best fits their needs.
3. Versatile

They are versatile, making them an excellent option for various outdoor activities. A cooler- bag will be handy whether camping, hiking in the mountains, or tailgating at a sports event. These bags come in different designs, including camo cooler bags, perfect for outdoor enthusiasts who want to blend in with their surroundings. A camo cooler bag is practical and adds a touch of style to your outdoor adventure. You can store your food, drinks, and other essentials such as sunscreen, insect repellent, and a first aid kit. A camo cooler bag's versatility means you can use it for different purposes, making it a valuable investment for any outdoor enthusiast.
4. Affordable

Compared to the hard box cooler, a portable cooler bag is relatively less expensive, making it an ideal option for those on a tight budget. Portable cooler bags are widely available in the market, ranging from basic models to high-end designs with additional features. Additionally, the low price point allows users to purchase multiple units for different occasions, such as a family picnic, camping trip, or a day at the beach. With a cooler- bag, users can enjoy the convenience of a portable cooler without breaking the bank. In addition, they are usually available in a wide range of colors, allowing users to add a splash of color and style to their outdoor activities.
5. Leak-Proof

One of the advantages of using a cooler bag over a hard box cooler is that it is leak-proof. This is particularly beneficial for those who plan to use their cooler bag to store food and drinks, such as a lunch -cooler bag. With a leak-proof design, you can ensure your food and beverages stay fresh and won't spill or leak inside the lunch cooler bag. This makes it easier to transport your lunch to work or school or to take with you on outdoor activities like picnics or hikes. Additionally, a leak-proof lunch cooler bag means you won't have to worry about any mess or clean-up, making it a hassle-free option for those on the go.
6. Easy to Clean

Soft cooler are made of materials such as nylon or polyester, which are typically easier to wipe clean than hard plastic surfaces. Additionally, many soft sided cooler are designed to be wiped clean, making them an ideal option for beachgoers who want to keep their beverage cool on the daylong excursion. With a soft sided cooler, you can store your food and drinks in one place without worrying about any mess. In addition, the soft cooler is lightweight and compact, allowing users to take them on the go.
7. Quick Access

The best small cooler bags typically feature a zippered lid or flap that can be easily opened, allowing you to grab your food or drinks without opening the entire cover. This feature is particularly useful when you're in a hurry or have limited space, such as on a boat. Many best small cooler bags are designed to be used as a boat cooler or marine cooler, with features like waterproof or water-resistant materials, non-slip bases, and tie-down points to secure the bag in place. The quick access feature of also means you can easily grab a cold drink or snack while on the move without having to stop and open a bulky hard box coolers. This convenience can be especially valuable during outdoor activities, where you must stay hydrated and fueled to maintain energy levels. Boat cooler and marine cooler also help with easy access to your drinks on a day out on the lake.
8. Can Be Used as a Backpack or Shoulder Bag
Many cooler- bags come with adjustable straps worn as a backpack or carried over the shoulder. This feature makes them ideal for activities requiring hands-free mobility, such as hiking or biking. They can also be used as golf cooler bag, providing a convenient way to transport cold drinks and snacks while on the golf course. The ability to carry a
golf cooler bag
in different ways also makes it easier to distribute the weight of the contents evenly, which can reduce the strain on the body. Whether you prefer to carry your travel cooler bag on your back or over your shoulder, the versatility of this type of coolers for realtree cooler allows you to choose the most comfortable and convenient option for your particular activity. Also
realtree cooler
provides you the best drinks dispenser as it will save your time and money.
Cooler- bags add a touch of style and practicality to your outdoor adventures. Whether you are looking for a bag that can be used for different purposes, such as an insulated cooler bag, a lunch cooler bag, or a boat cooler bag, these bags come in different colors and designs.
This makes them ideal for customers who want to use their bags for multiple purposes and activities. In addition,
cooler bags are relatively affordable
, which makes them a perfect option for those on a tight budget. Finally, they are also easy to clean and versatile. This makes it easy to use them during various activities while on the go or during multiple outings with friends.