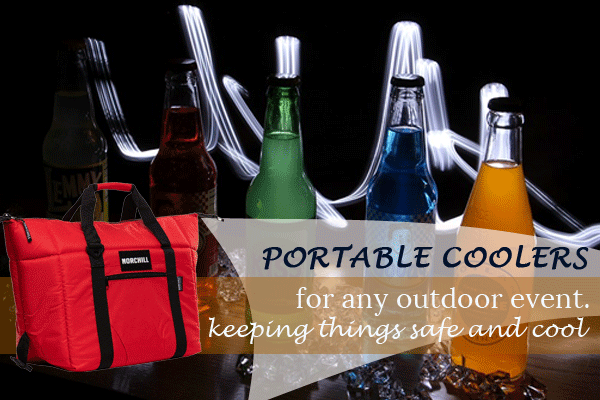 A cooling bag is a portable cooler made from thick insulating materials. It keeps foods, drinks, or any other substances cold while on a journey. The personalized insulated bags are the products of utmost practicality suitable for everyday use by children and adults.

They are also impressive giveaways or trendy promotional items you can offer your clients. It's built with contemporary style and designed to ensure that you enjoy your favorite meal in whichever outdoor environment you will be exploring.


Soft cooler vs Hard Box insulator

There are various soft and hard box types of coolers to choose from in the market today. The factor that determines whether you should go with either of the two is how you're planning to use it. Both do the job of keeping things safe and cool. However, there are many things involved along the line of maintaining items at a lower temperature.

Therefore you should consider having a soft sided cooler over the hard box type because of the following reasons:

Versatility
First, you should know that soft-sided coolers are highly versatile and suitable to be used in any activity. This is the best mobile insulator you can take to work, sports field, school, gym, golf course, or fishing trip. Besides, the soft coolers are lighter compared to the hard-sided coolers. The exterior is made up of vinyl or fabric, weighing less than roto-molded plastics used on the hard box insulator.

With the lightweight of the soft coolers, there should be no excuse given if you're not able to perform your task perfectly. Everyday use and handling won't give room for complaints. That brings in another unique advantage of a soft cooler; portability.

Portability
Insulated cooler bags are more portable because they have shoulder straps, making them work as a backpack. They can also be adjusted to ensure balanced stability in the back and shoulders. Unlike the hard insulated boxes, soft coolers don't need vehicle transportation over a long distance.

They are readily convenient for you to carry anywhere while attached to the shoulders. Your hands will also be free to hold other important things. The hard coolers are typically large and challenging for most people to carry around. The cool bag option can be used as a marine cooler or a boat cooler because it needs very little storage space and can withstand the harsh conditions therein.

You can use a soft-sided bag as a portable cooler during a lively outdoor event. When you are out camping, hiking, or traveling, understand the importance of having a freezer around you. For example, the travel cooler has various components to store the foodstuff and utensils. That gives more satisfaction because you know there is something to eat when the stomach demands.

There are various reasons behind the popularity of insulating bags among different people all over the world. The other main advantages of cooler bag include:

The Balanced Temperature
The regular lunch boxes are not able to hold specific temperatures for a longer time. Whether you store your item when hot or cold, its temperature will eventually drop to room temperature.

The insulated lunch bag is proved to regulate the temperature and keep it within the required range. If you're going for summer camp, then your ice creams won't melt because of the elevated temperatures. You can store them in a cooler bag, that will keep them in their appropriate state and consume your stuck the moment you feel hungry. The soft sided boat cooler is also waterproof, which means that the unexpected rain will not spoil your food.

Affordability
The insulating bags come in various shapes, sizes, materials, designs, and prices. These insulators fall under different price budgets. If you're looking for a suitable insulated bag for your kids, business, shops, companies, or corporate uses, you will find it with an excellent deal. A good discount is also available when you buy a camo insulator from a reputable seller. The whole process of acquiring your insulated cooler is more economical compared to buying a hard box.

The hard box insulator is bulky and expensive, while the soft sided cooler with the same storage capacity can be sold at a lower price. The insulated bag will again offer more flexibility and portability advantage compared to the highly-priced hard box type.

Gender- Independent
Insulating bags are portable coolers that either men or women can use. Their utmost practicality suits customers from diverse job types. There is no specific best small cooler that you will find designed for men and not women or vice versa. Best small cooler bags are the unisex products that allow personalization or customization of features of your niche.

Eco-friendly
Currently, every sector is worried about how they can improve environmental safety and sustainability. Therefore, the demand and urgency for the production of eco-friendly products have greatly increased. The revolution involved in the creation of a lunch cooling bag that is manufactured from 100% natural and organic fiber is becoming noticeable. They don't cause any harm to the environment since they are biodegradable and helpful in restoring nature; when you buy one of the best small lunch cooler bag, it means that you're directing your resource towards environmental conservation. We all love nature, and our vision is to keep it for the coming generations.

Unmatched Protection
Most people are always concerned about the security of the content they are carrying for a given outdoor event. For cool bags, you don't have to worry every time about the coverage of the contents. Its body can withstand shock, and when it's hit from the outside, the impact won't go as a whole to destroy the sealed items. They are soft and pleasant to carry on the back for a longer distance. Even if you have the bulkiest stuff, the probability of having them spoilt is dramatically reduced to zero.

Suitable For Any Outdoor Activity
Cooler bags have a universal use in areas such as:

Hunting: The portable bag comes in different weight and sizes. You can store all your essentials in any of your most preferred cool bags and get ready for hunting. You can choose the hunting bag that can camouflage with the hunting environment- the realtree cooler or the camo cooler. However, most hunters prefer the realtree cooler over the camo cooler.

Marine Uses: The marine cooler is designed to utilize a smaller space than the hard box coolers. They can withstand the harshness of being thrown around the boat without breakage or damage to the products being stored inside. The best marine coolers are the soft sided coolers. These kind of coolers have the ability to cater for all your needs and keeping the supplies safe. Boat riding: You will definitely need some food and drinks for your boat tour, or else your family or friends won't feel it impactful. Choose the beach cooler bag due to its ability of maintaining temperature on any given environment. You can keep other accessories you may need during a boat ride, inside the beach cooler bag in order to avoid any inconveniences.

Golf Uses: The golf cooler bag allows you to store the food and drinks you will need to sustain yourself throughout the outdoor golf course. The golf cooler bag has been reported to have no shoulder or back-related issues since their weight is evenly distributed. You will also be free to carry other items that you will need to improve your golf event experience since the golf cooler bag easily rests on the shoulders without pain or inconveniences.

Picnic: A lunch cooler bag is one of the items you need to have if you wish to go for a celebrated picnic. In this case, the mobile cooler plays a big role in ensuring that you carry the right food and keep them in favorable preservation temperatures.

Utilize Little Space
The softer cooler is more beneficial when it comes to storage space utilization than the hard box type. The less storage space required for the travel cooler is due to its ability to fold and unfold. You can fold it when not in use, and when you want to store your essentials, you can unfold it and pack your items in different compartments. Hard box type cannot be collapsed, making it use a lot of space even when not in use.