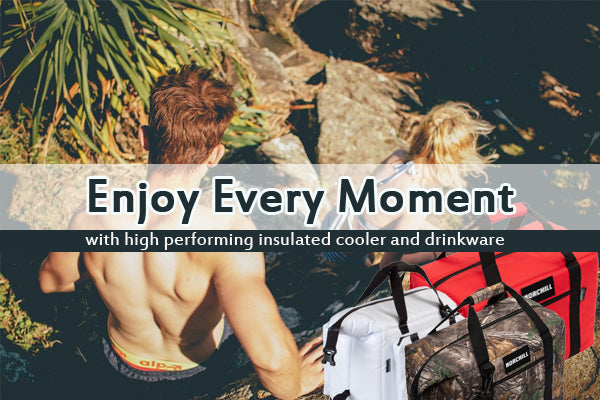 Whether you are stepping out on a picnic, sporting activities, or hiking, you need something to eat and drink. It even gets better when the food or drinks are in the right temperatures. Hiking under the host sun would require an ice-cold drink to reduce the rise in body temperatures. Golfing in cold weather will need some hot chocolate to keep you warm. For these reasons, we must have an effective method to carry our food and beverages and keep them at the temperatures of your liking.
Before the innovation of the cooler bag, people used to carry their food in hard boxes. A hard box may serve the purpose, but it has some disadvantages compared to the insulated cooler. Imagine hiking when carrying a heavy box packed with drinks and food. Wouldn't it be too tasking? What if all you needed to bring was a small meal and a drink? Wouldn't the box be too big? Who wants to travel carrying a big box? People will prefer carrying a portable cooler bag.
If you need solutions to carry your food and drinks most comfortably, worry not. Norchill has got you covered. It is a company that deals with the production of high performing insulated cooler and drinkware to help you keep your food and drinks in the right temperatures when you step out of the house. Norchill has gone an extra mile to produce portable insulation bags that are fashionable, unisex, and effectively keep your meals hot or cold. They make different insulation bags to suit various events and needs. For example, going camping will need a large bag than a person going for a few hours on the beach. Camping will require meals for some days, whereas a day on the beach will need a lunch cooler bag.
Advantages of the cooler bag over hard box coolers
1. They are washable
A soft sided Cooler bag is mostly used for outdoor events such as picnics, hiking, and sports activities. For example, a beach cooler bag would get home with a lot of sand on its surface. There is also the aspect of food and drink spillage in insulated bags. Don't worry about it. The soft cooler is made of a fabric that can be washed and quickly dried.
2. They are Eco friendly
Have you ever visited the beach and found plastic debris all over the surface of the beach? Bet it is never a lovely sight. The plastic disposed to the environment cause harm to human and marine life as well as the environment. For the conservation of the environment, soft sided cooler bags are plastic-free and quickly decompose when thrown away. The fact that they will rot means that there will be less harmful to humans and the environment.
3. They are reusable
Are you a sports person? Do you love hiking? How about a picnic on the beach? If you are, then you will surely at one time go for such events. The best thing about a golf cooler bag is that it can serve many purposes. If you buy an insulated bag, it could serve as a golf cooler bag, a marine cooler, boat cooler, a travel cooler, or even a lunch cooler bag. All you need is to wash your bag after one event, dry it, then keep it in a safe place waiting for the next outdoor event.

4. You can store everything
Mostly, people will prefer hot food to cold food. A cool drink will probably be better on scorching days. You are probably wondering how hot and cold will go together in one bag, but it is possible. The bags are formulated to use insulation as a method of keeping meals hot or cold. What you do is separate the bag so that you have the cool side and the hot side. On the cold side, have an ice pack followed by your drinks. Separate that with a kitchen napkin and place your food flask on the other side. Your food will stay hot and drinks ice cold.
5. They are budget-friendly
The insulated bags are made in all sizes. The big sizes are made for camps and travel to the best small cooler sizes for golfing and lunch. At Norchill, we ensure that the needs of all our clients are catered for. Though the sizes make the prices for the insulated bags vary, it is an investment that is worth your money. One purchase will serve you for several events. Your kids' lunch cooler may as well serve as their beach cooler bag when they go out hiking or to the beach. It saves you the time you would visit our shop to purchase a camo cooler, boat cooler, marine cooler, or a Realtree cooler.
6. The insulated bag is unisex
The bags are made in such a way that both genders comfortably carry them. Opposed to boxes where people tend to choose colors and shapes, insulated bags are unique and fashionable for both males and females. The Realtree cooler is the most preferred by young people and people who go to camping sites because of its camouflage. It can also be carried as a travel cooler.
7. The portable cooler is protective
A soft-sided cooler is made of insulation material that gives the bags a firm body. The tight body helps the insulation bag protect your food and drinks against shock that would cause spillage. They have strong locks to ensure that they don't mistakenly open. Plastic boxes are prone to breakages and spillage. That gives the insulated bags a competitive edge since there are zero risks in terms of breakages. They are therefore useful in long travels, hiking, and forest stroll.
Bottom line
A soft cooler bag is something every outdoor event lover should have. Gone are the days people go for picnics and sports activities carrying huge boxes. An insulated bag is even more fascinating since you will take it on your back, sit, and enjoy your meal wherever you are. Its classy look, lightweight and fashionable materials make it more thrilling. For a camo cooler, best small cooler bags, and all other types of cooler bags, reach out to Norchill coolers and drink-ware, and you will be sorted.