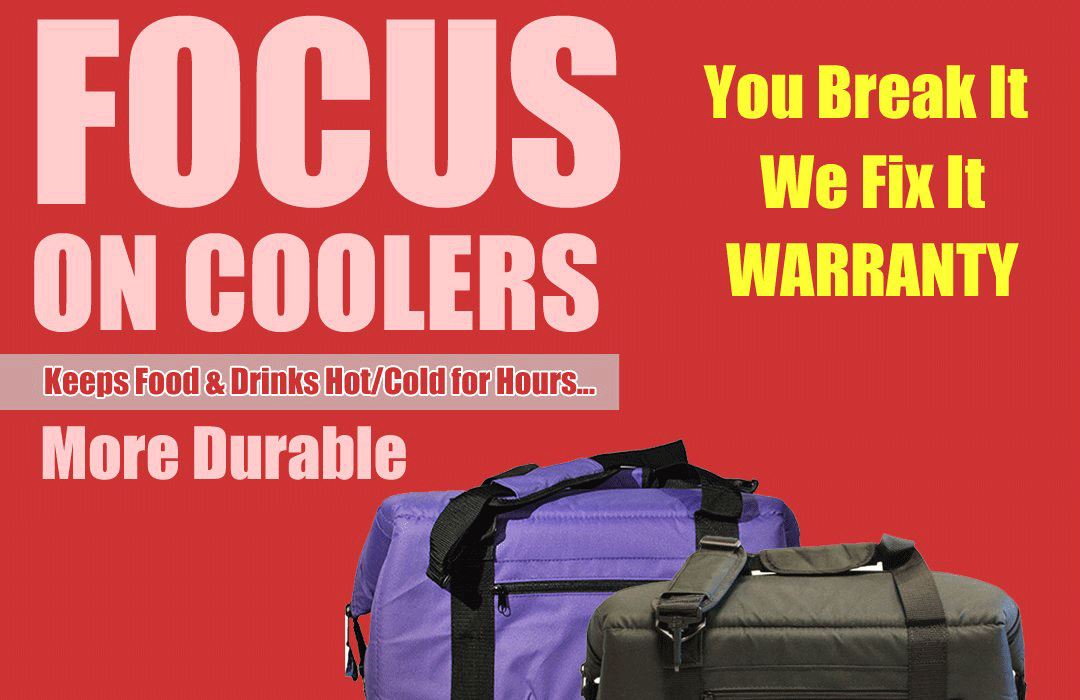 Looking forward to having some outdoor summer fun, you are getting more and more excited about the barbeque with friends at the state beach. Just as you begin to pack your cherished cold beverages, chips, and favorite sausages for the grille, it dawns on you. Remembering the pain staking trek through the sand, feet sinking deeper with each step as you chug along with your heavy plastic cooler, you're stuck deciding how best to pack your beloved contributions for the event. Even the wheels on the cooler is of no use in the sand. How things have changed, and changed for the better for all us outdoors people. With the COOLER BAG concept brought to you by NorChill, this waterproof, lightweight, and large capacity tote is perfect for multiple occasions. Especially, the beach. Let us see why this soft sided cooler exceeds the capabilities of comfortably transporting anything that needs to stay cold on these HOT summer days.


The traditional large cooler was great for its time. Whether you needed to keep your drinks cold, fish fresh, or picnic food cool, the plastic cooler was the way to go. One had no choice but to squeeze the unforgiving cooler into the car, load it with ice, and decide whether to keep the now full chest in the car, or make the journey pulling it or worse yet, carrying it upon arriving at your destination. Now, the NorChill large capacity and lightweight cooler bag is here. As a soft-sided cooler, that is also waterproof, there is no need of clearing the entire backseat of your car to make room for this chest. This waterproof design is accomplished with secrete electrostatic processing that literally transforms your cooler into a leak-proof bag. After loading it with ice and perishables, simply sling it over your shoulder or arm, and stroll on down to your weekend retreat. Which leads to additional features that retires the use of the traditional hard box design for good.

Featuring different specialty design functions, do not be surprised by the extra nylon reinforced canvas as seen in the Camo Cooler line, top handles providing ease of carry, corrosion free zippers found particularly in the BoatBag series, and padded shoulder straps or anti-mildew plasticized canvass. The point being, your perfect soft sided cooler is just a click away. The versatility provided by these bags was created with you in mind. Now, you may be thinking, how special can these insulated coolers really be? After all, the traditional hard box type of cooler did get the job done. Well, let us compare.


First, with fold down clips, you can literally change the shape of the insulated cooler bag into that large capacity square shape, the shape you may be accustomed to. However, you do not have to keep that shape. In just a few seconds, you may transform your insulated tote bag into a more compact design. A design shape that will fit perfectly on the plane, or in that last little space in your fully-packed car. You know, that small space often left behind your driver seat. Second, considering the past 20 years of tremendous advancement in insulation technology, the DUAL TEMP insulation system has made the design of these bags favorable for a wide range of activities. For example, after keeping your food and drinks cold for a few days in the woods, now one has the functional freedom of collapsing the chest and placing it in a small space. Making this perfect for even the backpacking excursion or 2-day fishing trip. The dual temp technology likewise will keep your contents hot if need be. So transporting your mom's special pot roast to the picnic has never been easier. Simply place the container inside the bag, and take it out an hour later, still hot and ready to eat. Lastly, size variations adds extra flexibility for all of your outdoor trips. Are you going on a day trip? Perhaps the travel cooler is best. Perhaps, planning a hunting trip? The camo specialty line comes equipped with different sized totes, and features specifics for the practical use in a hunting environment. Sized from 14" x 7" x 12" to 18" x 10" x 12" for the small and medium camo cooler, the choice is yours to make. Plan for short day trip with a 5lbs bag of ice and a 12-can capacity, or decide for an overnighter with a 10lbs bag of ice and a capacity of 24-cans. You may even max out on the super reinforced and double stitched, 25" x 13" x 19" large camo cooler. The large size is actually perfect for your cleaned hunt, having the capacity to store everything from quail to big game elk or deer. Oh yes, and with the technology explained above, safely store your cleaned hunt for days without having it spoil in the heat. Simply perfect for the three-day hunting trip.


Whenever something new comes to the market, one has the tendency to watch and see if the product is really worth it. With more of these coolers being used today, the need for this is absolute. Every cooler comes with a, "You Break It…We Fix It" 2 year warranty. Making the process as painless as possible, it is our policy to cover all damage with 24 months of the date of your purchase. 100% customer satisfaction is what we strive to accomplish. 

To recap, the standard hard-box cooler has seen "greener pastures". With the advancement of insulation technology, our specific designs and industry secrete electrostatic waterproofing, products durability under the most harsh of conditions, and versatility in size and functions, the old standard cooler is simply not up to today's outdoorsmen's needs. 

Whether you are thinking of replacing your older hard box cooler for your tailgating parties at the ball field, or your next outdoor concert, the NorChill soft-sided cooler is the absolute best option. You will not regret your decision to use this new insulated technology. Calculating both the comfort features and strength in design, the solution in clear. Cooler bags are a must!