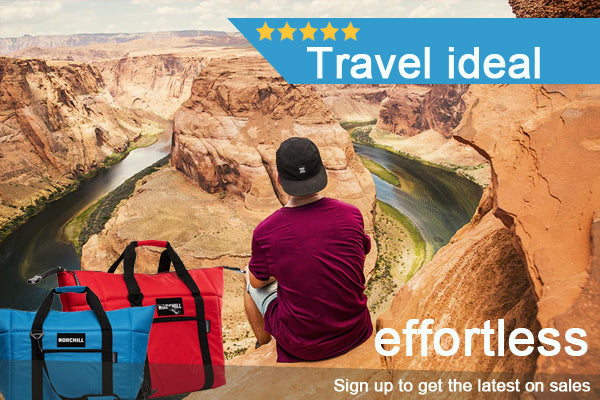 Having cool refreshments when you are travelling, hiking, fishing, boating, camping, or while taking part in outdoor activities is heavenly. A portable cooler is more convenient because you can easily carry it around. Hard box coolers are big and heavy, which makes them unpopular among many hikers. After all, how do you hike with a heavy load weighing you down?
The hard box is only ideal for storing a larger volume of food or beverages and for a longer time. But the soft sided cooler has your back. You can fill in it the snacks of the day when you go fishing or camping and easily carry it around when you get to your destination. The following are more benefits:
Marks on portability
Best small cooler bags are a lifesaver. If you are having a fun day at the beach, let yourself be free of worry over having walked too far away from your car where you have your hard cooler box. With a beach cooler bag, you can carry your snacks and drinks effortlessly, which means that you can enjoy a long relaxing beach walks. In any case, hard box coolers are too bulky to carry around.
The light weight boat and marine coolers are also convenient for using in a boat. They do not add significant weight on the boat, raft, or kayak if you have gone rafting, kayaking or fishing. They are also water proof to ensure you can rest easy and enjoy yourself, knowing your food and drinks are dry and cool.
You can carry them as a backpack too, which is so convenient because your hands will probably be busy holding on to shrubs and rocks as you hike or hunt. The hard box needs you to use both your hands to carry it, which is too heavy to do when on an outdoor activity.
They are designed to be carried comfortably with some coming with padded shoulder straps. You can also carry them at your side if you prefer this position.
Different bags to choose from
From the many designs and colors, it is possible to find a beach cooler bag that matches your personality. That is, your preferred design and color.
Marine coolers, for example, are appropriate for storing fish if you are fishing to maintain freshness until you are done with the fishing session. With their high durability levels, the marine cooler and boat cooler serve your needs every time you are out on the waters.
The bags come in different sizes depending on your needs. If you are a solo traveler and you are going for a short road trip, under four hours, you need a small travel bag for refreshments and snacks. Travel coolers have compartments where you can store cutlery and napkins.
You can pick a small sized golf cooler bag if you are carrying your refreshments only but if it includes two to three other people, you will definitely need a bigger golf cooler bag.
Easy to pack
The soft cooler is compressible. If you are on a road trip or traveling somewhere you obviously have bags and suitcases. A travel cooler can fit in between the small spaces left when you have all you need already compact in the vehicle. Hard box coolers are compact so you have to have space available where it can fit properly
Moreover, the portable cooler does not take up a lot of storage space in your home. Since it can be folded, you can easily store it in a drawer or kitchen cabinet.
Use them for various activities
Your weekly outdoor activities might change but you do not need to change your lunch cooler bag. This is because it serves you no matter the activity. The insulated cooler is light so you can carry it as you do the rigorous activities like hunting or hiking.
For hunting of course, you can have fun with it and get a realtree cooler. The realtree cooler is appropriate for this because it is light. Hunting requires you to walk around and you will need such a travel cooler to reserve most of your energy. Go for a camo cooler if the pattern is what you are after. The camo cooler allows you to blend in with the environment and have a successful hunting session.
Are you attending a festival soon? The best small cooler is efficient because you can walk around and engage in various activities or talk to people and not feel its weight. One advantage about it, you can match it to the theme of the festival or the clothes you are wearing, there are different colors and designs to pick from.
If you are travelling they still come in handy for long or short rides. Do you work out very week? Instead of buying water every time you are working out, why not carry your cooler bag with you. You can drink cool water between workouts and after you are done working out. It is accessible, so you will finish your workout on time as you will not need to go looking for water at a canteen.
They are more affordable and efficient
Get value for your money when you purchase an insulated cooler. The level of efficiency is higher compared to that of hard box coolers. It keeps your food and beverages cool for a long time. They also maintain the warmth of your food so that you enjoy your meal after hours of boating or hiking. The insulation keeps your food fresh as well and yet, the soft sided cooler is cheaper than the hard box.
When you are all sweaty and tired from the longest hike you've ever been to, a cooler bag is your close friend in that moment providing a cold refreshing drink. A boat cooler, for instance, will store all the food and drinks you will require on a boat trip, for several boat trips after acquiring it at an affordable price.
The insulated bag is easier to maintain in terms of cleanliness because if you are not carrying it, which is easy to do, it is on your picnic blanket or on the floor of your boat for the boat cooler. The best thing about a marine cooler is that it is small and can fit on top of your blanket with the rest of your things. Hard box coolers are too bulky for a small space. If you are out with your children, for instance, you might have to place it away on the dirt or sand.
Versatile
Need your food to stay hot? Use a soft cooler. Need your food to stay cool a cooler will do that for you! You can add ice and ice packs into the bag when you are using it to store cool beverages or food. This will keep the items cold for a longer period. The insulated bag will work fine without the addition of ice which is necessary for a hard box cooler.
Soft coolers come in handy in many situations. If you want to carry packed food to the office, the lunch cooler bag will fit your needs. If you want to hike or have a picnic, you can pick a soft cooler with enough exterior pockets to fit all the tools you will need during your trip, camping, picnic, or hiking. Use ice in the bag if it is warm outside.