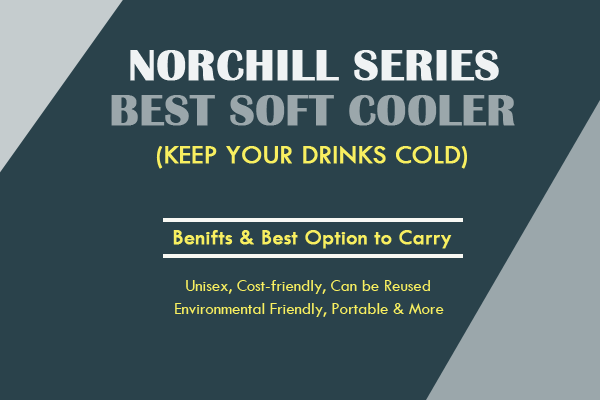 A cooler bag is a type of bag that is highly insulated, and you can use it for the preservation of items such as food to prevent them from getting hot or cold depending on what you want. If you are planning on travelling, this is the best choice since it is both fashionable, trendy and portable. This makes it suitable to be used as a travel cooler.


The soft sided cooler is similar to the camo cooler and suitable for leisure items such as being a golf cooler bag. There are several benefits of using it instead of the rigid box type cooler. This includes;

Balancing the temperature
This insulated cooler bag will ensure that your food is preserved in suitable temperatures, which means that your food temperature will remain constant for a long time. You do not have to worry about food getting cold or hot. Hence this feature makes it a suitable lunch cooler bag.

You can use the lunch cooler bag during hiking or camping. This is very efficient as it will ensure that you do not need to visit any restaurant or order food because cooking in the woods can be quite impossible.

Portable
An outstanding feature that this bag has is its portability which makes it an excellent choice for you and your family members. You can easily carry it around, unlike the rigid box type which can be quite heavy. This is due to the materials used are lighter than the hard box type. Through the materials, the bag is a portable cooler.
You can easily fold the portable cooler similar to the camo cooler, and you can carry it while it's empty. Notably using it for adventures when it is full does not make it bulky. The flexibility will suit your needs in case you need both light and practical solution bag for your adventures.

Offers protection
Adventures come with some risks such as your food spilling when you trip. However, you do not have to worry about this if you are using the soft sided cooler bags. This is because the insulated bag has a sturdy body which offers resistance towards pressure or shock. This ensures that you do not have to worry about your items getting damaged by an object from the outside since the hardened body offers protection.

Moreover, this insulated bag comprise of locks that can you can use for sealing the bag. This feature makes it an efficient travel cooler bag when doing activities such as mountain climbing or going for an adventure in the forest. Also, you can use it for long-distance travelling.

Unisex
This soft cooler bag is not gender limiting. Hence makes it a suitable bag to be used by your family since anybody can carry it. However, for small children, you may need to get the best small cooler so that they have no problem with carrying it around.

The unisex feature is essential if your family has opposite genders who use the bag. The realtree cooler is a better alternative than the rigid box type, which is not suitable for ladies because of its appearance. Also, it suits people who work in offices.

Cost-friendly
There are several options when purchasing this type of bag. You have the freedom to choose from a wide range of sizes which primarily depends on what purpose the bag is going to serve for you. The sizes range from the best adult sizes to the best small cooler sizes, which is an excellent option for kids.

The purpose of purchasing the bag affects the price. An example is a marine cooler may be quite expensive compared to a boat cooler and golf cooler bag. But you cannot miss any bag that suits your budget.

Can be Reused
The bag is so durable, and they even last more than the rigid box type. You can attribute this to the excellent quality of materials that makes it reusable. Hence you can purchase it for a long term use which will make the amount of money you spend on it worth. You can also hand it down to someone else after using it because it won't look old. This insulated cooler bag is also a good option when making public appearances.

Does not contain plastic materials
When purchasing a realtree cooler, you will look for something that is well built to ensure it lasts for a long time. This bag is the best option since it is made of unique materials which ensures that it is firm and cannot be broken easily. The hard box type can easily break due to the materials it is made of.

The materials in the bag include nylon and polyester, among other fabrics. These materials ensure that the bag does not wear and tear. Also, the bag is waterproof, which prevents it from soaking and becoming weak. This makes it an excellent marine cooler since it can be used in marine sports, beach cooler bag because it can be used to store your food on a beach day or a boat cooler to keep your food during boat rides.

Can be used for several purposes
The best part about the insulated cooler bags once you purchase one, you can place it into several uses which save you from buying several bags such as a hiking bag or a beach bag since it can serve as a beach cooler bag. Besides that, they can store anything you want, including cans, cooked food or bottles. This is the best method for storing everything you want in one bag.

Environmental Friendly
The need to preserve the environment is becoming more critical, especially due to Climate change and global warming. The bags are environmentally friendly, which helps to conserve the environment more than the rigid box type.

The materials it comprises do not cause damage to the environment. Notably, the bag does not contain any plastic materials which are very hard to dispose of. The materials used in creating the bag are natural and can decompose.

Can be easily cleaned
Using your bag for adventures or any other outdoor events makes it prone to getting dirty, but you do not have to worry yourself since the bag is easily cleanable and this is due to the soft materials it is made of. The rigid box type is challenging to clean because you require many materials.

The bag is cleaned by water and oil only also; little effort is needed for the cleaning to be completed. After cleaning it only a short time is required for it to dry up since the materials it comprises support drying. This makes it suitable to be used as a golf cooler bag.

Conclusion
The Soft Cooler bag is the best accessory you can use for adventures purposes. Due to its classy nature, you are guaranteed both class and efficiency at the same time. It can hold a ton of food which will prevent you from moving around frequently.

Also, if you need something that can be folded and stored easily for both short and long trips, the benefits of the cooler bag have been highlighted above, and through them, it is evident that the bag is something you should be owning. Also, you can purchase for your kids the one you think is most suitable for them.

Though the rigid box type is a good bag, this bag is more fantastic and will serve both your indoor and outdoor activities which makes it even more fascinating.