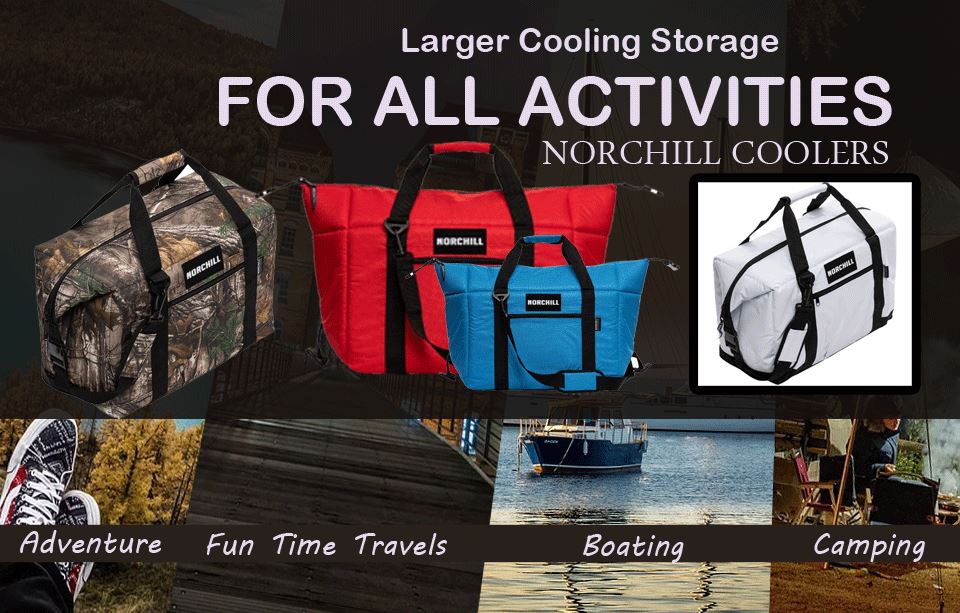 A portable ice-holder is useful to everyone living an active life or for those who enjoy sitting under a beautiful sky watching the sunset. A food carrier keeps cans cool, sandwiches fresh, and holds so many other treats. Take your ice-chest fishing, hiking, on car trips, to work, or to the local baseball game. A cooler is portable and used to carry a picnic lunch or for no reason at all.


A buyer has multiple choices when purchasing a cold portable. They might decide to purchase a soft cooler to carry lunches to work or to place in a backpack. Then there is the cooler bag, which is a soft sided cooler; they hold items and are lightweight. Then there is the Golf Cooler bag, this bag is unique, with pockets very much like a book bag, but with an ice compartment for beverages and food items. The Realtree cooler fits into the life of the outdoorsman with its colorful camouflage tapestry.

Enjoy a nice round of golf with plenty of stored beverages to quench your thirst. The bag is spill-proof. If it tips, nothing falls out; that is a real comfort when you want to concentrate on your game. Also, straps adjust so the golf cooler is simple to lift and go. Just pick it up and move on with the game.

This portable ice chest is ready for dozens of activities other than golf, your choice, biking, hiking, or hanging out with friends. It carries up to eight cans easily and is great for traveling. Hold this bag in your hand, or throw the strap over your shoulders. It has no more weight than the objects stored in the bag.

Larger Boat Cooling Storage:

If you are a boater with a love for being out on the water at the crack of dawn or on a lazy afternoon. The boat cooler is designed to hold up to 35-pounds of whatever you decide to put into it. These containers are sometimes solid; however, they can flatten into a compact position and pop up when needed.


A boat cooler makes a solid surface for a convenient table, this container is insulated, keeping food and drink items nice and cold. Whether these containers are travel coolers, golf cooler bag ice chest, beach bag coolers, or lunch cooler compacts, the best small coolers are great for storing food and drink.

Now, if you have an interest in the Marine Cooler, one advantage of the marine cooler is that it is large and holds a lot of stuff. This chill container takes the rough usage of chipped ice or blocks of ice. It is tough and ready for your outing. The average marine cooler carries 150 quarts of foodstuffs and other necessities. This insulated cooler has the capacity to keep foods for as long as five days. This length of food storage works well for a few days on the water. Marine coolers are fashioned with wheels making them easier to transport; on and off a boat or truck.

Best Small Cooler for the Money:

The best small cooler for the money keeps ice longer and is designed efficiently; they are easy to handle. A few brands are the Grizzly 20 qt., and the Canyon Scout 22. However, there are dozens of coolers that serve the purpose of efficiency and cost-effectiveness. Get a portable cooler, travel cooler, beach cooler bag, or insulated bag to carry your lunch, picnic feast, or dinner; at a very good price.

More Bags for Fun Times


The camo cooler is just the right prop for hunting. When out searching for that prized catch, you do not want to give your position away with a flashy ice-chest. The Realtree cooler is a 12 can cameo cooler ready for the great outdoors with its mossy design. Use the camo cooler on your most discerning trips.

Lunch Bag for Everyday Use:

A lunch cooler bag holds food items and or cold beverages. The container does not leak and is easy to wash. A user can take it along in the car, to work, or take it on a bike ride, or to the beach. The insulated lunch cooler bag maintains the coolness of food while it is outside of a refrigerated device. Place ice in these coolers and keep beverages or food cold.