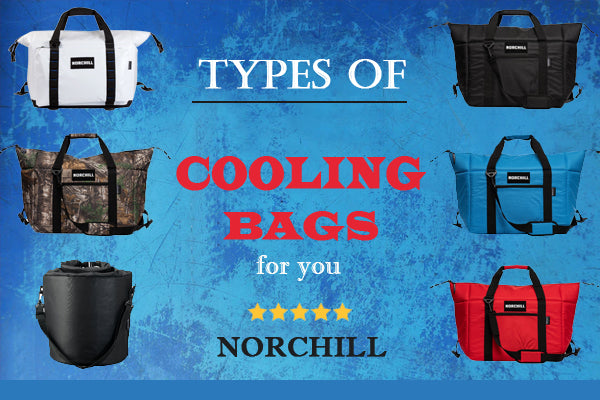 If you are the type of person that spends a great deal of time going boating, fishing, hiking, camping, working out, playing sports, or traveling, you might be interested in purchasing a soft cooler bag. Have you ever tried carrying a big chunky ice chest to keep your drinks cooler and fresh? With a bit of ice and insulation, your cooling bag will keep your things colder for a longer time. In addition, the soft sided cooler comes in handy for everyday activities such as keeping your groceries cool after shopping, weekend camping trips, or as an alternative lunch bag to keep your food warm or cool.


There are many types of cooling bags for you to choose from, from the pretty simple to the super organized ones, including:


Duffel bag
Backpack
Tote bag
Drawstring bag
Picnic basket bags
Bucket bags
Camo cooler
Collapsible bags
Wine bags
Standing bags
Multi-compartment bags
Car organizer bags
When making your choice on the best small cooler, you can consider whether you'd be best suited to bags with longer-term insulation or bags that are easily transportable and compact. It's all about finding the one that fits within your budget, reflects your style, and above all, can keep things nice and cool at your event.
How do the bags work?
A cooler bag is equipped with insulation features that allow them to keep items cold and hot. The insulation works as a layer of protection from the average outside temperature. With cooling features, a soft sided cooler is best used with ice packs and can keep things cool for approximately 12 hours.
So Why Go For the Bags over the boxes?

1. Storage
When you move your items in a big plastic cooler box, you might experience a storage challenge. Typically, the boxes occupy more space than a cooler bag. Another significant burden is that you might have to carry the boxes around when there is a lack of space. Boat coolers can solve this problem because they are effortless to transport and don't take up much space. They can be carried on your back when there is no space to place them and can also be folded and put in your car's dashboard when they are empty.

2.Eco friendly and plastic-free

The fabrics used in soft cooler bags are more resistant and rigid than the plastic material used in cooling boxes. A portable cooler is also so much more versatile and does not include plastic parts' inconveniences or reinforcements. Using these bags is a way for you to be eco-conscious. The best small cooler do protect not only the environment but also the food stored inside them. As more and more workplaces and schools frown upon plastic bags and items, the plastic-free feature of an insulated cooler makes them more accessible and favored when it comes to a large-scale setting. Eco-friendly realtree cooler is also both washable and reusable. Excitingly, they come in colors resistant to plenty of washing and drying, so you do not need to worry about the color and quality being altered.

3. Balances the temperature

Insulated coolers are mostly multilayered; they consist of an outer layer, a lining, and a middle layer which provides insulation for your food. An insulated bag consists of a core layer made up of dense foam that keeps food and drinks warm or cold. The foam layer hinders heat from your food from seeping to the outer layer, thereby preserving the surrounding temperature from reaching the contents of the travel cooler. In addition, a lunch cooler bag features an inner layer of foil, heavy vinyl, or plastic that gives an extra layer of protection. Rather than absorbing the food's thermal energy and allowing it to escape the lunch cooler bag, the bag's foil-like inner layer reflects it. To keep drinks or perishable foods cool, you can pack your insulated cooler with reusable ice packs to keep it as cold as possible.

4. Versatility

Bag coolers can be used for every purpose depending on where you are going and your needs. You can use them in food delivery, medical/pharmaceutical use, or when carrying temperature-sensitive purchases without breaking the cold chain. You can also use an insulated bag for picnics, a golf cooler bag, or a beach cooler bag to separate your wet gear such as wet towels, swimsuits, wetsuits from getting your car wet. These bags can also be used as closet organizers or as storage for craft materials for your project. During your boat excursion, you can pack the necessary accessories, food, and drinks that you and your family or friends may need in your marine cooler. When going hunting, you can store all your essentials in a camo cooler to blend in with the environment. When looking for promotional product ideas for your company, you can print your logo or quotes that You can easily see even from a distance advertising your brand far and wide. You can give lunch coolers to your employees to garner attention from your target audience. Gifting a personalized golf cooler bag or boat cooler bag with a message to your invitees and guests is a great way to earn their goodwill and loyalty. These bags are unisex and can be used by men and women both freely.

5. Lightweight and Affordable

Another advantage of using a portable cooler bag is that they are affordable and don't affect your pocket more than cooling boxes. The bags are also effortless to carry around and can be hung on your back like a backpack. A beach cooler bag is easy to haul around because it has several sturdy handles and shoulder straps that provide you with various carrying options. These bags do not cause focused pain or weight in one particular area of your body and do not affect your body posture in any way. Finally, the bags are budget-friendly. When you buy a boat cooler online in bulk, you can get a good discount on your overall order, making your purchase experience even more economical.

6. Durable and easy to clean

Cooling bags are more durable as compared to the boxes. A realtree cooler offers a higher level of protection by keeping the bag's content safe from potential damage from the outside. Travel cooler can safeguard your food and drinks from potentially spilling by sealing the bag when traveling long distances. In addition, the material used in the marine cooler makes it easier to clean. The boxes are often difficult to clean. The bags only require a cleaning agent and water and can quickly dry up after washing.

Conclusion

It's easy to see why cooling bags are growing increasingly popular. They are more advantageous than the typical boxes. Its portability, weight, size, and storage capacity benefits supersede the features of a cooling box. Before purchasing your cooling bag, you must choose a model that corresponds to your wishes and requirements.