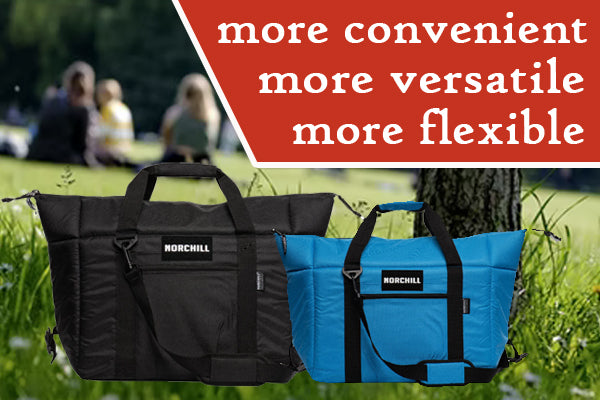 While out having fun, traveling, hiking, fishing, boating, golfing, or camping, you definitely want to keep your food and refreshments cool. But you also want a convenient, versatile, and flexible way of doing that. Has the thought of using a soft cooler and a cooler bag ever crossed your mind?

Think of it as using an insulated bag to move around with your snacks and drinks while keeping them fresh and tasty. Make this change to start enjoying your outdoor activities more, especially if you are used to the traditional hard box cooler that is way heavier, bulkier, and takes up all your car space.

Unlike the hard cooler, the soft sided cooler is smaller, sleeker, trendier, more flexible, and more portable. With these special features, you can take your summer vacation trip or go golfing at ease knowing that no luggage or stale food is going to inconvenience you in any way.

For all these leisure activities, there is a plethora of insulated cooler options to choose from including a boat cooler, marine cooler, travel cooler, beach cooler bag, camo cooler, an insulated bag, and a lunch cooler bag, just to name a few.

Let us look at how these portable cooler bags add value to your activities whether it be fishing, traveling, hiking, boating, or camping.

Why choose a soft cooler over a hard cooler?

Soft coolers, such as a realtree cooler, offer incredible benefits that you would otherwise not fully derive from using hard coolers. Whatever the leisure activity, you can count on soft cooling bags, such as the realtree cooler, to keep you cool and refreshed all day long as you derive maximum enjoyment.

Soft cooling bags are the best option because they are:


Portable
Versatile
Diverse in design
Easier to pack
Efficient and affordable
When can you use soft coolers?

There are many leisure activities that demand the company of soft cooling bags to complete the fun. They include:

Traveling

As much as both the soft-sided and hard-sided cooling bags are going to get the job done, it is important to understand the suitability of each when traveling. How much luggage are you willing to bring with you? How much can your car withstand? What distance will you cover on foot? How far can you go on foot without needing a sip of some chilled water or a snack bite? How many people will rely on the coolers?

Answering these questions right will help you determine the best cooling option along with the right size for your trip.

Bringing your own food and drinks on the trip helps you save time and money that would have been spent on a fast-food restaurant, especially when you have a safe way to pack and store them throughout the trip. Cooling bags are lighter and flexible enough to fit in any car compartment and you can easily move around with them once outside the car.

Furthermore, a travel cooler ensures you always stay hydrated for the entire duration of the trip without stepping out of the car. Choose to be a healthy traveler by using soft sided cooler bags.

Hiking

Hiking on a hot summer day demands that you keep your body cool all the time. It is possible to do that without troubling yourself with too much luggage. Since you will be mostly on your feet, you need the convenience of moving around freely with a light load to preserve your energy. Getting yourself a lunch cooler bag can help you with that.

These amazing coolers are made with high-quality insulating material, are sturdy enough, and come in all shapes, sizes, and colors to suit different hiking needs. They are easy to hold and guarantee optimum ice retention.

As you manage your weight and keep healthy through regular hiking, you can add some style and convenience to the whole package by bringing along an elegantly designed camo cooler.

Fishing

As you go about your fishing, note that ice plays the most significant role in refrigerating, preserving, and presenting the fish as a desirable meal. To keep your fish in good condition and guarantee its quality, you will need a reliably cool way to ferry it back home.

With a top-grade marine cooler, there is no chance of your fish ever going stale. If your fishing ground is just a walking distance away, you can take the soft cooling bag with you without ever worrying about it weighing you down.

If the distance to your home is rather long or you would prefer taking a slow walk as you enjoy the scenic atmosphere all around you, these cooling bags make sure you are never in a rush to get home. Designed with exceptional insulating capability, the coolers will keep your fish fresh for long and extend its shelf life even after getting home.

So, whether you are fishing for fun, sport, or livelihood, the best small cooler should never miss on your fishing bucket list to give you a wholesome fishing experience.

Boating

Are you a boater that loves to keep things cool in the open waters? If you are, this cooler bag could come in handy. As you put your creativity on display out in the open seas, you want to have some cool company by your side. How about a soft boat cooler bag? Just sit back, relax, take in the spectacular ocean view as you sip from an ice-packed bottle of water, juice, or energy drink.

Want that extra convenience of moving around your boat with your drink? Again, soft coolers are renowned for the convenience they provide. You don't have to be tied to a single spot. You can enjoy the stunning views from different angles on the boat without your drink or snack leaving your side.

With the endless psychological and physiological benefits that come with boating, you can unwind even better by bringing along a perfect cooling solution for all your edibles. If you get lucky and catch a fish or two, the bag can double up as a return storage compartment to preserve the humidity and freshness of your fish all the way back home.

Camping

As you head out for a summer camping trip, a good-quality lunch cooler bag is a must-have. There is no better way to ferry your snacks and drinks without sacrificing their integrity. Even if the campsite lacks electric hookups, these perfectly insulated cooler bags still work efficiently since they don't need electricity. As such, you get more value for your money.

Whether you are out on the beach or deep into the woods, these insulated bags have been specially designed to keep your snacks and drinks at optimal temperatures regardless of the scorching sun. Although your beach cooler bag may get dirty in the sand, you can keep your worries at ease knowing that the bag has been made from a material that's very easy to clean.

Outdoor sporting activities

Sporting activities that take place under the direct glare of the sun, such as golfing, require a reliable and durable cooling partner. A well-insulated golf cooler bag is that partner. Such a bag is not only flexible but also hands-free, thus affording you the much needed convenience as you swing your golf club.

The convenience doesn't end there. The golf cooler bag also comes with extra compartments and pockets, such as a netted slot, for your golf ball. Cool, right?

Cool up!

Now that you are well enlightened on the portable cooler varieties available to you, it shouldn't be difficult to select the best small cooler for your leisure. Don't put your trip on hold again for lack of a convenient cooling option. Check out some of the most affordable and convenient soft cooler bags and start planning your next trip right away.