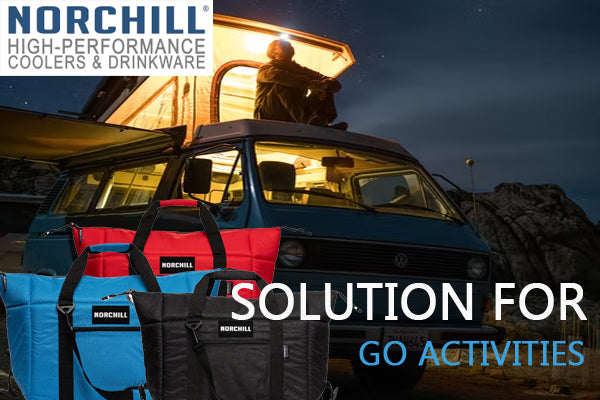 portable cooler
can be made out of hard material like metal or plastic or soft fabric like cotton.
They all keep your food and drinks cold; however, the difference comes in the storage space and how well the coolers is insulated.

Some other materials coolers can be made out of include

Nylon – does not wear and tear because it is firm, making it a perfect choice for road trips to store your soft drinks and water.

Canvas – coolers made from canvas are great for lunch or networking meetings. The material also prevents it from being damaged by water.

Polyester – it is easy to clean and dries fast, making it a good choice for packing lunch for messy children.

Neoprene – coolers made from neoprene are easy to clean and perfect for amusement park visits.

Hard plastic – the coolers come with wheels or handles as they are suitable for outdoor events.

Metal – coolers made from metals are ideal for significant events such as weddings. The common metals used are stainless steel and aluminum and are heavy to carry.

Cotton – the material is light and water-resistant, making it suitable for a picnic.

Styrofoam - coolers made from Styrofoam are best suited for indoor events since the fabric is not recyclable. You must ensure this kind of coolers does not get too dirty.

A cooler comes in different sizes and shapes. You can fit a small snack and drinks or a whole buffet, depending on its capacity. There is no correct answer to how much you can fit in an insulated cooler as each one is differently built. If you are creative with packing, you may save more space even if the cooler is small.

There are different styles for a portable-cooler, as not every coolers is suitable for every event. These styles include wine bags, picnic baskets, duffel bags, buckets, car organizers, and tote bags.

The techniques are unique to different occasions, and it is best to have a variety in your collection. For instance, if you are golfing, fishing, going to the beach, or for a lunch meeting, the best small cooler to carry is the boat cooler, golf cooler bag, beach cooler bag, marine cooler, or lunch cooler bag.

How to pick the suitable coolers

There are many insulated coolers in the market, and choosing the right one that will keep your drinks cool for a long time is essential, especially during the summer season. The cooling technology has recently advanced, leading to better properties of insulation which keeps your drinks and food cool for a longer time.

For instance, a marine cooler can now keep things colder for a longer time compared to the ones that existed ten years ago. They also come with a fold-over design to keep electronics dry while on the boat. A camo cooler blends in with your surrounding, therefore best suitable for activities like hunting.

There are two insulated bag, a cool box and a cool bag. A coolers bag or a soft cooler is ideal for short trips as it provides just the right amount of capacity for a beach day or picnic. A lunch cooler bag or beach cooler bag is a perfect example of this kind of insulated cooler.

They are light and can compress during storage if not in use. They are small and can therefore fit in small spaces. The stitching and carry straps are essential to be keen on when considering purchasing the best small cooler. Straps must be firmly fixed to the load and adjusted so that you can carry the bag on the shoulder or by hand.

A cool box, however, is a good choice for hosting a large number of people since you will need a bigger space or a trip of more than one day as you will need your food and drinks stored in a cool place longer. It is big and heavy and may make lifting difficult when the box is full.

Some of the cool boxes in the market today have foam insulation two times more than the standard coolers and can keep beverages cool for 27-36 hours. It is essential to ensure the handle is firmly fixed to the coolers box and strong enough to carry the weight when it is full. The handle should balance so that the weight does not make the coolers box tip when being held.

A soft-sided cooler is a good choice for everyday use as you can carry it anywhere like the office, gym, football practice, or golfing. Some advantages of using a cooler bag as compared to a cool box include,

1. They weigh less- soft-sided coolers are lighter than cool boxes, and their primary weight stems from what is carried rather than the weight. The weight makes it easier to use every day as it will not tire you, making it easier for you to move around.
2. Easy to carry- due to their little weight and shoulder straps, the coolers bags are easy to transport anywhere. The straps make it easier to carry your soft-sided coolers as your hands are left to hold other things.
3. Less storage space is needed- a cooler bag takes up less space in storage as compared to a hard cool box as they are collapsible when not in use. The soft cooler bags can be folded or rolled up when you need to store them as compared to a cool box, which requires a larger space due to its bulkiness, whether full or empty.

A cool box is also a great option when you want your drinks and food to stay cold for an extended period, for example, on hunting, camping trips, or going on a road trip. Some advantages of using a hard-sided coolers are,

1. Excellent ice retention- hard coolers keep food and beverages cold for a more extended time as they are better at holding ice with the recent advancement in technology for more excellent insulation properties.
2. Longevity- coolers made from hard plastic are more durable and, therefore, the best option for a rugged environment, long trips, or being exposed to nature for an extended amount of time like camping or hunting.
3 Better capacity- cool boxes have a bigger storage space than cool bags. They are measured by volume compared to cool bags, which are measured by the number of canned drinks they can carry. When buying a hard-sided coolers, you can choose based on your needs as they come in different sizes.
Conclusion
An insulated bag helps you keep your food and beverages cold when doing outdoor activities
. Depending on the activity and the amount of time you are willing to spend outside, there are various portable-cooler bags. The travel cooler is made from different materials, and you can pick whichever suits you based on your personal needs.
They are also designed differently for various occasions meaning a specific travel cooler cannot be used for every occasion. For example, yu cannot bring a
Realtree cooler
or
camo cooler
to work, but it can be helpful during hunting.
Hard and soft sided cooler are great for keeping drinks and food cool; however, they also have advantages. When purchasing a soft sided cooler, it is essential to consider factors such as the duration of the trip, ice retention, capacity of the coolers, and environmental conditions. If it is a day-long activity with a limited number of people like golfing or fishing, you are carrying very little, and you will need a light and portable cooler, hence a golf cooler bag or a boat cooler will work best.
However, if you are going on an adventure trip with rugged terrain and a large group of people, you will need a
big cool box to hold a lot of food and drinks and keep them cold for a few days
. A hard-sided coolers will be a perfect choice for the adventure, while a Realtree cooler will be good if you want something lightweight and easy to carry.
A portable cooler is a great way to keep your food and drinks cold for a party, picnic, or event. There are many kinds of coolers to choose from based on what style fits you. A