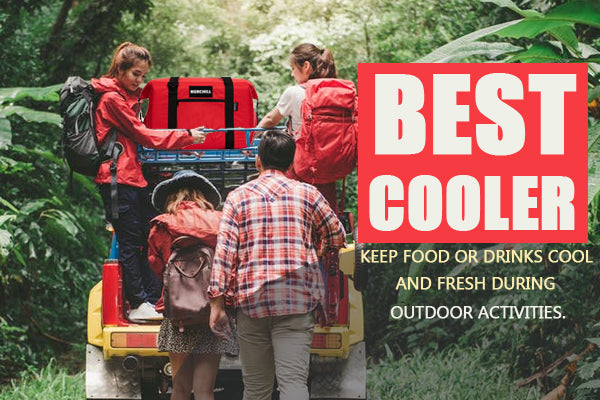 If you love outdoor activities, camping, or enjoying a picnic by the lake, you know how important it is to have a supply of fresh, cool water. This is why it is recommended that you invest in high-quality realtree cooler bags by NorChill. The convenience of this type of soft sided cooler has made it a staple for athletes, avid campers, and anyone looking to keep their food or drinks cool and fresh during outdoor activities.
Factors to consider before buying a cooler bag
i)To begin with, the soft cooler should possess several design features that will make it more efficient than a hard-sided cooler bag. The first feature you should look for is an insulated cooler lining to add to the efficiency of the soft cooler by keeping your ice-packed items cold until they are ready to be consumed or used. This insulated cooler can also make the bag leakproof and waterproof. You can also purchase a cool box with pockets to store extra items like utensils or paper products.

ii)The soft-sided cooler bags should be made from durable and easy to clean materials.

iii)There are several sizes available, so you should determine how much food and beverage you need to carry before shopping. This determines whether it will be a portable cooler. You want a portable cooler since it is easy to move it around, which is convenient.

iv)For easy transport and convenience, the straps on the soft-sided cooler bag's side can be adjusted to fit your needs. Some people prefer to have them wrapped around their shoulders like a backpack, while others like to sling them over their shoulders or even carry them in front when they ride a bicycle or exercise bike. You can add cushioned shoulder straps or padded handles for more accessible transport of your lunch cooler bag for extra comfort.

v)Make sure that the lunch cooler bag is waterproof because accidents can happen when transporting food and drinks from one place to another. The zipper should also be strong enough to keep moisture out while allowing you to access your bag's contents inside easily.

vi)Another feature is a higher density foam that will help make the bag more rigid and better withstand the weight of its contents.

The realtree cool bag by NorChill is the best small cooler in the market as it has all the mentioned features. Some are also sold as backpacks and can be used for other hiking and bicycle riding activities. It is made with a quality waterproof bottom that can keep the contents inside the bag dry if it gets wet while being transported. It is the best small cooler since it helps to prolong the life of your items, especially fruits and vegetables if it stays cool enough all day long.

Advantages of using a cooler bag as compared to a hard box type cool box

Different activities require cool bags instead of the rigid box type and knowing the advantages of using the bag will help you determine which one is best suited for your needs.

Golf cooling bags

If you love golf, you know how important it is to have a golf cooler bag. The rigid box type can be too large and cumbersome and will not easily fit into your golf cart, so using a golf cooler bag is the best alternative. It will take up less space and weigh less because it is made to fit in your golf cart.

Boat cooler bags

If you are going on a boat ride, you need a boat cooler bag to keep your drinks and food at the right temperature. The boat cooler is a much more convenient option than a rigid box type because it will fit into a small space on your boat and make it easier to transport your food and beverage in a covered area.

Marine cooler bags

Having a marine cooler bag on standby is essential if you are going out in the water for an extended period. You can put your food and beverages in the marine cooler bag, and you will be able to access them easily if you need to eat or drink something. This will be much better than the hard type box because it will fit all the food and drinks you need for an extended period and keep everything cold during the trip. A camo cooler is perfect for marine use that is large enough to hold extra food and beverages and fit into the maximum space in a boat or a truck. The camo cooler also blends in with the marine uniforms.

Beach cooler bags

The beach is quite a hot place. If you spend a lot of time there, a beach cooler bag is necessary. You can keep your food and beverages cool in the beach cooler bag, and you will not have to worry about getting stuck with lukewarm food and drinks. This will be much more convenient than the hard box type since it is not heavy and bulky.

Travel cooler bags

A travel cooler bag is ideal for any trip, whether for business or pleasure. This can carry all your food and beverage items in separate compartments so that you will not have to fill it up with everything at once. The travel cooler will fit neatly in the trunk of your car, so there is no need to worry about it taking up too much space with all the ice cream and drinks inside.

Cooling bags have an advantage over the hard box type for many other activities. They are smaller and convenient and can be used for various activities without sacrificing efficiency.


Why choose Norchill coolers?

This is a trusted brand that has been known to create high-quality cooling bags that you can rely on for your outdoor activities. NorChill is one of the original soft sided cooler bag manufacturers in America and has been known to create quality products that are great for people of all ages. They make all-purpose cooling bags that people can use for carrying a variety of things, including food, drinks, ice packs, and anything else that you need to keep cool during an outdoor activity. Their products are designed with heavy-duty fabrics, materials and zippers to ensure maximum durability and prevent wear or tear even after repeated use.

NorChill also makes collapsible cooling bags that teens and children can use. The zippered pocket is perfect for securing the items you need at any time so that they are safe and protected. Their insulated bag will keep your food and drinks cool on hot days and prevent them from spoiling. This insulated bag also has a side pocket that you can use to store extra items and make it easier to have quick access to your belongings if you need them.

There are many different sizes available for the cooling bags, so there will be one that will suit your needs. Their bags come with an affordable price tag, making it easy for people to purchase some to use when they go on outdoor activities or travel. NorChill creates quality products made with only the highest quality materials and artistry so that you will not have issues using them.

In conclusion, the realtree cooler is the best because it is made to resist all kinds of weather, and you will be able to use it for any activity that requires you to carry your food and drinks. It can withstand water, sand, or dirt that lands on the bag but is not easily cleaned. The bag can keep your drinks and food cool all day, so you do not have to worry about buying large quantities of ice.