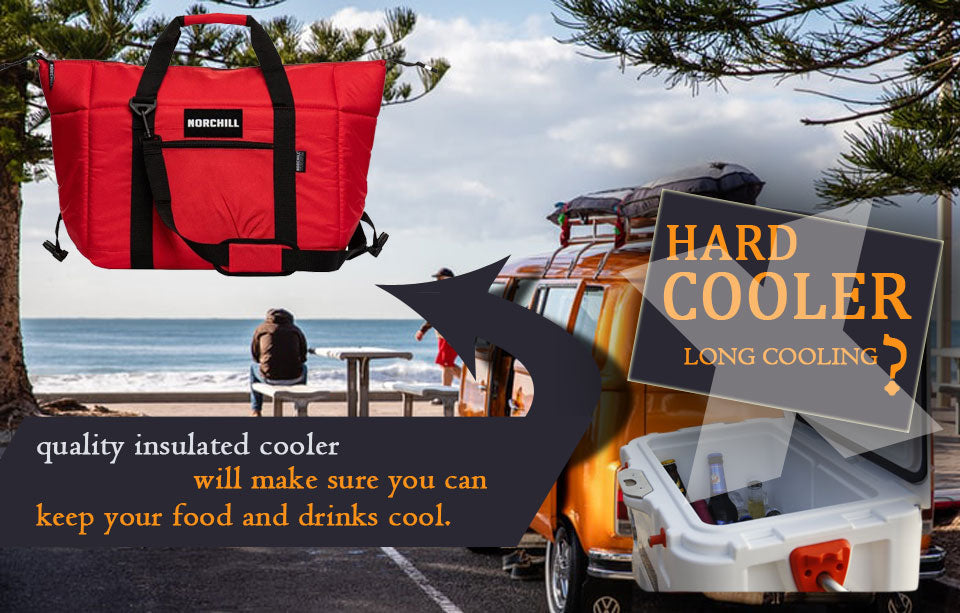 The beverage cooling industry is one of the ones that you don't normally think about. You want to go somewhere, and you buy a cooler to put your beverages in. However, there have been many advances in this industry that make it a lot easier and better for you when it comes to drinking your beverages wherever you go. The changes in this industry have made things a lot better over the years and continued innovation is helping the industry beat all challenges it faces. We are seeing people have cool beverages no matter what conditions are, and this is helping them have better parties and events. The ergonomic designs are also making things much better for people in general. Whether it is a soft cooler, or a boat cooler, you want something that will perform well in almost all situations.


The Value of Cooling
Keeping your drinks and meals cool is essential to going outside to eat. This is especially true in the hot summer months. A quality insulated cooler will make sure you can keep your food and drinks cool. Food also doesn't spoil as quickly when you keep it cool. This means a cooler bag is valuable when you go outside. A portable cooler is something you almost have to use when you are going camping.

With all the benefits that a good cooler has, there are many different areas where it shines the most. In fact, there are three areas where a good cooler comes out ahead. These areas are as a Marine cooler, and an insulated cooler. A good travel cooler is also something you want to have when going anywhere. You can even have a good golf cooler bag when going to play the game you love. The big three are when fishing, camping with food, and drinks. For people who want something that is easy to carry, a good soft cooler is something you have to have. Many people would call this a soft sided cooler which means it is not made of hard plastic.

Take this scenario, you decide to go fishing, and you want the best cooling device with you. You want a boat cooler inside your vessel, so you can have cool beverages while you fish. Or even, you want a Marine cooler if you are on the ocean. No matter what you are doing, you want something to keep your drinks cold while you Fish. Not only that but you are also far from home, and you want to have something that will keep the fish cool so they don't spoil before you get them home. This is why having a good travel cooler is so essential to these activities.

Another scenario has you going out to camp with your friends and family. You could bring a beach cooler bag to the ocean to relax and drink your drinks while you take in the sun. A quality insulated bag might not be enough. You need a high-quality portable cooler that will keep everything nice and cold matter where you go. For people who like hunting, a camo cooler can be a good thing for you. Or you can even bring an insulated bag if you don't feel like carrying around all that weight.

The Dinosaur Years of Cooling

Before we had a lot of new technology like the cooler bag, most cooling was done with a plastic box that you put ice in. It was not as good as something as small as a lunch cooler bag. It was like a primitive Realtree cooler. A lot of people wanted the best small cooler for going outside, but it was not available at that time. The best invention was people needing something that they could go out with that was easy to carry no matter where they went. Plastic cooling devices are difficult to carry, and they require multiple people to handle them. That is why they are mostly used for parties where you don't have access to a refrigerator on hand. The dinosaur years of cooling involve these primitive devices. As time went on, people realize they had to be something better. The best small cooler was not enough for a single person to carry into the field with them.


A major innovation in portable cooling was making it soft-sided. Making it soft-sided meant that you didn't have the weight of the plastic, and you could carry in other smaller devices. A Realtree cooler is like this. These amazing devices are able to cool almost anything you want, and they are much better than the hard box-type devices. Let's review what makes the soft-sided cooling device so much better, and why it is what you should get when you want to go outside and keep things cool. Even if you are going to be on electric transport like what you would do in golf, a golf cooler bag is better than having a hard box cooling device with you.

Why a Soft Sided Cooler is Better

In today's world, soft-sided cooling is the go-to choice. It is a superior option compared to hard box type cooling since it is more portable. It is also easy to paint so you can have that cool camo cooler you always wanted. It is also easier to carry around so you can bring it as a lunch cooler bag with you. This means you can take it anywhere even to the beach. Using a soft sided cooler as a beach cooler bag will make your life a lot easier. It makes it easier for you to simply pick up and go. The technology makes it a lot lighter to carry so you aren't lugging something heavy around.

In every situation, you want to have soft-sided cooling with you. It makes carrying things around so much easier. You get the same cooling effect without the actual weight. Because it is made from fabric instead of rigid plastic, you are able to fit it into places you wouldn't of otherwise. This means you can take it on trips with you where space is limited. It also means you have the ability to take it when you're going on smart devices. For example, if you are riding on a motorcycle, and you want to put it on your back, you can do that without any trouble. This innovation in cooling has made things a lot better for everyone. You're able to carry it around and not worry about the extra weight or problems that come with it. It has also defined the way the future of cooling will work.

How Cooling Technology Helps You

Cooling technology has improved as time has gone on. We are seeing it get even more improved as we understand the physics of cooling even better. Soft-sided cooling has been an improvement over the hard box cooling, but there are still a lot of changes in the industry. Things will continue to evolve like everything else in human society. Eventually, I'm sure you will see cooling get even better than it is now. Who knows, maybe in the future will have active cooling that we can carry on our backs. Maybe you will be able to keep a hold refrigerator in something as small as a backpack. However, for now, cooling is something we have to carry with us, and it is not possible to have it be active. Only time will tell the future will bring, but cooling is something that is continually evolving and will grow for the foreseeable future.