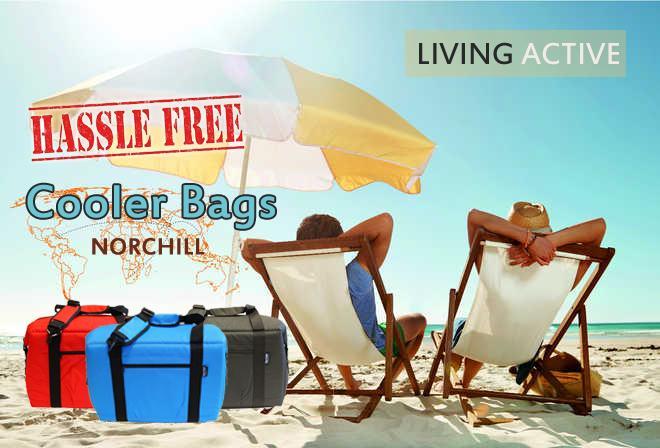 Living an active lifestyle can require you to have many items on hand and ready to go at a moments notice. Whether you like fishing, camping, boating, going to the beach, going to sports events, attending festivals and concerts, or like relaxing in your backyard and having a barbeque you will always want something cool when spending time in the warm weather. There is nothing worse than spending time outside in the heat and then drinking a warm water or another warm beverage. You are always looking for something that can keep your drinks, and sometimes food, cool. 

You may have a hard, heavy box that you have used for many years to keep your food and drinks cool on your outings. These coolers take up a lot of space and are unrealistic for many of us with hectic schedules. They are difficult to carry around and to store during the winter. If you have not already invested in a cooler bag, now is the time to do so. 


Why Use a Cooler Bag? 

There are many advantages to using cooler bags as opposed to other coolers. Soft sided cooler totes take up much less space since they can be folded down into a bag. They keep both food and drinks cold and are much easier to carry around. You will not need two people to lift soft cooler bags because many of them come with handles and straps that are easy for anyone to move. They fit perfectly on a boat or in a tent and can be taken anywhere. If you are looking for the perfect way to keep drinks cold, a soft cooler is the best option. This is the best small cooler on the market. 

Types of Coolers on the Market 

Many of us have used the heavy, hard sided coolers in the past, but these are one of the most difficult types of coolers to move around. It is impossible to fully enjoy the activities you love knowing that you have to lug these with you. Soft cooler totes come in a variety of shapes and sizes, but they are sure to be the best portable cooler you have ever used. Depending on the activities that you enjoy you can use a lunch cooler bag, golf cooler bag, a boat cooler, a marine cooler, a travel cooler, a beach cooler bag, a camo cooler, a realtree cooler, or a lunch cooler bag. There are a multitude of options to fit your every need. Regardless of the insulated cooler you decide to use you can know you are making the right purchase because these coolers are sure to keep your food and drinks cool and make your life much easier. 

Getting Out On the Water 

If you enjoy getting out on the water and boating the boat cooler and marine cooler are perfect options for you. Not only are they easier to haul than older hard box coolers, but they are soft coolers so that they will not cause any damage to your boat when you need to move them around. These coolers are UV resistance, more durable than other coolers, water resistant, anti-mildew, and are sure to keep your food and drinks cool for hours as you enjoy your adventures on the water. They are the best small cooler on the market. When boating for fishing many coolers get ruined by the water, but these bags are sure to do the trick. 



Going to the Beach 

Most people love going to the beach, relaxing on the sand, swimming in the ocean, and taking in the warm sun. While enjoying your time on the beach it is critical that you stay hydrated. The hot summer sun will inevitably make you very hungry and thirsty and if you do not have something cool to drink you risk becoming dehydrated. The beach cooler bag, which is another soft sided cooler option, is sure to keep your food and drinks cool for hours even in the hot, summer sun. This insulated cooler is the perfect option for the beach because it is easy to clean, easy to haul on and off the beach, can hold a large amount of food and drinks, and is UV resistant so the color will not fade. Hard sided box coolers are difficult to move, especially on the beach. They get stuck in the sand and once they are filled with your food and drinks they are almost impossible to lift. If you are looking to bring food and drinks on the beach there is nothing better than the beach cooler bag. 

Adventures in the Woods 

Whether you enjoy hiking, camping, or hunting you will always want something refreshing to drink. If you are planning an adventure in the woods it is unrealistic to think that you can bring a hard sided, heavy box with you to keep your food and drinks cool. There is no way to hike with these heavy coolers and if you tried to bring them with you on a hunt you would scare all the animals away. 

To keep your drinks cool while you go on these adventures you should invest in a camo cooler or a realtree cooler. Both are exceptional portable cooler options because they are as durable as any insulated bag. They will help you keep your drinks cool so that you can enjoy a refreshing drink after spending time in the warm outdoors. The camo cooler is a great option for hunters because it allows you to blend into your environment and be more in touch with nature. The anti mildew feature of these coolers is especially effective for people who like to be outdoors. Whether you are enjoying a night in the woods or a whole week the anti mildew feature will ensure that you cooler does not get moldy or ruined by the wind, rain, and dirt that you will surely encounter. 


Sporting Events 

If you are looking to go to a sporting event, whether it be golfing, a baseball game, a football game, or your children's youth game, it is always nice to be prepared with cold food and drinks. Hauling a heavy box is difficult and can ruin the interior of your car. A soft sided cooler is an insulated bag and iis much easier to haul, fits great in any car or truck, looks much more appealing, and is sure to be a conversation starter. If you are planning to tailgate you may way to invest in the travel cooler or another portable cooler. They will attract attention from your neighbor tailgaters and you are sure to get a ton of compliments about the design, color, and innovation of your purchase. 

If you are planning to spend the afternoon on the golf course a golf cooler bag or the lunch cooler bag is the perfect option for keeping your drinks cool. They can keep drinks cold for you and for all of your friends. It is easy to haul around the golf course and fits perfectly on a golf cart. It would be impossible to carry heavy box shaped coolers with you around the golf course, but these cooler bags would be perfect. 


There are many advantages to purchasing soft sided coolers, as opposed to hard, box shaped coolers. They will keep your food and drinks very cold, will not fade in the sun, are anti-mildew, can camouflage into nature, are much easier to carry around, are sure to start a conversation, and will be admired by those around you. There are a variety of options to choose from so that you can be sure you will always have cold food and drinks no matter where your busy, active lifestyle takes you.