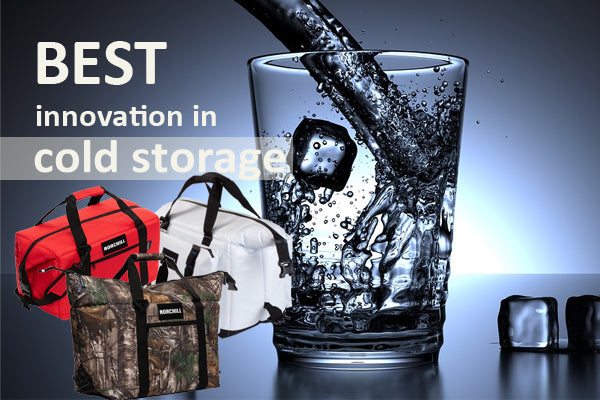 Over the past few decades many industries, fields and products have been taken by those with an innovative vision and transformed into better versions of themselves. We've seen it everywhere from the macro scale of homes, vehicles and entire enterprises; to the micro scale of phones, personal computers and fashion. Regardless of where we look, optimization and innovation seems to never be too far behind. Yet for all of our progress, certain fields and items of interest have gone relatively overlooked, at least until recently. One of the fields that seemed to have been initially glossed over, only to be hit with its fair share of disruption in present times, is the field of cold storage; coolers, freezers, etc.


The New Standard in Cold Storage

Cooler bags are a recent innovation in cold storage that makes the problem of portable cooling for items & food a thing of the past. With phenomenal ease of use, cooler bags are just as efficient and easy to handle as your everyday bag, but with the added benefit of being able to cool just about anything at a moments notice. On top of unrivaled ease of use, insulated cooler bags are also conveniently easy to transport due to the fact that they are foldable and can be carried in the form a tight-fitting backpack. cooler bags also happen to be perfect for hauling cooled items over long flight trips, due to their level of insulation ensuring that the quality of the item remains intact over long periods of time.

As opposed to the larger, more inefficient cooling units that you're used to, cooler bags also happen to be more on the affordable side. Depending on the source of where you're buying your cooler bag from, some producers and suppliers even give out special deals and price cuts for bulk transactions; making them ideal when thinking of an item to get the entire family before you all take that latest trip. Thanks to the casual makeup of cooler bags, you can even buy them with specific colors and designs in mind.

Practical Uses of Cooler Bags

Due to the fact that cooler bags are of the more casual makeup mentioned previously, this means that they are also useful with regards to a larger number of practical tasks than traditional cooling units.

If a customer has ever found themselves at a grocery store having just purchased perishable foods & items, they know the struggle of trying to make it home in a timely manner to sustain those products. If you have a cooler bag on your person during the trip, however, this problem is nonexistent. cooler bags also happen to be extremely useful for those of us that enjoy a maritime lifestyle as well; there's nothing more casual yet effective for storing that latest catch than a marine cooler bag. Due to the stretching ability of cooler bags they can also accommodate larger than average catches with little to no problem as well. Aside from carrying fish, you can also use a smaller cooler bag to freshly store the bait and other equipment if need be.

Another situation where cooler bags can be of great practical use is during something like an emergency power outage. During such events, the power to various home items and tools is severed; as such, it's a time when many are left without able home essentials such as freezers and refrigerators. In such emergency circumstances, cooler bags are of utmost importance and value due to their high quality insulation capabilities. A single cooler bag will allow you and your perishable foods/items to tough out the outage with little struggle. Even in less dire times, cooler bags could be used for something as simple as defrosting.

Other practical uses for the bags would be when discussing the subject of food preparation and storage. Many people are aware that these bags can be used for the storage of items, but not too many customers are keen on the ability of cooler bags to serve as kitchen surfaces. That's right, these things even go as far as to help you make food; if you purchase either a travel or beach cooler bag, you'll find that it will come with a flat lid on it to serve as a surface for food and meal preparations. On the same note, cooler bags can also be used for storage of the meal after it's been prepared; the insulation of cooler bags allows for the meal temperature to be maintained with next to no problem. Thanks to lunch cooler bags, your meal will be just as fresh when taken out of the bag as when you had just purchased it.

Usage Benefits over Traditional Cooling Units

Due to the innovative design of cooler bags, they come with a number of utilizational benefits over regular cooling units. One of these benefits is the fact that cooler bags are easily washable & dryable. This becomes especially useful during outdoor trips which may dirty up the bag & cause spillage inside; customer surveys even indicate that outdoor trips are the most prominent use for cooler bags.

cooler bags also happen to be far more compatible with the environment than traditional cooling units, being of an eco-friendly design. Soft-sided cooler bags in particular are plastic-free and made to dissolve quickly when disposed of, leading to less artificial excess caking up in the environment. On top of these facts, cooler bags are also highly reusable allowing for them to be useful in a wide breadth of activities such as athletics, hiking, traveling, picnics etc. A single insulated cooler bag can serve as a multi-purpose cold storage unit, being useful for just about anything.

Finally, cooler bags are also more affordable and of higher quality design than traditional cooling units. cooler bags can be purchased in all sizes for different levels of usage and storage, from large ones made to accommodate events such as camping trips to smaller ones meant just to tag along for a golf match or family visit. This means your purchase can be customized for all budget sizes. From there, the insulation material within cooler bags allows for a better protective shell over the items within the bag. The accommodating makeup of the bag also means there's less wear & tear for items shuffling around inside, as opposed to items slamming back & forth within a regular cooler.

Conclusion

As you can see, cooler bags provide a large number of benefits and advantages over traditional cooling units. These benefits make them a far more cost-effective purchase over their predecessors, and such innovations seem to have sealed the cooler bags position as the pioneer of cold storage.

Buy a soft cooler with a soft cooler, a cooler bag with a cooler bag, then get a soft sided cooler with a soft sided cooler and a golf cooler bag with a golf cooler bag. Make sure to buy a boat cooler with a boat cooler, and a marine cooler with another marine cooler. Get an insulated cooler cheap, another insulated cooler for free; best small cooler with another best small cooler. A travel cooler with another travel cooler as well. Get a beach cooler bag and a beach cooler bag. A insulated bag and insulated bag. camo cooler with a camo cooler, and realtree cooler with realtree cooler. portable cooler with portable cooler, and lunch cooler bag with lunch cooler bag.