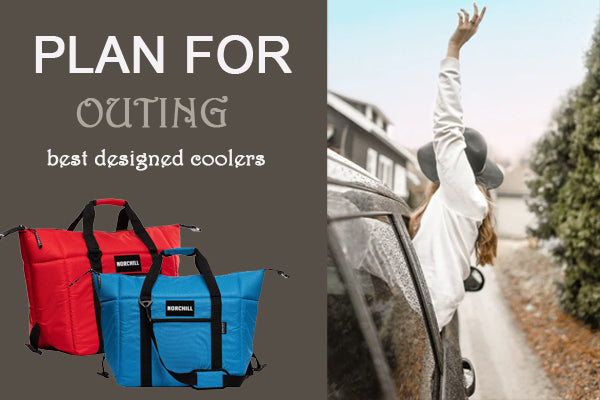 It's pretty common to use
portable coolers
because of the convenience. Some coolers are heavy and blocky, making them less desirable to a large number of hikers. After all, they don't need anything weighing them down unnecessarily. There are some advantages to these hard boxes - they can hold more food or drinks, for a longer duration. That said, coolers with soft siding can prove much more favorable.
Soft coolers can be filled with goods but are not cumbersome to carry. Whether you're at a campsite or on the beach, you'll want to be able to focus more on what you're doing instead of whether you've lost track of any of your belongings. Let's consider a few different types of coolers in particular.
Some coolers are designed to work well while on a boat. A
marine cooler
, for example, is waterproof for obvious reasons. They're especially light-weight, because a vessel on water is one of the most serious places to make sure your watercraft isn't weighed down. A proper marine cooler is also made with high durability. This type of design was made with the idea of storing fish in mind. It's also seen with your standard
boat cooler
. A boat cooler is designed to serve boating purposes in particular.
A
soft sided cooler
can be worn as a backpack. This leaves your hands free, which is invaluable in case you're climbing or hunting. You won't be able to perform these kinds of activities nearly as easily with a typical hard cooler. Ideally, the best small cooler will come with padding in places like the shoulder straps for comfort. You can still opt to carry your bag by hand.
A
beach cooler bag
can be expected to be available in a wide variety of fashions and colors. You can match and accessorize with your beach towel and other related items. Bringing a beach cooler bag can save you a lot of hassle in the long run.
To tailor to your needs, these kinds of bags can come in many sizes. A portable bag can be small in the case of a single person traveling light or for a short period of time. They often come with small compartments for storing items like snacks or napkins.
Golfers sometimes like to use some sort of insulated bag while they're playing. A
golf cooler bag
can hold the refreshments you'll need after working up a sweat. If you plan on accommodating your fellow players, you might want to make sure it's a larger container. If there's one thing you can do with a golf cooler bag, it's fill it with golf balls!
A respectable insulated cooler can be compressed considerably. Your
insulated cooler
might be stored in a tight space while you're traveling, and it's important for it to be able to withstand some pressure. If you use a hard cooler, it will be harder to to fit among your other luggage, and it might accidentally damage something near it.
One thing most outdoor enthusiasts need is a
lunch cooler bag
. Insulation is key here, as keeping your food whatever temperature it started out with can impact whether the food even remains edible. People also usually prefer their water cold when they've been outside for a while, so keeping your lunch cooler bag from getting warm makes a difference when taking a break from outdoor activities.
If you're going hunting, you might like to use a
realtree cooler
or a
camo cooler
. This is one of the most light-weight bags on the market. With this portable cooler on your back, you can conserve energy as you're moving around. The realtree cooler sports designs by the famous camouflage-friendly company. The camo cooler is ideal if you're looking to blend more into your surroundings.
Another good place to have a reliable travel cooler is a concert or festival. If you plan on attending something like that, a low-weight soft sided cooler may be the best small cooler for you. Festivals usually involve a lot of standing and walking, which requires more energy than it feels like at the time. Just like on the beach, it can be fun to stylize your bag to match the event. An insulated bag will also resist water damage from sources of water like the ocean or a lake.
One of the advantages of using a
travel cooler
is that you can store well-insulated water inside. If you use a large container, it can still fit inside without producing as much clutter as you get with multiple bottles. Since the container would be a big one, you wouldn't have to worry about running low quickly.
Value is another important concept to discuss when considering a cooler bag. In terms of efficiency, you'll get more value with a soft cooler than a hard one. The insulation ensures freshness for up to hours at a time. Soft coolers are also usually cheaper.
Their small size makes it less likely that you will have to position a bag in one spot for an extended period of time. The out of the way places people leave their big hard boxes can sometimes attract more dirt and grime. Since
soft coolers
are easier to hold and transport, it's possible they'll stay cleaner in the long run.
One thing people like to do is dump some ice or a couple of ice packs into their cooler. This can maximize the time that your goods will stay cool, and the water resistant materials common in soft coolers make it unlikely that an leaking will occur. The advantage with a soft cooler is that the ice is not actually need for this cooling effect; it's only an additional measure you can take if you wish. The same can't be said for hard boxes, which will always need ice.
Soft coolers are quite versatile, as we've explained. They can serve a number of purposes for the active and adventurous. They are widely available, and you should be able to customize any portable cooler you purchase to your needs.
Ultimately, the decision is yours as to what type of device you'll be taking with you on your journey. Every
outdoorsman's
needs and wants will vary slightly, but some benefits cannot be denied. The portability and versatility of a good cooler bag are undeniable. If you've never worked with one before, consider making a change for your next adventure.
There are a lot of activities people have fun doing outside: camping, hiking, fishing, etc. No matter what you're up to, it's a good idea to stay hydrated. That means keeping plenty of refreshing drinks handy.