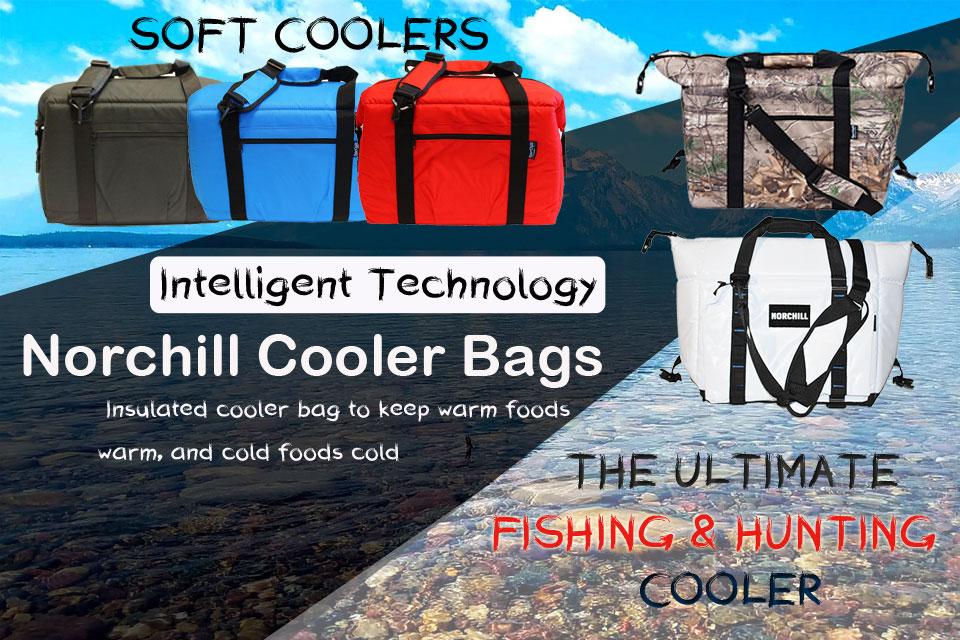 Do you remember the last time you and your gang went to the beach with a cooler? Surely it's burned into your brain. First, you pulled out last years cooler from the closet, then opened it up to discover there was a God-awful smell or mildew from when the interior was not wiped down properly.


No way you are going to store food and drinks in that thing! So you stopped your packing, got into the car for a half-hour commute back and forth to the nearest big-box retailer to buy another.

Ka-ching! There go another $50 bucks out of your wallet.

Then, you loaded it up with ice, drinks and cold food such as sandwiches, and afterward, it required two people to carry it, your shoulder tendons screaming all the way to the beach from strain.

Does this sound familiar? There is a better way, and its called a soft cooler.

What's a soft cooler? Essentially, a heavy-duty canvas-type bag with specially insulated cooler nylon inside, which allows the insulated bag to keep warm foods
warm, and cold foods cold.

Advantages of using a soft sided cooler

Old fashioned, plastic icebox coolers, or even worse, those easy to tear, styrofoam models just scream, "I'm still stuck using 50s technology," while a soft sided cooler shows not only that you are hip to new technologies in camping, but are environmentally hip as well.

Using a cooler bag is so versatile, that it puts a plastic icebox to shame.

For example:


Using a lunch cooler bag

Imagine what people would think if you hauled a giant plastic container the size of small boat anchor each day, to keep your lunch in. Or imagine you are a 4th-grade student. Plastic tubs are out. A Soft cooler bag is in.

Besides being sleek, and available in smaller, lunch cooler bag sizes, they blend in, not out.


A cooler bag makes the perfect golf cooler bag

People living in Arizona, Florida and Las Vegas typically golf year-round. But golf clubs and a golf bag is heavy enough. A small soft, portable cooler makes the perfect golf cooler bag to keep you hydrated and charged with electrolytes with your favorite beverages and separate pockets let you carry no only snacks such as nuts and beef jerky, but also car keys, cellphones and more.


Boat cooler and marine cooler models

There are three concerns for a boat cooler/marine cooler.

* First, you don't want the bulk of a plastic icebox.
* Second, you don't want a portable cooler that will scuff up your boat.
* Third, the beating sun of boating and fishing can play havoc with your food and drinks. You avoid that with an insulated bag.


Travel cooler soft bags

Traveling by car or airplane? You can save a bundle over expensive tourist-orientated restaurants by bringing along a soft, travel cooler. And if you are on a special diet, such as keto, need special foods for a diabetic, or have a finicky eating baby, a travel cooler can be a lifesaver.


Beach cooler bag

Norchill insulated cooler bags make the perfect beach cooler bag for several reasons:

* They are much lighter and only require one person to carry which is critical when traversing rocky trails till you get to the beach. Easily packed in a backpack, your hands are free to carry beach chairs, air mattresses or blankets.

* Unlike traditional plastic cool designs, the Norchill DualTemp Insulation system keeps cool foods cool, and warm foods hot. Thus, you can pack a more nutritious variety of foods to please everybody.


Camo cooler/RealTree cooler

A very popular model with the hunter set, the RealTree Cooler/Camo Cooler blends in with the rest of your hunting gear with their perfect, camo print design.

Hunting parties often carry two or three. One for dedicated food and drinks, and the second for field dressing animals.

A hunter or a bow-hunter can field dress a deer, and then safely keep the meat for hours, in a Norchill soft sided cooler and not worry about clean-up afterward, because unlike a plastic cool box, you can pop a Norchill cooler bag into both the washer and the drier. How great is that?


You'll save money

Norchill soft bags go everywhere and that can save you a great deal of money. A typical restaurant meal at the airport alone will run you $12, which is about the cost of a measly hot dog and a 12-ounce cup of beer at most college and pro football stadiums or watching Nascar.


Celebrate in style with your own parking lot tailgate party, which includes fried chicken, coleslaw, hot, mashed potatoes and gravy, cold drinks, gourmet coffee, and ice cream cups. You'll be the envy of the parking lot.

You'll be environmentally friendly

Each year, thousands of plastic cool boxes, or worse, styrofoam ones, clutter up landfills or get discarded in the trash. This is such a waste of precious resources and the best thing is you'll possibly use a Norchill cooler for up to 10 years or more. They are tough, rip-resistant, and easy to clean.



You'll never be without food or drinks



Campers, beachgoers, golfers, kayakers, fishermen, and hunters know how often they are far away from decent food and drinks. And contrary to popular belief, convenience stores are sometimes miles away.

One very popular population of our customers are construction workers and farmers, who often spend long hours working in the field or at the construction site. Truckers are another important element. The men and women who work these jobs rarely have time to drive 30 minutes just to get to a restaurant, so they take their own. And the DualTemp technology allows them to have a wide variety of food rather than just cold drinks and
cold sandwiches.


Best small cooler for mothers

Mothers with babies or toddlers, appreciate the sheer convenience of carrying bottles for their babies which stay warm and separate zipped pockets to keep baby foods, baby wipes and more. Norchill makes the best small cooler for mother, in an easy to carry bag.