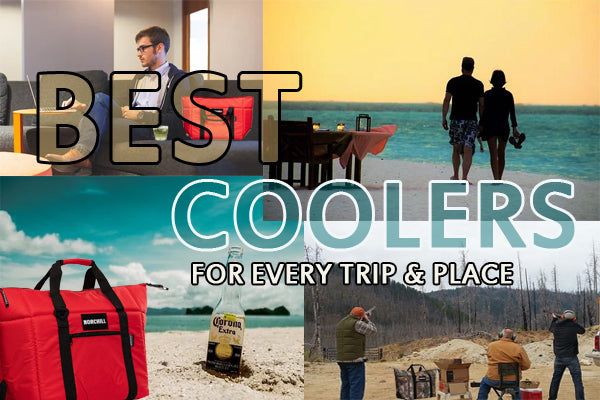 Soft Cooler
Norchill has the best soft cooler. These coolers have overthrown rotomolding by providing soft materials. The materials have RF welding altogether. The soft ones have different sizes and shapes. Therefore, it caters for the needs of their different clients. Additionally, it is cheaper than hard-sided coolers.

Norchill Cooler Bag
The Norchill bags have an installation of dual temperature that makes it easy to keep drinks and food. Moreover, you can keep in a cold or hot condition. Additionally, their bags have a long time warranty with the condition of fixing it even when you break it. The cooler bag has outer and inner layers and therefore has the ability to maintain the temperatures for many hours.

Norchill Soft Sided Cooler
Norchil has a soft sided cooler that will fit your needs. This one can transport your food or drink anywhere you want and go and at eh set maintained temperature. Additionally, the soft-sided cool box can easily be folded or rolled up whenever you are not using it. Therefore, making it easily portable and can fit in your war drop when not in use.

Norchil Golf Cooler Bag
Golf players get tired and sometimes need a cool drink to quench their thirst. It is for this reason that Norchil comes in handy to provide a cool box. The soft golf bag is highly convenient because it is not heavy, and it is easily portable. The golf bag is versatile for your golf course.

Norchill Cooler Bag
A cool box is convenient to keep your food and drink in a cold condition. Some people prefer their beverages cold. Norchill has the best cool box in the market that will be favorable for your preference. It is made with fine materials that will not wet other things around it. Get yours today, and you will enjoy their products.

Norchill Boat Cooler
Love going fishing or adventure in the large water bodies? Norchil cares your needs and hobbies by creating the best boat cooler in the industry. These coolers have military-grade features with a tarpaulin shell, resistant to corrosion, liner seams that have a fusion welding, anti-skid ultra-tough bottoms. Moreover, its handles are padded, and therefore, it will not hurt your hand when carrying the bag around.

Norchill Marine Cooler
Marine cooler almost serves the same purpose as the boat bags. However, they may be for different purposes. It's good to have two bags in order to alternate when one is washed or damaged.

The marine coolers are good for long distances and can withstand extreme weather conditions. Additionally, they are rust-resistant and have UV protection.

Norchill Insulated Cooler
The insulated cooler bag is a backpack that is designed to keep your beverage and food cool for a long period. Insulated bag are made in a convenient design that is easily portable. Norchill products have insulted coolers in soft-sided bags and therefore giving a two times solution. It has been constructed and designed to make it comfortable for you to carry along.

Norchill Best Small Cooler
There are times that you are in a hurry, and you just want the easiest possible way out. The best small cooler is convenient for such purposes. They are easily portable, and Norchill has made it convenient for you to carry it and go. Norchill has the best bag because it has G8TRSkinTM with fusion-welded liner seams. Additionally, it has padded handles, therefore making it more convenient to carry even when you are in a hurry. Also, it has enough space for your beverage and food to occupy and provide a favourable cooling effect to maintain the temperature conditions.

Norchill Travel Cooler
Do you want to go out for travelling and you do not want to carry your refrigerator along with you? Worry no more because Norchill provides the best travel cooler. Therefore, you do not have to be worried about your food and beverage being cool. The travel cool box has double temperature insulators that will help in maintaining the temperature of the food or drink.

Norchill Beach Cooler
Going camping at the beach? Get your Norchill beach cooler, and you will enjoy your beach moments. The beach cool box will maintain the temperature of your beverage and food.

Norchill Insulated Bag
Maintain the temperature of your food and beverage using Norchill's insulated bags. The best part about the insulated bag is that it has double temperature insulation that will help maintain the temperature condition of your bag. Whether you want it cold or hot, the bag will not let you down.

Norchill Camo Cooler
Camo cooler is mostly preferred for hunting. However, you can also travel with it to wherever you go. Norchill cool box has the Xtra that is in Realtree Xtra to mean that it is extra effective when in the field. It has 13 warm natural colors that are favorable for fall, spring and winter.

Norchill Realtree Cooler
Realtree coolers have camouflage patterns that are best for hunting and camping experience. The Norchill Realtree cooler has superior ice retention and a Realtree design. These bags are well designed for the outdoors.

Norchill Portable Cooler
Portable coolers are meant for the purpose of being portable as the name suggests. The Norchill portable cooler has comfortable padded handles. Therefore, making it flexible and easily portable. Additionally, they have double insulation that will keep your food and beverage to be cold or hot according to your preference.

Norchill Lunch Cooler Bag
Going out for a picnic? Consider having your lunch cooler bag from Norchill. The lunch bag will maintain the temperature of your lunch and the beverages. It has double temperature insulation that will help in maintaining the temperature to be hot or cold.

Advantages of Using These Bags as Compared to a Hard Box Type Cooler
The hard box is bulky because it is made of hard plastic as its insulator, on the other hand, the bag is made of soft insulators which makes it highly portable. The hard box is favorable for boats because you will not have to carry it along.
Alternatively, cool box bags are also convenient to use on boats and marine trips because they have a bottom that is built in a convenient way to adapt to the boat.

Additionally, such bags are the best to use in all different situations. It has varieties such as the golf cooler bag to be used when going for golf activities and the beach cooler bag to use when going to the beach. Hard box does not have all those varieties. A beach cooler bag has a padded handle that is best used for carrying the bag around. Therefore, you will not get tired carrying it around and also it will be gentle on your arm. On the other hand, the hard box does not have a padded handle and therefore makes it hard tough to carry it around.

Cool bags are best preferable because of its amazing features. It has double temperature insulation that can fit in a bag, therefore making it favorable to maintain the temperature of your food and beverage. Additionally, it has liners which make it easy to remove and clean. Also, it can be easily folded when you are not using it. Norchill produces the best coolers that you will enjoy its services even when buying it.