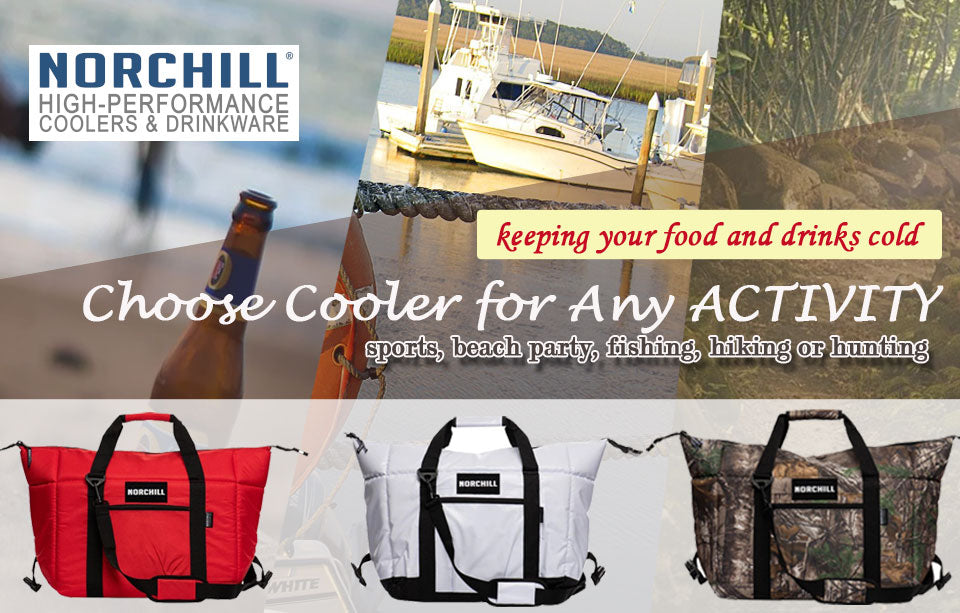 Stop Wasting Time Trying to Choose A Cooler.  Make the Right Decision and Get a Soft Cooler Bag
When leaving the house for outdoor events such as fishing, camping, traveling, going out on the beach, sports field, the gym, or the office, keeping your food and drinks cold is a thing to worry about any time. However, when you step into a store, a sea of options of coolers would have you confused on the best one to use for your trip. You will find both soft and hard coolers, which might not be very easy to choose from them. Since you are not willing to carry both types of coolers on a single trip, here are some of the guidelines to help you enjoy your trip without having to worry about the food or drink getting warm when you have stayed out there for longer. You need a specific bag for your preferred activity. For instance, you need a good beach cooler bag when going to have fun on the sandy beaches.

Hard or Soft Bags

You might have a rough idea of what makes the difference between the better type of insulated cooler that you might need to choose from when you get into a store. Just as their names suggest, a hard insulated cooler is made from hard materials, preferably plastic. These bags are very heavy, bulky, awkward, and cumbersome to carry around. A marine cooler or a boat cooler could use these appliances whenever they need to get their food or drinks stored over a more extended period. You could be carrying other items such as larger catches that require such amount of space. The marine cooler or boat cooler also require a surface to settle, which makes them inappropriate for activities such as hiking or hunting.

On the other hand, the soft bags are ideal for days when you require a beach cooler bag that compares with the bulky hard coolers. You could also use a lunch cooler bag, which is small and portable than the traditional lunchboxes. The camo cooler or lunch cooler bag is also more comfortable to clean since they have an inner lining that is easier to work around.

Technology has been used in several sectors to develop products for efficiency and adaptability. Most of the old folks carried their lunch boxes to school or to the office in large containers that were not only bulky, but could not fit into small irregular spaces in the car. Cooler bags have not been left out in the technological advancements of the century. Now you don't have to worry about that small space in your trunk, or creating a rectangular area to fit in your bag. The soft cooler bag is your ideal travel cooler when you need to keep your drinks and food cold for long. Let's look at a few tips to help you make the decision.

Soft Coolers Are Lighter and Highly Portable

Imagine going for hiking or hunting. You need to carry as many cold drinks as you might need. However, you don't want to be carrying a heavy travel cooler on your back while covering uneven terrain. The soft sided cooler sheds away the weight off your back since it is made of lighter material. Maybe you could be headed out to the golf coast for some training sessions, and the weather forecast predicts a sunny afternoon. A soft golf cooler bag could just do the trick. The coolers are just as soft as the name suggests – you have to carry a lighter cooler with a functional carrying capacity

The bags are lightweight and come with straps, which makes it easy to carry them by hand or over the shoulder. For instance, the realtree cooler is very portable. On the outside, the cooler bag resembles your regular backpack. The straps distribute the weight on your shoulder, which makes it easy to walk or run on a hunting trip. You also don't get tired quickly while going through your usual routine. You can pack your car and carry the portable cooler on your back and still leaves your hands free to bring other items you might need to take.

Easy Storage

After spending some time out there hunting, you could be coming back home with a good catch. Better still, you might have picked some souvenir on the trip hiking that you would love to carry on your way back home. For people going camping, you could have bought some new items that need to fit into your trunk. In these cases, you need space to accommodate your new items. The soft cooler insulated bag is collapsible and can be folded to create more room than they originally occupied when they had food and drinks stored in them. The travel coolers can be folded and stored in smaller spaces in the trunk or inside the car.

If you carried a soft sided cooler to the gym, you might not need to take a large bag on your way back home. As you stroll back, you can fold your bag into a small one that fits into your backpack with the other training gear so that you are only carrying one item. Golfers have the same privilege when using the golf cooler bag. After the training session, you can open your bag, enjoy your cold drink, and roll it to fit into your training gear and leaves you with very little luggage. Obviously, after a long day in the field, you don't want to have too much weight on your shoulders.

Highly Versatile

When buying an insulated bag, you have to make sure to get the best adaptable bag that can take you to a range of activities. You need the best small cooler that can take you to the office, a fishing trip, and can still be used when going out to the sports field. In a society where people are multitasking, you will leave the house in the morning for the office, go for golfing in the afternoon, and head for the gym in the evening. In all these activities, you need the best small cooler that will be handy and adaptable in all places. If you buy the right cooler bag, you won't look misplaced among your colleagues in the office with the same bag that you will carry later to the field and proceed with to the gym.

Whether you are going on an activity that you will need to carry some items back from your adventure or might get very tired to carry large pieces of luggage, you need a portable cooler such as a realtree cooler or camo cooler that is designed to meet your specific needs.