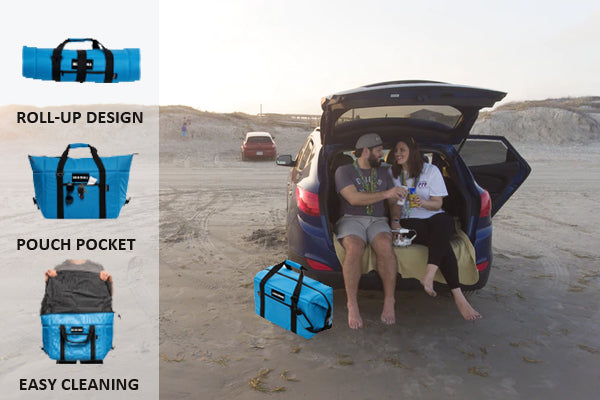 Washable bags for messy activities
Choosing a portable cooling bag
comes down to either the traditional box option or a sleek and lighter bag. It's important to understand the difference and know the sharp advantages these bags have over their older counterparts. One of the first obvious differences is the weight. This means you won't need to lug around a burdensome box of your food or drinks. When you're actively engaged in multiple activities it's easy for the bag to get dirty and it's much easier to clean. It can handle dirt, food spills, or any other common messes that occur when you're active. They can also be very stylish and can fit your activities like with a
camo cooler
Eco Friendly: Plastic-free for the environment
A great aspect of utilizing a cooler bag is that it's friendly for the environment and is suitable for those who actually care about what they discard. Any plastic that is thrown away will remain in the environment and cause problems in the balance of nature. A
soft cooler
will degrade naturally and gives the user peace of mind that they aren't impacting the earth in a negative way. They're definitely great for those who are passionate about marine life specifically because so many ecosystems are harmed when people discard plastic materials. It is also harmful to humans in the long run and if you're passionate about nature and preserving it then they're the perfect alternative. You're doing yourself and everyone else a major favor by implementing degradable products that have less impact on the world we share. They have longevity in durability too so you won't have to discard them for a while.
Soft sided cooler Protects food and drinks from spilling or shifting
A
soft sided cooler
helps to protect your nutritious fuel from spilling and shaking around in an unstable manner. Box coolers run the risk of shaking a lot and causing unnecessary damage to your food. If you're packing carbonated beverages then get ready for a surprise when you get thirsty. One can avoid this altogether because the
insulated cooler allows for the stability of your beverages and snacks.
This is imperative if you're carrying it around during activities that may jostle the bag, and you need a higher standard when searching for one that keeps everything organized. They feature a strong lock that makes sure it doesn't come loose during intensive or casual movement. Breakage is virtually impossible with this option and a soft cooler will never do you wrong even during exercise or sports where you're constantly on the go!
A budget-friendly alternative to Box coolers
The insulated bag comes in a wide variety of sizes for individual needs, and it's up to you to decide which one is the right one for the job. You can even get different designs such as a camo cooler if you're going out hunting and need to conceal everything. You will find the
best small cooler
for the job that will be a convenient option for a quick snack between activities without burning a hole in your wallet. The larger bags may be more expensive, but it's still a fair and manageable price for the extra space. Sometimes it simply calls for it if you have a lot of food and drink for multiple people on trips.
A cooler bag is an affordable option that will be long lasting and serve multiple purposes
. The size ranges are incredible and can be a small bag for a couple of fuel snacks for a runner or a bag to pack a few family meals on a camping trip.
Golf bags to elevate your experience
A
golf cooler bag
can be carried over your shoulder and handled more like luggage which is ideal for any golfer looking to streamline the transportation of a lot of equipment. A golf cooler bag delivers incredibly convenient access to your various delicious snacks that are preprepared for a seamless transition between holes. In this case, the golfer may opt to purchase a bag with special zipper pockets to store things like extra golf balls. A soft sided realtree cooler is an excellent option for golfers because they are lighter and more convenient when you're constantly on the move. There can be some arduous hills to climb in the sport, but an insulated cooler will keep your drinks frosty cold for when you need it most. The insulated bag gives you control over your food and allows for convenient access without the top getting stuck like a traditional box cooler.
Beach bags for chilling out
A
beach cooler bag
is ideal for those who cherish memorable and epic times at any given beach. They are specifically tailored for the experience and can handle the heat beating down with ease. If you love going to the beach then you know the inevitability of getting sand everywhere and that's part of the fun. However, it's not fun when it's difficult to clean like with Box coolers. A beach cooler bag is a
portable cooler
that allows you to effectively clean after each visit and will make the process much easier for the long term. It really just requires you to quickly wipe it down and that's it, making it more manageable and less stressful. The point of going to the beach is to unwind and not lug 3-5 large ridiculously heavy coolers that require two people to carry and take a long time to clean. Add more convenience to your beach experience with a portable cooler for better beach experiences!
Boat cooler and marine travel cooler for fishing and boat trips
There's nothing like taking a relaxing
fishing trip with friends or family to score that elusive catch
, but you have to stay fueled and hydrated to wrangle in a big one. A
boat cooler
is ergonomically designed to be conveniently fitted in the boat while you're out on the water. You may run into some weight and storage problems if you attempt to cram a large hard plastic box into any boat. It's absolutely necessary to invest in a marine cooler to make fishing much more enjoyable. Opt for one with some additional pockets to separate the cooling of bait from your own food. You will experience the best small cooler for the job when fishing or simply going on a boat ride.
A realtree cooler is a great option to consider for spending time with mother nature. Each cooler is spacious and soft for keeping food and drink cold.
A
marine cooler
can also be themed like the ocean to give off the correct vibes for your activities.
Large or small-sided travel bags for hikers
If you're a hiker then you know that the body needs to refuel or you'll inevitably collapse. Hydration is also important and there's nothing better than having an ice-cold beverage waiting for you in your travel coolers. It's also a wise idea to potentially carry a
soft-sided cooler
that is a reasonable size that doesn't go over a certain weight limit. It might be fine at first, but after a few miles, you might reconsider next time and avoid packing too much. It's a good idea to pack an extra travel cooler in the form of a lunch cooler bag. This will ensure that you have a light option for lunch in case you get lost on the trails which can be an issue. A lunch cooler bag is more convenient for attending outdoor activities, and this is especially true for elderly folks. It's just more convenient and easier to carry a lightweight and
efficient option for keeping your lunch optimally cool
.