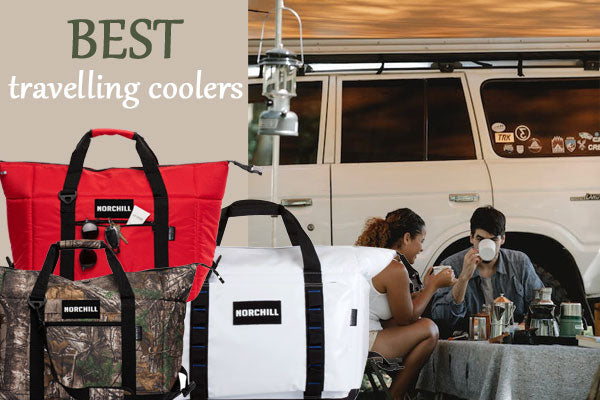 Without a doubt, cooler bags are the way to go. The lack of a rigid case makes it much easier for you to carry it around, and the soft materials make them much more comfortable. The fact that they don't need ice is also a big plus since you won't have to stumble across an inconveniently placed grocery store because your cooler's ice melted. Though most people still love conventional cooling boxes, we recommend using a soft cooler bag.

Discussed are some of the benefits of using insulated bags rather than the rigid box type
1) They are versatile
Hard coolers are often too big and bulky to fit in a backpack or even in the car, while travel cooler bags are much more convenient. Even when packed almost to the brim, they will still fit in most cars and can be carried easily. for sports activities, the likes golf cooler bag is very versatile and perfect. With an option for camo cooler bags, you will be able to blend in with the environment. for your boating activities, a boat cooler is a perfect choice as it protects your belongings from being damaged by the elements.


2) They are easily portable
Hard coolers need ice, which isn't always readily available during camping trips. Their rigid cases make them a pain to carry around, and you often have to find a place where you can rest. For this reason, you should have one of the best small cooler bags, which are very handy and can be taken anywhere without any restrictions. Portable cooler bags are great for carrying things around with you and perfect for when you're in a rush.


3) They are comfortable
With an insulated bag, you can be sure that the bag will not hurt your back or cause any unwanted injuries. To cater to the elderly and kids, choose the best small cooler suited for their needs. The fact that it is easy to carry means you don't have to worry about wearing around a heavy backpack; this increases your mobility. You will find comfort-ability necessary in a beach cooler bag, which can be very useful in carrying snacks, and beverages for the family or yourself. You can also choose a portable cooler with built-in bottle holders, so you don't have to worry about putting your bottles in another bag.


4) They are environmentally friendly
A soft cooler bag is more accessible to carry than the box type. as a result, insulated bags are much more environmentally friendly as they take up less space, require less fuel, and are not heavy. They are made from more sustainable materials, making them much more eco-friendly. Since they need less ice and water insulated, a soft sided cooler bag is more environment-friendly than hard coolers.


5) Wide range of design and style
The minor nature of soft sided cooler bags expresses a sense of style. The fact that they are not rigid allows you to fold them into whatever size is convenient for you. with the option of different types of camo cooler and Realtree cooler, you can choose what best pleases you. The fact that you can choose from different colors and patterns means you will be able to find a bag that suits your personality perfectly. For vacations on the beach, you can choose a beach cooler bag which is available in different styles, sizes, and colors. You will want to consider your preferences when shopping for a cooler bag. For example, if you are going golfing, you need a golf cooler bag matching your gear for road trips with friends; consider a classic travel cooler bag. Insulated bags are found in every color and style imaginable. When picking out your new cooler bag, consider your needs. For men and women interested in hiking or hunting, a Realtree cooler is your best companion. The design is meant to complement your needs and have space and compartments to store your stuff. The material used in making them is hydrophobic. It would be best if you also considered the thickness of your bag. If you use it regularly, you will want a thick, insulated bag for optimal performance.


6)Efficiency
One of the most significant advantages is that you don't have to spend your money on ice when buying a lunch cooler bag. The reason is that an insulated cooler uses ice to maintain its temperature. The lunch cooler bag is a good idea if you want to bring your lunch instead of buying a sandwich. You will want a good quality, insulated lunch bag that won't leak, and the food won't get smelly. If you plan to go out in the waters, marine cooler bags offer the best way for your staff to stay cool. You can get a marine cooler in different shapes and sizes, regardless of your needs.


7) Cleaning Convenient
For ease of cleaning, the lunch cooler bag is made from a unique material, so with simple washing, it will be ready to be used again. Cooler bags are handy when you plan to go camping or do some outdoor activities with your family. They will keep your food and drinks cold enough to taste good. A boat cooler bag keeps the food in the preferred condition for hours at the beach or fishing. Insulated coolers are easy to clean and maintain than rigid box-type coolers and will not absorb odors too quickly.


8) Durability
The soft sided bags are the most commonly used type of cooler bag. They are sturdy and durable, with an inner lining of either moisture-wicking fleece or water-repellent nylon. The limited space inside will keep your food cold for hours without the need for ice. On the other hand, the hard coolers need to be insulated by a block of ice. Most hard coolers break after several uses, which is not the best. Cooler bags are built from durable materials such as heavy-duty polyester and reinforced insulation, ensuring that your food and drinks won't spoil due to temperature.
So, the verdict still stands. Insulated cooler bags are the best option to serve your needs for a long time. Go for something that you like or has features and functions that you can use daily.