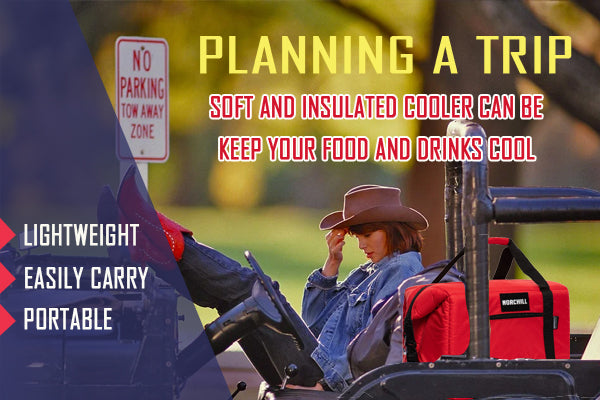 A lot of people do not often think about the different types of coolers when thinking about buying one, but it is important to think about it. There are soft coolers and hard coolers, and they are very different from each other. Also, a soft sided cooler can be gotten in many different styles though they are all basically a cooler bag. It is important to think about what you want and plan to use it for before buying one so you get the right thing.


Hard vs Soft Cooler
There are so many different coolers on the market now that people are often overwhelmed when it comes to picking one. There are hard coolers and soft coolers, and it can be hard to find the right one for you. If you are looking into getting a
portable cooler
, it can be a hard process to find the right one.
A cooler bag is a great choice though because they can be very lightweight and small enough to carry around easily.
If you happen to live an active lifestyle, then you know how important it is to properly carry drinks and food with you. You do not want to be drinking warm water or other such beverages when you are walking around on a hot day.
A cool beverage can also help prevent you from getting overly heated, so it is important to get the right coolers for what you plan to be doing.
The thing that will be the problem for you though is that there are a lot of different portable coolers that can now be found on the market, which is broken down into hard coolers and soft coolers.
A hard cooler is often overlooked nowadays because they are larger and harder to move around. Now, if you are having a family picnic and have a strong man to carry it to the picnic area, then it might be the best choice to be able to hold everything.
Soft coolers are the popular choice nowadays
though because of how easy they are to use and how many different types can be chosen from. Each of them is easy to carry around and use. The one main drawback is they tend to be much smaller than hard coolers, but the three major advantages to one are how easy they are to carry, how easily they can be stored away when not in use, and how some of them can do both hot and cold items at the same time.
Types of Cooler Bags
Hard coolers tend to be all the same just in different sizes, but a soft cooler can be gotten in many different styles and sizes. What makes one the best small cooler is that it is an insulated bag, which means it is super easy to carry around. They are also easier to store away when they are not in use with their smaller and collapsable size.
Golf Cooler Bag
There are a lot of people that tend to spend a long time on the golf course, so being able to keep drinks cold is important. A
golf cooler bag
is a perfect choice for this, and part of the reason is how small it is. The small size makes it very easy to carry around, and it can be folded up when it is not being used.
Travel Cooler
A proper
travel cooler is an insulated cooler that will be easy to take with you anywhere and keep everything cold
. While a hard one can be easily used for traveling if you have a vehicle, but they can take up a lot of room, which might be limited. A soft one is a lot smaller and easier to carry if you do not have
Lunch Cooler Bag
A soft and insulated cooler is the perfect thing to take with you when you are going to be out doing something and
need to keep your food and drinks cool
.
A lunch cooler bag is very portable and easy to carry around with you
while you are out, such as out hiking. It is also a great pick for if you happen to be going to a local zoo.
Boat Cooler
A
boat cooler
 is sometimes referred to as a marine cooler, and it is an important thing to bring with you on your fishing trip or even for just a boat ride. A proper
marine cooler
can handle the heat that comes with being in direct sunlight, and yet everything inside of it will remain completely cool. It also needs to be waterproof to protect anything that might be inside if the boat happens to tip or spring a leak.
Beach Cooler Bag
The right beach bag can hold everything that you might need when you are going to spend time in the sun with your feet in the sand. A
beach cooler bag
is perfect for you to take with you to the beach because it is an insulated bag that also has other pockets. This bag has spots for you to keep your drinks cool, but it also has room for you to store your wallet safely and sunscreen to prevent you from getting burned to a crisp.
Camo Cooler
When it comes to
going hunting
, you want to bring stuff with you that will blend in so you can hide better. A
camo cooler is the only option when it comes to hunting
so that it does not stand out with its surroundings. One of the most popular choices is a Realtree cooler because the company has perfected its camo.
With a Realtree cooler, you can safely bring some drinks and food with you while you are hunting
, which means you can stay out even longer for that chance at the big buck.
How to Choose the Best Small Cooler
Now that you know all the benefits of having a
soft sided cooler
and know the different types, you can pick the
best portable cooler for you
. There are important things to consider though when picking your perfect cooler. First, you need to determine how much room you will need because you do not need a large one if it just needs to hold enough for one or two people. Then you need to decide what it will be carrying, such as cold or hot or both. Next, you need to keep in mind the texture of the bag, especially if you are going to be carrying it. Lastly, you have to consider if the bag is waterproof or not with where you will be using it.