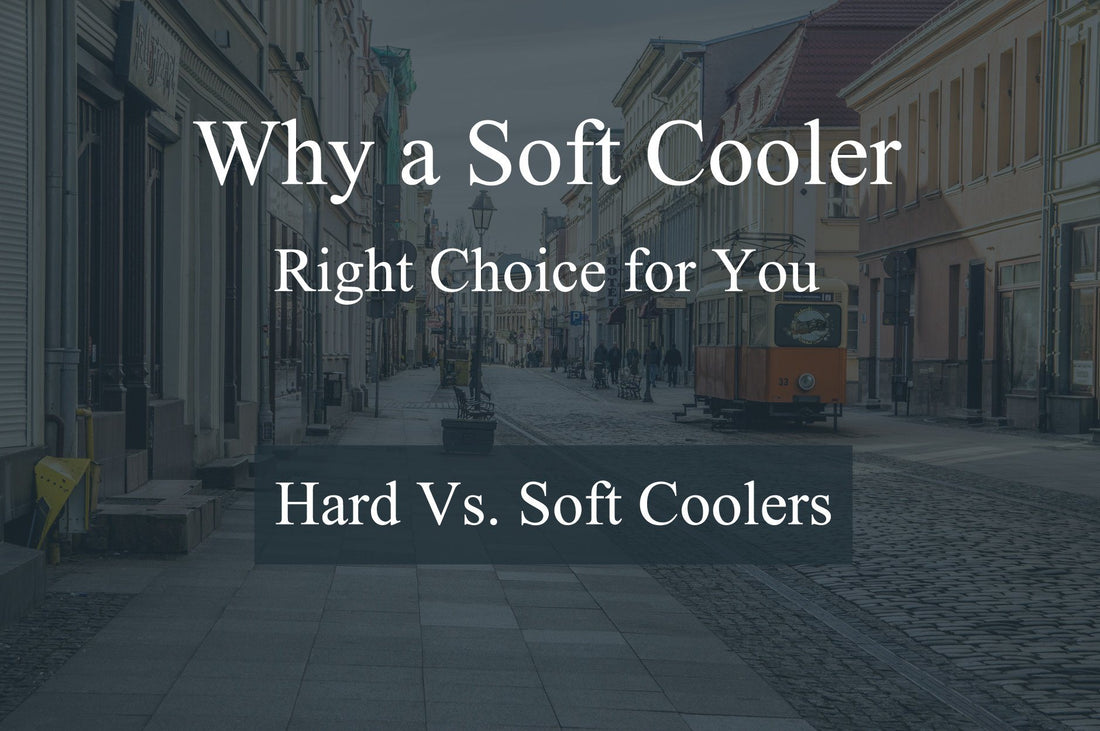 Do you have an active lifestyle that requires you to be in the outdoors regularly? If you do, the days of bringing lukewarm drinks to sporting activities and fishing expeditions are long gone thanks to the invention of coolers. The appliances will help you keep your beverages and snacks cool in addition to giving you the storage space that you need. When shopping for a portable cooler, however, you will find different designs and constructions that might make you indecisive when looking to pick the best one for you. This is because you will need to identify the features that make coolers suitable to your needs. The only obvious distinction is in the types of coolers: soft cooling bags and hard cooling boxes.


The decision on whether to a carry soft cooler or hard cooling boxes entirely depends on your needs. Deciding which one to buy or carry, however, can be a daunting task, especially when you are dealing with a wide range of options and limited knowledge on the ideal cooling box for different needs.

You don't have to worry, however, because this article is here to get you out of this misery. Coolers keep things cooled. When buying one, however, there are other components to consider like your cooling requirements and portability among others. In this article, we look at the benefits of carrying a soft sided cooler as compared to a hard box coolers. We inform you the advantages of soft coolers over hard boxes to enable you to choose the coolers that make more sense for you and makes it ideal for whatever purpose you intend to use it.

Hard Vs. Soft Coolers

The main difference between hard and soft cooling appliances comes in size and insulation. Hard cooling boxes are big and made from rotomolded plastic, thus making them very bulky and hard to carry. You might actually need a car to carry a hard cooling box depending on its size. They are best suited for storing large amounts of beverages and snacks for a long period of time thanks to the rotomolded plastic construction that provides premium insulation.

Cooling bags, on the other hand, are smaller in size and lightweight, thus making them highly efficient as compared to bulky box ones. They are very easy to use and store since they are more like regular bags.

Types of Cooling Bags

Lunch box cooler bag: going by the name, a good example of this type is a lunch box. This type of bag looks like a regular lunch box. A lunch cooler bag is a well insulated bag that keeps your drinks cold and carry small snacks. The bag's interior features removable liners that are easy to clean.


Shoulder bag coolers: these soft cooling bags are much larger as compared to the lunch box coolers and can carry drinks and snacks for up to 7 people. They are stylishly designed since they can pass off as regular shoulder bags to help you match them with your outfits. Shoulder cooling bag are made from regular materials that do not cause you to strain when carrying them around. You could even get a travel cooler that features removable straps for easy carrying around. With the wide array of designs and colors available, you can choose whatever works best for you.
Backpack cooling bag: this is undoubtedly one of the best soft sided cooling bags for most outdoor activities, especially those that involve walking due to its ease of carrying. All you have to do is carry it on your back like a regular backpack. Your hands are free so you can even carry extra stuff. This portable cooler comes in different designs and sizes to meet your carrying needs. Next time you are going up a mountain or for a long nature trail, it would be great to consider a backpack cooling bag.

Advantages of Using Cooling Bags as Compared To Hard Box Type Coolers

They can be used on a daily basis
Cooling bags are very versatile. This is because they are made of soft materials as compared to hard boxes that are made of molded plastic. As such, they can be used on a daily basis. Good examples include a golf cooler bag, a lunch cooler bag, and a beach cooler bag. They are best suited for keeping your drinks and snacks cold for a long time.


Multiple storage pockets
Cooling bags have more storage compartments as compared to hard box coolers. Hard box coolers are big coolers that are mostly not differentiated for different brands. With cooling bags, however, there can be inner pockets that can be used to store additional items like cutlery and napkins. This is a great feature for a beach cooler bag since you need to carry a lot of things to the beach and the additional pockets will ensure that you do not have to carry more than one bag.

They are light
As compared to hard box coolers, cooling bags are lighter since they are made from vinyl or fabric that is lighter than molded plastic. They have a smaller capacity as well. Being lightweight makes them best for carrying food and drinks in the short-term without much strain.

They are portable
Cooler bags are equipped with carrying straps. They look like a regular shoulder bag or a backpack. This makes them extremely easy to carry around. As such, you do not need to have a car to carry it around unlike when you are using hard box plastic coolers.

Ease of storage
A cooler bag is just that. A bag. This means that it is foldable, something that makes it extremely easy to store in addition to consuming very little storage space. This is unlike plastic molded hard box coolers that are extremely bulky and have to be stored as they are. This is beside the fact that they take large amount of space that could have been otherwise used to store something else.


They are affordable
When compared to hard box coolers, soft coolers are quite affordable. They are the best for small expeditions like daily activities and offer less cooling as compared to hard box coolers. However, they are highly portable and versatile. So, if you are looking for a budget cooler, a soft cooler would be a great option as you save up for a bigger hard box one.


Conclusion

Whether you carry a soft sided cooler or a hard cooling box depends on your needs. Retention, trip period, and environmental conditions will often determine the cooler you deem ideal for you. If you intend to use it for regular activities, choose the best small cooler bag because it is easier to carry around and store.
Take a look of more insulated travel coolers, camo coolers and boat and marine cooler for outdoor activities.