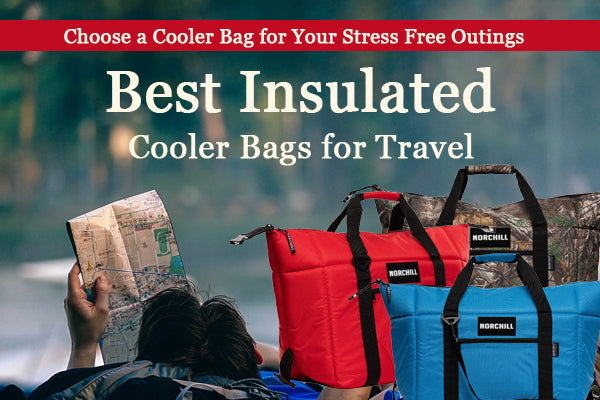 soft-sided coolers
. But which one should you choose?
What is a soft cooler?
A soft cooler, also frequently known as soft-sided coolers, is a type of insulated bag made from flexible materials and designed to transport food and beverages. Soft cool bags are generally smaller in volume than hard-shelled coolers - from about 12 quarts or so up to 30 quarts; hence it is the best small cooler.
Cooler bags are insulated bag that are the perfect option for active people who need to transport cold food and drinks.
Because they offer less insulation, they're best suited to transporting cold things in warm weather - like taking beer to a party or bringing some snacks along on a hike.
A cooler bag is typically made from three layers: an outer layer (which provides the structure), an insulator (usually some kind of foam), and an inner layer that protects the contents from the insulator. The inner layer is usually made of plastic and vinyl. Shoulder straps are a common feature on soft cooler bags, but they can also be carried by hand like a duffel bag. Most have zippers that provide access to the inside without opening the entire bag at once.
What are hard coolers?
These are commonly used to store food and beverages for long periods of time. They are also called ice chests, ice boxes, or eskies. Hard coolers are typically made with a durable plastic exterior, an insulated interior, and a lid that can be opened to access the inside.
Hard ice coolers will keep your items cold for days at a time. You simply need to fill your coolers with ice, which can be bought inexpensively at most stores. If you're looking to use hard coolers for short trips, you might not need as much ice.
The lids of hard coolers often feature latches or screws that help keep the cold air in and the warm air out. Some hard coolers will also come with drain plugs that make it easy to empty melted ice without having to tip it over.
Hard coolers come in sizes ranging from small (15 quarts or smaller) to large (75 quarts or larger). Smaller hard coolers are great for storing drinks and snacks for one person on a trip, whereas larger hard coolers can accommodate enough food and beverages for an entire family.
Why is a soft sided cooler better than hard coolers?
Soft cool bags are better than a hard-sided coolers for many reasons. The most significant reason is the type of insulation that a soft sided cooler offers. Most hard-sided coolers are made from plastics and fiberglass, which are common forms of insulation used in modern refrigerators. Soft cool bags like the
golf cooler bag
, on the other hand, use high-grade polyurethane foam. The foam is derived from food-grade polyethylene and polypropylene, which are the same materials used in medical products like mattresses, bandages, and pillows. Polyurethane is 100% recyclable and very safe to use around food; hence you can buy a golf cooler bag to carry your lunch.
Soft cool bags are safe to carry food
A soft lunch cooler bag does not have any metal parts or seams, which makes it much safer for your food as well as for you; hence this is a great
travel cooler
. Soft cool bags also have more room for ice because they do not have to be filled with water or other liquids to maintain proper temperature. This gives the
soft lunch cooler bag
an advantage over hard-sided ones when it comes to keeping food fresh longer.
It is collapsible and easier to store
Since it is light, it is easier to carry and transport. It also comes in handy when you're taking your soft cool bag camping or hiking. Since hard coolers are made out of plastic, they can be really heavy to carry even when they're empty; therefore, the cooler bag is a great travel cooler.
A
soft cool bag
is collapsible, so you don't have to worry about where you're going to store it when it's not in use. Sure, you can empty out hard coolers and try your best to get them back into their original box, but that's a lot of effort for something that isn't even reusable. Plus, hard plastic coolers take up a lot of space, whether they are full or empty, making them a hassle to store away.
They are easier to carry long distances
It may sound surprising, but soft cool bags can actually be easier to carry items for long distances; for instance, you can use a beach cooler bag to go on long journeys at the beach. This is because the shoulder strap that most soft cool bags come with is often more ergonomic than carrying hard coolers by the handle, making it a portable cooler. A
good quality portable cooler
bag has a thick and comfortable shoulder strap that can be easily worn over one shoulder or across your body. To make them even easier to carry, they usually also have handles. This option makes it easier to unload out of your car and allows you to carry them on your own without asking someone else for help.
They keep items colder longer
Most soft-sided coolers like
Realtree cooler
or lunch cooler bags use a combination of closed-cell foam insulation, which is the same material used in high-quality sleeping pads or jackets, and a water-resistant liner. The closed-cell foam acts as a barrier between the interior and the outside world, while the water-resistant liner prevents liquid from seeping into the insulation; this makes a great
beach cooler bag
if you love the beach.
By comparison, most hard-sided coolers are just hollow plastic boxes with a drain plug at the bottom. While they have some insulating properties, they don't offer nearly as much protection as foam insulation.
They don't break
Hard coolers, being made of plastic, are easy to break.
Soft cool bags are made out of fabric and are flexible, meaning they can absorb impact from drops or hits.
Hard coolers have a much harder shell that does not absorb the impact but rather transfers it. That's why if you drop hard coolers or bump them against something, there is a decent chance that the plastic will crack or break, sometimes even compromising the seal around the lid.
Soft cool bags are more stylish and less generic-looking than hard coolers
Soft cool bags are definitely better looking compared to hard coolers. Just think about the difference between modern soft-sided coolers and old-school pluggers with a dorky handle on top. To use the vernacular, hard coolers are "basic," while soft-sided units have more style like boat cooler or marine cooler, which come in camouflage hence a good looking
camo cooler
. This is why they're so popular with sports fans, campers, hikers, beachgoers, hunters, and anglers alike.
Soft cool bags are cheaper than hard coolers
Soft cool bags like a boat cooler and camo cooler are cheaper than hard coolers because they cost less to make; hence they make the best small cooler. In fact, they are often significantly cheaper than the price of comparable hard coolers. Hard coolers can be made of two types of material: plastic or metal.
Some high-end coolers are made of stainless steel, which is extremely expensive, but most are made from other metals like aluminum or copper, which are much less costly. Plastic is even less expensive than metal.
The material used to make a hard insulated cooler can vary widely in price from very expensive to very inexpensive. However, there is one material that costs more than all others: Styrofoam. Styrofoam is the most expensive material used to make hard coolers. In fact, it's so expensive that not only is it used in lids of coolers, but it's also used in the bottoms and sides of some models as well.
Soft insulated cooler bags like the
marine cooler
or
Realtree cooler
should be your go-to coolers for any adventures where convenience matters. They're better able and more likely to be able to fit into small spaces, which means you'll be able to pack in more of them.
If you love to spend time outside, then you know how important it is to bring a cooler for your drinks and food. There are, however, two types of coolers which you can use, the hard box and the