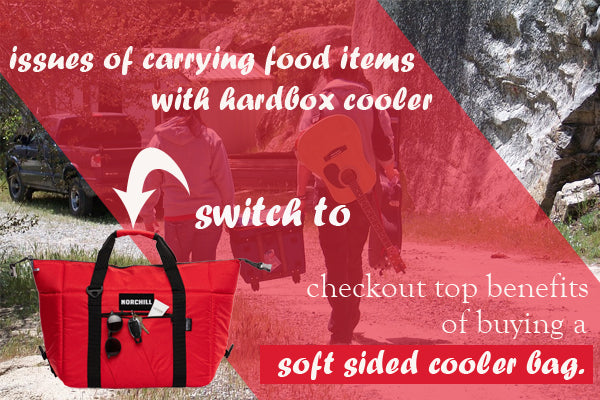 Cooler bags are becoming popular nowadays, and they have resolved several issues of carrying food items. Whether your food is cold or hot, a cooler bag ensures it retains the perfect temperature. However, this isn't the only reason why you should prefer a cooler bag over a hard box bag. There are plenty of benefits of having these bags at your disposal.
Benefits of Cooler Bags
Does a
soft sided cooler bag
sound enticing? Well, it does. Nevertheless, are you anxious that it may not suit your needs? If so, here are the top benefits of buying a soft sided cooler bag.
Balanced Temperature

It's hard for a standard lunch box to maintain particular temperatures for a prolonged period. Whether you store cold or hot items, they will ultimately reach room temperature after some time. Here is where an insulated cooler bag comes in handy as it helps in retaining the required temperatures.

Suppose you want to go for a summer trip and want to store ice cream without melting? In that case, it would be sensible to carry it inside an insulated cooler bag comprising an ice gel pack. This bag will maintain the ice cream's ideal temperatures for a long time. Additionally, this is a portable cooler bag, meaning you can comfortably carry it to any destination.

Don't be anxious if you have limited space in your car, as you can place this portable cooler bag in your laps and continue on your expedition. Another good thing about the best small cooler bag is that it's waterproof, meaning your food is safe against an unanticipated water shower.
Tastier Meals

Maintaining the temperatures of meals stored in a soft cooler bag can make sure that the foods retain freshness for more extended periods. Also, it means you can take the foods at the required temperature, thanks to the features included in the these bags.

Remember that some meals are designed to be consumed at particular temperatures. For instance, assume you have prepared a cold sandwich for your imminent excursion. If that's the case, you may be dissatisfied if the cold sandwich is no longer cold and considered suitable for consumption. The best thing about a soft cooler bag is that it makes the food enjoyable and tastier for consumption.
Lightweight

An essential benefit of a travel cooler bag is that it's lightweight. As opposed to the basic bags, a travel cooler bag will not cause stiffness and pain to the focused area. This way, it means you can hang it like a purse or carry it like a backpack. Whatever the case, the best insulated bag won't affect your body posture. So, if you are planning to buy a bag for your next camping trip, nothing beats the portability nature of a lunch cooler bag.
Versatility in Size

Most common carry bags are constricted in size and don't have larger options to carry bigger containers. But with a lunch cooler bag, you are miles ahead because a small-sized one lets you carry lunch. On the other hand, a large one fits people in a large food industry that delivers meals.
Universal Use

Usually, an insulated bag for storing food is far easier to carry, use, and store. Also, it's classy than most of its competitors in the market. Another impressive thing about an insulated bag is that it comes in various colors and sizes, making it one of the best small coolers for carrying food compared to the basic plastic-based lunch bags.

What's more, a portable cooler bag can be a valuable item to gift someone, mainly during corporate events. Some manufacturers and sellers let clients customize the bags to make them much more pleasant. For example, you can buy a golf cooler bag featuring special graphics, pictures, or even animal prints.
Provide Better Insulation than a Hard Box

A hard box bag is a waste of resources if you fail to use it for what you purchased it for. When it comes to insulation, the ability of a hard box bag to keep your stored items at the ideal temperatures is deficient. While you have to fill the box with plenty of ice, there's no assurance that the items will retain the appropriate temperatures.

Here is where buying the best small cooler bag in the market kicks in as it offers you the much-needed insulation. The fact that they aren't plastic-based means they offer the temperatures intended to offer. Therefore, you don't necessarily have to buy different golf cooler bags to suit your cooling needs. Try buying a golf cooler bag or beach cooler bag for your next summer trip. A great beach cooler bag will make your trip memorable.
Eco-Friendly

A boat cooler bag is renowned for being environmentally friendly compared to single-use plastic bags. Indeed, using a simple camo cooler bag over a plastic-based one can make a significant difference. Using a reusable camo cooler bag, for instance, may save plenty of disposable lunch bags that would most probably end up in landfills. Remember that plastic waste is a global problem that environmental organizations advise people to manage appropriately. Often, plastic waste is the primary cause of marine life destruction.

Also, most office environments and schools advocate the end of the use of plastic and disposable lunch bags. The rule encourages people to use reusable bags, such as the marine cooler bags. Most people conform to the new guidelines, and hopefully, the use of marine cooler bags could help lower the amount of generated waste all over the globe.
Healthier and Safer

Most plastic bags are designed with harmful chemicals like BPA, lead, and phthalates. It's dangerous if these chemicals leak into your meals. Additionally, plastic-made bags don't incorporate a way of maintaining your food and drinks' temperature. This way, it increases the risk of food becoming rotten.

An insulated lunch cooler bag, on the other hand, comes with the right technology and features to keep your meals as fresh as possible. One of the best things about these bags is that some are lined with effective materials, such as neoprene, nylon, and polyester, to maintain temperature. What's more, some bags comprise an inner layer of either foam or foil and pockets for filling ice packs.
Budget-Friendly

Regardless of having countless benefits, these bags are budget-friendly. Think about this; opting for these bags often means you infrequently use the one-time plastic-made lunch bags. In the long run, the prolonged consumption of disposable plastic bags can be pretty costly. On the contrary, the use of these reusable bags can be profitable over an extended period. These bags are exceptionally affordable to buy, and they lower one's carbon footprint on the environment.
Wrap Up
The above are the top advantages of using these bags over hard box type bags for your needs. Now that you know how valuable a
realtree cooler bag
can be, it would be essential to buy one today. Whether you and your family love short or long trips, a remarkable realtree cooler bag can make a substantial difference to your meals experience. Therefore, wave rotten food goodbye, and enjoy fresh meals at all times with a boat cooler bag.