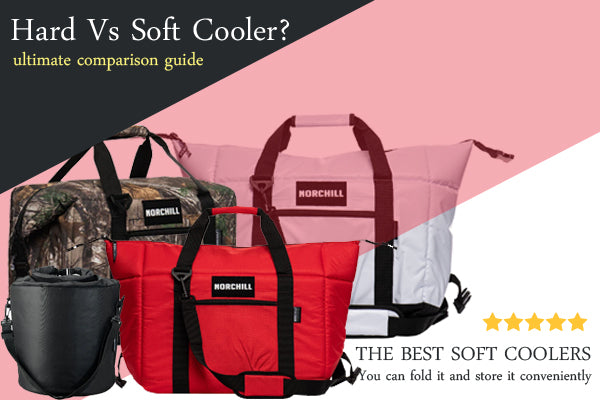 Buying a soft cooler is a great idea. It is easy to store and deploy at any time. Sometimes you would like to go outdoors and enjoy activities such as fishing and camping. Having a place to carry cold drinks will make the outdoor adventure enjoyable for your loved ones.
Compare the different types of products available before deciding on the best cooler bag. A soft sided cooler is more convenient than traditional rigid box. You can fold it and store it conveniently. Many people would like to make life easy. They prefer a reliable product that can serve them conveniently. Some of the benefits of buying a soft cooler are.
1. Versatile
A golf cooler bag can be used for different purposes. For example, if your family members would like to go out and enjoy hiking, they can use the bag to carry cold drinks. The bag is built to be highly durable. You can use it for several years without worrying about it getting damaged. You can always rely on the boat cooler to enjoy cold drinks when at sea. Those who love fishing can buy a marine cooler to meet their needs when at sea.
2. Easy to pack
The best small cooler is easy to pack cold drinks. It comes in a travel-friendly design to simplify your work. If you get the high-quality travel cooler and decide to arrange it, you will easily carry enough drinks for the whole family. A beach cooler bag comes in a fashionable design to allow your family members to enjoy their time when they are at sea. Get the high-quality insulated bag, and you will transform the experience of your family members when at the beach.
3. Affordable and efficient
The Realtree cooler is affordable. You can compare the prices of different products available before buying. You will notice the portable cooler is very affordable. Even some suppliers offer great discounts on the lunch cooler bag. You will save money when making your family members enjoy cold drinks on the go after you go for the best-insulated bag. You will save money for other expenses after you turn to the cooler bags.
4. Highly reliable insulation
The best boat cooler will keep your items cold at all times. It comes in high-quality materials that will assure you excellent performance. Buy the marine cooler, and you will always feel comfortable when carrying cold drinks while at the lake fishing. The camo cooler works well for those who spend several hours in the woods hunting. The high-quality insulation will keep drinks cold for several days. You will enjoy keeping drinks cold for a long period after buying the bags. They are built to achieve great reliability.
5. Travel friendly
Many people prefer it insulated cooler bags because they are easy to carry around. You can travel to any location when carrying it. You can fold the best small cooler when the drinks are over and carry it back home. It is a great way to enjoy your travel adventures. If you intend to go on a road trip, buying the travel cooler will be a great way to make your family enjoy the travel adventure.
6. Lightweight
The beach cooler bag will weigh less when compared to the traditional hard box. You will avoid carrying unnecessary weight when traveling. The insulation materials used to make the cooler box are lightweight and easily folded. Get the insulated bag, and it will make your family enjoy traveling around easily. Many people prefer the camo cooler because it is built to ensure great performance.
7. Portable
The Realtree cooler comes in a portable design. If you intend to carry the cooling bag around easily, you should go for the mobile design. It has handles that make it easy to handle. Many people prefer cooler bags because they can carry drinks to any location. There is no stress after you get the high-quality cooling bags. They come in a high-quality design to make your work easy when carrying them around. An ideal lunch cooler bag should be easy to carry so that you can enjoy cold drinks when it is lunchtime.
8. Easy storage
The soft cooler is easy to store. You will enjoy carrying it around and storing it easily. Get the bag, and it will contribute to making family members enjoy an easy time when holding it. It will not occupy a lot of space in your small home. Fold it and hide. You can retrieve drinks from a portable cooler anytime you are out to enjoy outdoor adventures. The soft sided cooler provides extra space to carry more bottles to your outdoor adventure site.
9. Easy to clean
The materials used to make a golf cooler bag avoid stress when cleaning. It is easier to clean a soft bag than a hard box. You need to keep the bag clean to avoid contamination of drinks when you are enjoying a good time outdoors. The high-quality insulated cooler will make your work easy when outdoors. They are designed to assure you of the best outdoor adventures. Buy the best portable cooler to meet your family's cold drink needs when outdoors.
10. Convenient to use
Many people prefer the insulated cooler because they are convenient to use. You will quickly open the zippers then retrieve cold drinks in any location. There is no struggle to fit them in your car trunk. They come in lightweight and compact designs that make many people who would like to carry items prefer them. You will transform your family for good after you get the high-quality cooling bags.
11. Environmentally friendly
The plastics used to make a cooler bag is less when compared to the one used to make the hard boxes. You will be contributing to the environmental conversation in some way if you can start using the bags instead of the hard body boxes. It is even easy to dispose of the bags when they are damaged instead of a hard box. Many people prefer high-quality bags because they assure them the best experience handling cold drinks.
12. Do not leak
The bags are water-tight. You do not have to worry about drinks leaking if the bottles are broken. You can go outdoors and enjoy carrying a cold drink to any location. The materials used are puncture-resistant, making it possible to carry the bags to any location where you intend to enjoy time with family members.
13. Comfort to handle
There is great comfort involved when handling the bags. They come in stylish designs making many people prefer them. Get high-quality bags, and they will work perfectly towards making users enjoy great success. Those who buy the bags are very happy because they are built to ensure the best performance possible.
14. Smart design
You would like to stay unique when carrying soft drinks around. The bags are innovations that will make you stay stylish. Get them, and they will be a great way to enjoy your outdoor adventures. Many people who have bottle cooling bags have good reviews to share. They are built to meet their specific needs when carrying cold drinks around. Rely on the bags to make your family happy as they travel around.
15. Pouch pocket for extra storage
The bags can carry extra bottles of drinks on their pouches. You can easily achieve the highest level of the organization after going for the bags instead of the traditional boxes. They save on space and are easy to handle when in your picnic venue.