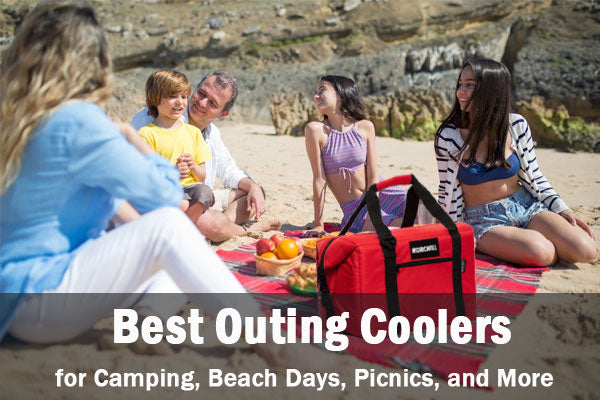 Insulated cooler bags are the perfect way to keep food and drinks safely cooled or heated. They have multiple layers of insulation that provide an effective barrier against the environment's temperature. The innermost layer is the most important and often consists of a firm foam core that prevents heat or cold from leaking. Additionally, some coolers have waterproof, heat-reflective inner surfaces to protect the contents further.
A hard box is an insulated ice chest constructed from a hard material such as plastic or metal. This article will take you through the advantages of using an insulated cooler bag over a hard box.
1. Durability
The insulated bag is reliable and durable for keeping your food cold and fresh. You can trust that the insulated bag's lightweight and foldable design will make it easy to transport in your vehicle, and its plastic exterior ensures it won't rust.
The
soft sided cooler bag's
neoprene construction makes it waterproof and resistant to most elements compared to a hard box cooler bag. You can also be confident in its durability in keeping your food cold for hours, no matter your environment. With a
marine cooler bag
, you can trust that your food will remain cold and fresh for your next outdoor adventure.
2. Various uses
A soft sided cooler bag is a great choice for various uses. It's light and easy to take while hiking, camping, or traveling, making it perfect for carrying backpacks, kayaks, bikes, and more. It's excellent for carrying food and drinks to an outdoor event and keeping drinks cold with ice cubes at parties and picnics.
A
golf cooler bag
is an ideal way to keep your beverages cool during a round of golf. For those heading out on a boat, an insulated marine cooler bag will keep your food and beverages safe from the sun's heat. A hard box cooler makes your food and drinks go bad fast, and it is hard to carry them around.
3. Multiple sizes
The main advantage of using a soft cooler bag over a hard box cooler is the variety of available sizes. With a golf cooler bag, you can choose the size that best fits your needs and wants. This allows you to customize your cooler to suit your needs, whether for business or personal use.
This can save you money as you will not buy a cooler bag that is too large or too small for your needs. Additionally, a travel cooler bag is much easier to transport and store than hard box coolers. The
travel cooler
is lightweight, durable, and can be folded up for easy storage when not in use.
4. Stylish
A
lunch cooler bag
is a stylish alternative to traditional rigid box coolers. Their lightweight design, range of colors, and sleek graphics make them perfect for those looking for a fashionable yet practical way to keep their drinks and food cold. Soft coolers are available in various colors, including reds, blues, greens, purples, and yellows, so that you can choose the best style for your taste.
The different colors of a soft cooler bag can also carry golf clubs, making it a great statement piece for any sporting event or outdoor activity. You can stay comfortable and cool with a lunch cooler bag while looking stylish and fashionable.
5. Tasty food
When food is kept cold in a beach cooler bag, it helps to preserve the flavor and texture of the food and prevents it from spoiling. The cooler's cold temperature helps slow down the growth of bacteria, which can lead to food spoilage. As a result, food kept in a boat cooler tastes fresher and more flavorful than food kept at the hard box temperature.
Chilled food is more enjoyable to eat as it can reduce the heat of spices or other ingredients that can make food too spicy. Cold food can also help to reduce the aftertaste of bitter ingredients.
The thick foam insulation of soft-sided coolers helps to maintain a cold interior and ward off warm air from the exterior. Hard coolers are constructed out of hard plastic and have less insulation than a golf cooler bag, meaning that the cold air can escape and the warm air can enter more quickly, resulting in the contents becoming warmer faster.
6. Easier to clean
A portable cooler is much easier to clean than a hard box because it is designed to be more accessible and easier to maintain. The boat cooler is usually made of a durable plastic material that is easy to wipe down and clean. Unlike hard boxes, boat coolers have wide openings for easy access and cleaning.
They also come with removable and adjustable shelves or compartments, making reaching and cleaning smaller items easier. The soft coolers are usually equipped with drain plugs, allowing quick and easy emptying and cleaning. With these features,
boat coolers
do cleaning and maintenance much easier than hard boxes.
7. Added features
The realtree cooler offers several features that make it ideal for outdoor adventures. The coolers have thick foam walls, providing excellent insulation and temperature control. The lid is designed with a rubber gasket seal to keep the cool and hot air in. The beach cooler bag exterior also features a rugged, water-resistant material to ensure it stands up to the elements.
The realtree cooler comes with an adjustable shoulder strap, making it easy to carry. The coolers feature multiple compartments to keep different types of foods and drinks separate and organized. The
realtree cooler
has a drain hole and plugs, allowing you to empty any excess water easily.
8. Friendly to environment
The best small cooler is good for the environment because it is made from recycled plastic, biodegradable materials, and virgin plastic that is 100% recyclable. This means that the best small cooler bag is not only helping to reduce waste but also helps to conserve resources. Additionally, the insulated bag does not use any plastic in its manufacturing, making it an even more environmentally friendly option.
9. Portability
A portable cooler bag is a great option for those who need to keep their food and drinks cold while on the go. The coolers are lightweight, compact, and easy to carry around. The insulation in the bag helps keep the contents cool, and the variety of different sizes and style options makes them perfect for any outing.
Many also come with additional features, such as shoulder straps for easy carrying and a variety of designs, colors, and camo patterns to choose from. They are a great way to keep your food and drinks cool while traveling, at the beach, or just out and about.
10. Cost friendly
A
camo cooler
is usually constructed with less expensive materials than hard-sided coolers, which helps to make them more cost-effective. The materials used are usually lighter and more durable than those used in hard-sided coolers, which helps to reduce the overall cost of production.
The design of a camo cooler is often simpler, which helps to reduce the amount of time and resources needed for its production. By using fewer and cheaper materials, camo coolers can offer a more cost-friendly option than hard-sided coolers.
Conclusion
Insulated coolers have multiple layers of insulation that provide an effective barrier against the environment's temperature and are reliable and durable for
keeping your food cold and fresh
. They are lightweight, easy to take while hiking, camping, or traveling and come in various sizes, colors, and styles for added convenience. For these reasons, soft coolers are an excellent choice for those looking to keep their food and drinks cold and fresh on their next outdoor adventure.
The advantages of using a soft cooler bag as compared to a hard box type