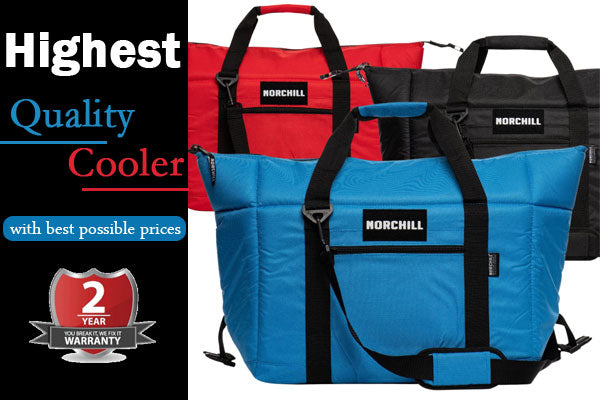 When planning outdoor events like hiking, camping, fishing, games, or working out, you will require something to keep your drinks cold and food fresh. There are many cooling options depending on your budget, size, color, and style.

They are usually divided into two major classes; soft sided and hard box ones. A cooler bag usually has several insulation layers, including an exterior coating, insulating layer, and liner. Here are some of the benefits you get from using an insulated bag.

Compact and easy to carry around

This is one of the main reasons many people go for a soft sided cooler bag. Cooling bags are smaller than hard cooling boxes and fit in smaller spaces, making a perfect portable cooler. They also don't have hard and sharp edges, meaning they will not damage any other belongings in the vehicle, making it the ideal travel cooler.

Others like the camo cooler or Realtree cooler have a strap for you to carry on your shoulder, perfect for long-distance walking. Their lighter weight also makes them ideal for activities like hiking, and they are easy for anybody to carry.
When you remove all the food and drinks from the insulated cooler, you can fold it and store it in the smallest space, unlike hard cooling boxes that take up a lot of space when empty and full. This also makes them the perfect choice when buying a portable cooler.

They are versatile

When using a hard cooling box, you only have one option for all your activities and events. A cooler bag, however, is versatile, and you can choose the best small cooler depending on what you are doing for maximum effectiveness.

Marine cooling bags- These are the sturdiest to ensure they withstand any movements. They are made to withstand all weather conditions and have the perfect insulation to keep your food, drinks, and fish in the best condition.

Boat cooling bags- A boat cooler is made to take up the smallest space on your boat while accommodating all your essentials and keeping them fresh and cool throughout your boat trip. They are sturdy, therefore, you can also use them as seats, cutting boards, fishing platforms, or for cleaning fish.

Travel cooling bags- These are light and have shoulder straps for easier carrying.

Beach cooling bag- These are perfect for transporting cold refreshments into the water and fresh fish on the shore.

Golf cooling bag- These are perfect for keeping your drinks, food, and golf balls on the golf course. Like travel bags, they are lightweight and have shoulder straps.

Hunting bags- The main advantage of these bags is that they have camouflaged colors.
If you are not an outdoor activity person, you can also get a lunch cooler bag to keep your food and refreshments fresh in the office.

They keep foods and drinks fresher for longer

A soft cooler has better insulation than a hard cooling box, keeping your drinks cooler even under hot weather. This makes it the perfect choice for the best small cooler or beach cooler bag.

Budget-friendly

Soft sided cooler bags are made using cheaper materials, making them more affordable for everyone than hard-sided cooling bags. Their designs are also simpler.

Tough build

While the materials used to make an insulated cooler are cheaper than those in hard cooling boxes, they are resistant to wear and tear. They also have rugged zippers and reinforced seams that prevent ripping. Since they don't have hard surfaces, it is hard for them to get scratched or punctured, keeping them in their new state for a more extended period.

Manufacturers also make some of them, like the Realtree cooler, such that they can withstand high drops, exposure to weather elements, and being tossed around without breaking. This makes them a perfect choice when looking for a marine cooler, golf cooler bag, beach cooler bag, and boat cooler.

Easy to clean

Cooling bags don't have crannies and nooks like hard cooling boxes where dirt, debris, and gunk build up. Therefore, they are easier and faster to clean. They also have removable liners that you can easily wash in a sink or washing machine. Their soft sides are easy to scrub without worrying about ruining them.

More secure

The plastic hard cooling boxes usually only have a clasp to close them. Cooling bags, however, have many clasps and buckles, keeping your food and drinks safe despite many vigorous activities. These security measures are perfect when you are looking for a marine cooler, golf cooler bag, or travel cooler.

There are numerous options

Cooling bags come in different sizes, colors, and styles, so you have options when looking for the best small cooler bag. They also have different insulation levels depending on what you want to use your bag for.

Perfect for any gender

Hard cooling boxes are usually more masculine and advertised for masculine users. Cooling bags, on the other hand, are perfect for male and female users, and you can also get one for your children. They are also stylish, ranging from modern to sleeky designs.
If you are not a fan of solid colors, there are numerous fun patterns to choose from, like a camo cooler.

They have more features

A travel cooler has adjustable shoulder straps for easy and hand-free carrying, something you can't get in a hard cooling box. Marine cooling boxes also have several compartments to allow you to store your foods and drinks separately, avoiding cross-contamination.
They also have gel and freezer packs which increase their cooling effectiveness and periods, making them the perfect lunch cooler bags.

Environmentally friendly

Manufacturers make cooling bags using recycled materials, unlike hard cooling boxes made using non-biodegradable materials like polystyrene foam. Some bags are reusable, and you can repurpose yours once it no longer serves you as a cooler.
Conclusion

Keeping your food and drinks cool and fresh is essential during a day out. Whether you are going golfing, hunting, hiking, on a road trip, or attending a sports event, a soft cooler is a perfect option to bring with you. It is lightweight, does not consume a lot of space, comes in different colors and styles, keeps your food fresher for longer, and is more secure.

It is also perfect for keeping your fish fresh on a fishing spree. Unlike hard cooling boxes, you can carry your insulated bag to your office as a lunch cooler bag because of its stylish and gender-neutral nature.