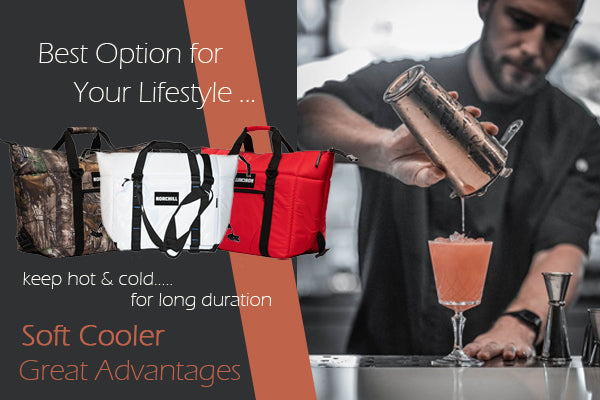 Introduction
Shopping for the items that you need and want can be a very challenging experience at times. From finding the best products for your family's use to selecting services that offer the most convenience, the decisions you make can make a huge difference in meeting each need. Whatever the case, these statements are especially true for those of you who are trying to decide between the cooler bag as compared to the hard box type. With that being said, here are 8 great advantages of choosing the soft cooler for you and your families activities and other needs.


1. Lightweight

When comparing the soft cooler to the hard cooler box, one of the first things that you may want to consider is its size as well as its weight. This is because the weight of your cooler bag can make a huge difference in how much you can carry from one place to another. For example, if you are traveling with friends and family on a camping or hiking trip, the weight of each item that you take can make a significant difference in how much you can carry around from one location to the next. This is also one of the primary reasons why a heavy hard box may not be a preferred choice for traveling around with the snacks and meals that you need.


2. Designed for Ease in Portability

As stated previously, the soft sided cooler is ideal for many different reasons and purposes. In fact, for those of you who enjoy playing golf on your days off, you can use a golf cooler bag for its awesome portability features. A golf cooler bag is actually perfect for those of you who prefer to remain on the golf course for as long as you can. With the soft sided cooler on your golf cart, you will have an opportunity to remain hydrated, while also eating a sandwich or two between plays. This is also one of the top reasons why the convenience in its overall portability is exactly what some golfers need and prefer.

3. Collapsible Features

Today, many of today's grandparents enjoy spending quality time with their grandkids. In some cases, these grandparents are prepared to take little excursions away from the home, including preparing for picnics in the park. A big part of the preparation is ensuring everyone has a good time while away from home, especially when it comes to snacks and meals.

Taking the right things is also essential part of making sure the food remains at the right temperature. Also, if the family wants to make room for all of these things that they need, it is best to choose a cooler or cooler option that does not require a lot of room. With this in mind, the best product selections for these types of occasions are those that provide collapsible features.

4. Boat Cooler Easy to Store Away in Virtually Any place

If you are preparing for a boat trip with both family and friends, you may want to consider the advantages of traveling with a marine cooler. A marine cooler is a much more practical option to the hard box insulated cooler type since it has been designed for easy to store away purposes. When you make this choice, you will have a better opportunity of storing your meals and snacks virtually anywhere on the boat. Unlike the hard box insulated cooler version, the boat cooler space required must be a specific dimension (i.e. small, midsize or big spaces) before it can be stored away.

5. Travel Friendly -- Easy to Clean

The weekend is one of the best times to travel around with the family and close friends. Actually, for some families, traveling from one location in the city, town or state together is always appropriate. Spring, summer, winter or fall will not keep these weekend travelers from enjoying a great time. Therefore, everything should be taken into consideration, including finding the best small cooler or travel cooler for these activities. For example, to keep these food storage options from holding bad smells after they have been used, the best small cooler must be easy to clean at any time and anywhere. Again, unlike the hard box types, these travel cooler options give the user a chance to wipe the smooth insulated materials easily with a soft wet cloth instead of requiring large sums of water to sanitize the hard box quickly.


6. Designed for Durability and Better Functionality

When you are looking to save money and get the best for the amount or money that you are spending today, you should always look for durability and suitable functionality. In this case, an insulated bag may be exactly what you and your family need on the beach. In short, for those of you who spend a lot of time participating in various kinds of beach activities, the beach cooler bag, camo cooler bag, and the realtree cooler bag are usually the right fit for everyone who will be traveling with you. This is because the beach cooler bag and other similar options has been made with a number of different purposes in mind.

Two of the most important purposes are their overall durability and functionality. For example, when you purchase a camo cooler insulated bag, it will last for many years even when you are very active. This type of insulated bag can be used to accommodate a variety of activities, including providing additional realtree cooler space to store your sunglasses, cell phone, and other essential things that you need.

7. Use Daily for any Occasion -- Available in many styles

The lunch cooler bag is presently being made in a diversity of styles. Because manufacturers are considering a wide range of activities that people participate in on a regular basis, they have become very useful and practical for all kinds of events and occasions. From attending concerts, festivals, and fairs to taking the portable cooler bag for all of your weekly grocery shopping trips, these styles of portable cooler options can be used for all kinds of things and purposes. Therefore, if you do not want to travel around with the hard box type in the back of your vehicle, you can purchase a special style of portable cooler bag or a lunch cooler bag version for anywhere that you decide to go.

8. Options Available to Children and Adults

Convenient hot meals at lunch for kids and adults is one of the primary advantages of choosing the soft coolers instead of the hard box type. Even though the hard box types are made in different sizes, they do not always fit occasions for each individual's lunch needs. In many cases, the hard box versions cannot be stored easily on a daily basis. On the other hand, the soft box versions are mobile enough to remain with the child or adult throughout their day. For instance, if the individual chooses to do so, they can store these lunches safely away in their backpacks without weighing them down too heavily.


Takeaway
If you are looking for the best option for your daily storage food needs and other events that you attend, you should consider all of the advantages of using the soft coolers bags instead of the hard box type versions. Some of the most essential advantages noted today, include convenient collapsible designs, added durability, and easy to clean features.