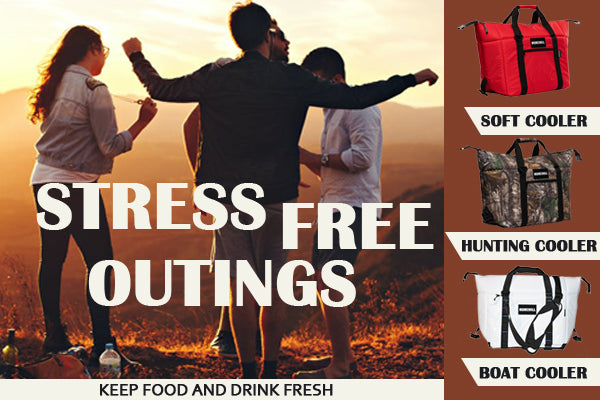 So, you need a cooler for your outdoor activities! And wonder whether a hard-sided type or a soft bag is better for you. A hard box might serve some of your needs. It may hold more of your drinks or food. You can use it as a table, or a seat. But will it serve all your needs? Is it worth it to carry a rigid heavy box?

It is easier to take around a soft-sided cooler. You can also fit in tight spaces when you have to store it. A soft sided cooler will also be ideal if you have an active lifestyle. For hiking, camping, or boating a soft bag will be the cool gear. It can be more convenient and serve you in a more efficient way.


For your active outdoor lifestyle, the soft sided coolers will be better. Then even the best hard-sided coolers. Let us look at some soft coolers and some other reasons to consider. When choosing a soft cooler or bag to fit your active life of outdoor fun activities.

The Golf Cooler Bag

When playing golf a soft golf cooler bag is convenient and always handy. As a golf player, you have to be on the course for long periods. A golf bag makes it convenient for you to keep your food and drinks and other items you need easy access when needed. Your golf cart takes your bag easier. You can even store it behind your feet.

Your bag will be versatile on the golf course. It will also fold when empty and will be easier to store. It will be out of your way when not in use. You can take the golf cooler bag to your golf cart to store it away without any hassle. You can fold and store your cooler bag and access it with ease.

Going fishing or for a boat ride

When going fishing or for a boat ride you will need a marine cooler. You will need some refreshments for that trip. You will need an insulated cooler to keep those refreshments. That bag can be your boat cooler. A cooler bag will serve you well and be more convenient and work better instead of a hard box cooler.

On your fishing trip, it will be easy to keep your catch fresh without a boat cooler. You can also keep the drinks cold for your group. With your insulated cooler, you can stay longer on your boat trip.

This portable cooler is of durable materials. And insulated to be in high temperature and still keeps its contents cool throughout the day. You will have a marine cooler bag that serves as well as any of the hard sided coolers. A marine cooler bag is not as costly as the normal boat coolers. Even when fishing on foot it is a useful gear.

As traveling coolers

A soft travel cooler is available in various sizes to suit your needs. These work well in all your planned travel activities. The soft cooler bag leads the way for the future of cooling for outdoor activities. You no longer have to struggle on your trip with clumsy hard-sided coolers. The convenient travel cooler will serve you well in different situations.

soft coolers much more convenient with a soft cooler bag to keep your drinks and water cool. It is better than hard-sided coolers on your trips. The soft coolers are much more portable and cool than any of the hard types that you can find.

The Lunch Cooler Bag

This soft, portable cooler bag is insulated to keep food and drink while you are at work. These soft coolers can carry food and drinks keeping them cold or hot or both. So use this bag as your lunch cooler bag. After your lunch, you can fold this bag and store it without having to take up too much space. You can keep it near to you all day without any inconvenience.

Using this soft-sided bag to carry lunch is a new trend for carrying lunch. It is the trend that is more and more working people seem to be following. Using this soft sided insulated bag to carry your lunch helps us avoid paper bags. We throw them into the trash after use. So, this bag helps us contribute to saving our planet.


Coolers for travel

You can also use insulated bags as coolers for travel. This bag is light, and it is easy to fetch around. It will serve you well as a great insulated cooler. You can use it for any planned outdoor outing. At your picnics or the baseball game, you will find it a very handy piece of your gear. In it, you have a great portable bag to keep your food and drinks hot or cold.

The Beach Cooler Bag

All the supplies you will need at the beach can hold in the beach cooler bag. Your sunscreen, sunglasses, wallet, are essentials often included for that beach trip. These and more you pack and carry in the beach bag. You will find it the best small cooler, which will hold all the important stuff for the beach trip.

Buy the size that suits you and will serve your needs and those of your family. You can carry beer or other drinks you need for a fun time. This bag will keep the drinks cold

Apart from these being such great beach coolers, each is also fitted with a soft strap. That will make them great travel coolers. It is the best small cooler that you will get to buy. And you can also use this best small cooler in other ways than as your beach cooler bag.

Need a bag to go hunting?

For your hunting needs, we have the camo cooler. These coolers allow you to blend in with the surrounding area. And hide from your game. The camo cooler helps you to blend with the trees where you sit or stand as you hunt. The strap on the camo cooler is also colored to help with your blending with the vegetation around you.

For hunting, you have also the Realtree cooler as another option. The Realtree cooler is very much like the camo and gives you the confidence of feeling hidden. This cooler's camouflage pattern is a great feature for hunting. It is also an insulated bag and is available in three sizes.

You can fold these coolers and store them away like the other soft bags. When you finish your drinks you fold it up and store it. So it is a perfect portable cooler for your hunting trip.


"Want to make the soft cool switch?"
We have looked at the benefits of soft coolers. You now realize that soft is the way to go. You want to dump the hard-sided box coolers! What are the features for which you need to look?
1. Know your cooling needs for your activities. How much space and how many bags will do?
2. Determine if you will need separate sections for both hot and cold stuff. Buy to cater to your needs.
3. Also, what size and texture of the bag you want. You can buy a harder bag that is more rigid or plastic fabric that is softer.
4. You want one that is waterproof and will not leak water in or out.
The soft bags fit present lifestyle activities. They are insulated and durable and are great for all your activities.