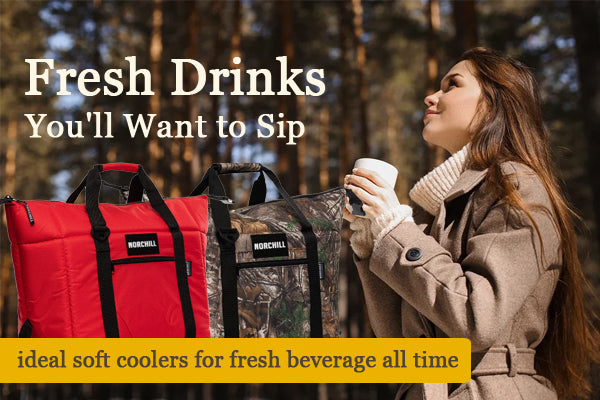 Hard cooler Box
They are also known as iceboxes or ice chests, and they are used to store drinks and food for long periods. The exterior of the hard box is made from plastic, which makes it durable for rough terrains. They are insulated, which keeps the contents of the bag cold for extended periods.
While using a hard one to keep your drinks and food cold for extended periods, you will need to add ice into the bag. Hard boxes have a drain plug that drains the ice once it melts, but some bags do not have it, so you will have to pour out the liquid yourself.
Hard cooler bag has lids that you can open to access the bag's contents. The cover has screws or latches that maintain the cold air inside the bag and prevent warm air from entering the bag.
Soft, cooler bag
These are also known as
soft sided cooler
as they have a soft case made from environmentally friendly material. They are portable and convenient bags that are majorly small and can keep beverages and foods cold.
They have a shoulder strap that allows you to carry the bag with one shoulder. They also have a strap that will enable you to move it by holding it like a duffel bag using your hand to get it out of your car boot.
Why a Soft Cooler
An
insulated cooler
has more beneficial compared to the hard one. The designers can customize them to your needs as per the activities you are partaking in. The bag is suitable for different outdoor activities where you need cold drinks for refreshment.
Whether you are going out camping, fishing, hiking, boating, walking at the beach, traveling, attending a concert, fair or festival, picnic, or attending your children's sporting event or game, the bag is suitable for storing cold drinks and food. You can get a golf cooler bag if you are:
• An
avid golf player
.
• A boat cooler for boating trips.
• A marine cooler for your walks at the beach.
• A
lunch cooler bag
for hikes and sporting activities.
Advantages
1. Portable
Mobility is a huge factor that you must consider when purchasing the bag, as you need to be able to move around without any stress. A portable cooler is intended to easily carry around during your adventure to ensure that you have your drinks and food at any location.
A high-quality portable cooler bag has a shoulder strap and handles that make carrying and unloading easier. You can comfortably take it across your body when you are walking, making the bag perfect for traversing long distances in style such as the
Realtree cooler
.
A
travel cooler
should be light so that you do not get exhausted when carrying it. The best small cooler must be highly portable to serve as a travel cooler. The best small cooler must also be light to allow you to use it as a boat cooler, a golf cooler bag, or a beach cooler bag.
The Realtree cooler is travel-ready as it is portable, which allows you to carry it on every adventure, and it has the best experience. If you need to bring packed lunch, the lunch box cooler keeps your food fresh and relaxed, and you can enjoy your food at any location while on your adventure.
2. Durability
These bags are designed to survive harsh and brutal conditions so that you can use them for various activities. They are made from fabric and materials that can last for a long without tearing and wearing. The boat cooler is made from heavy-duty nylon that ensures it survives the harsh conditions at fishing grounds and boating areas, increasing its longevity.
The bag has strong zippers specially designed to withstand extreme weather conditions and wear and tear during boating, camping, or
fishing trips
. Strong zippers are necessary because they are likely to fail where the bag has weak ones, rendering the bag useless despite being in good condition.
The bag is not made from plastic which means that if the bag falls or hits a solid feature, it will not crack or break. The bag is made out of fabric. There is no crack in case of a fall, so the lid will not be compromised, leaving the contents safe.
3. Colder Items for Long
The bags are insulated through the closed-cell foam that prevents cold air from escaping the interior into the exterior and vice versa. The insulated bag also contains a water-resistant liner that prevents liquids from entering the insulation. The insulated bag is responsible for the low temperatures that maintain your drinks and food at cold temperatures. The insulated cooler keeps in the cold air and prevents hot air from entering.
The cold atmosphere inside the bag is maintained for a more extended period which means that your drinks and food will be cold for longer. If you are a beach lover, the perfect
beach cooler bag
must keep your drinks colder for longer to enjoy them on a hot day in the tropics. The beach cooler bag, most especially, should keep your drinks colder for a long period to keep you refreshed at the beach. A lunch cooler bag is perfect for keeping your packed lunch cooler until you consume it.
4. Stylish
Hard ones are essential with a plastic outer case in one color, unlike the stylish and modern bags available in a ray of colors. The
camo cooler
has more camouflage and style, making it popular for beachgoers, sports fans, anglers, and campers. The stylish factor of the camo cooler makes it more appealing to purchasers.
You have the freedom to purchase it in the colors of your choice as per your taste and preferences. Whether you require a dull color or a bright color, the bag's functionality is not negatively affected. You may prefer bright
colors for boating activities
and light colors for rough activities such as hiking trails.
5. Affordability
The bags are significantly cheaper than hard ones as their cost of production is lower than that of hard ones. When buying the bag, you will spend less and save more.
6. Easy Storage
The bag is collapsible when empty as the bag can be rolled or folded to fit in any storage space when not in use, making it easy to store as it does not remain in its rigid form. Hard ones on the other hand, even when they are not in use, are stored in their strict form and take up a lot of space.
7. Environment friendly
Unlike hard ones made from plastic, soft sided cooler are made from eco-friendly recyclable material. They are made with less plastic which is good because buying them is your contribution toward environmental conservation to keep the planet healthy.
After you have used them for an extended period, they are easier to dispose of as they will not contribute to the environment. A marine cooler is made with high-quality eco-friendly material designed to facilitate a cleaner environment while perfectly serving you for all your adventures.
8. Versatility
The bag carries cold drinks and food for all your outdoor activities. The bag can be used by a family unit or a solo individual for all outdoor activities, including fishing, golf, hiking, and boating. The bag has pouch pockets that provide extra space to carry different bottles and leave enough room for organization.
There are two boxes, the soft and hard which keep your drinks and food cold. Here is a breakdown of why you should purchase a soft cooler box and its advantages.