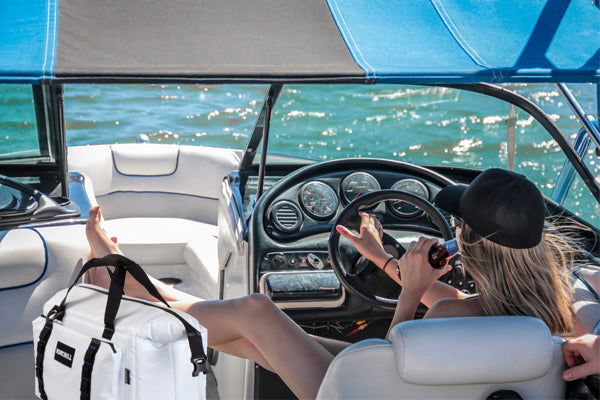 Are you planning to go out this summer and have a refreshing time in the heat? Carry your fridge with you outdoors, and you will experience a perfect adventure anywhere you set your mind. You can use a cooler bag to help you carry all the refrigerator properties you are leaving in the house into the wild. Coolers has a thermostatic effect to aid in the preservation and has heat and cold stuff.
The soft sided cooler also has the inner EPE laminated with a reflective insulating foil to offer a remarkable insulation effect. Manufacturers use top-quality materials to make these products, making them very reliable. Equally important, it is easy to move with, and you can use it for all your outdoor holidays, picnics, and excursions.


The best small cooler has a customized style to suit the needs of the customers. You can get custom made cooler bag that is very fashionable and trendy in style. These appearances are significant and highly sought by people who want to feel more comfortable outdoors by stunning beauty. The bags are also effortless to clean, and you don't have to hassle and enjoy your vacation without struggling with washing them. Being small in size, you can also save a lot of space and carry them anywhere. Furthermore, they are also foldable when not used to create more space for other things you have.

Common Uses of Insulated Cooler Bags

A soft cooler is trendy amongst travelers. They are applicable in many ways and very convenient to keep food and drinks cold and preserved. Travelers hence look for the most reliable insulated bag in the market to experience the best with the soft sided cooler. Ensure your drinks and food retain their temperature when you pack them and use these types of coolers.

To understand their uses, here are some common types of insulated cooler.
Their names also suggest where they are used mostly:
Golf cooler bag
Boat cooler
Marine cooler
Travel cooler
Beach cooler bag
Camo cooler
Realtree cooler
Lunch cooler bag
Therefore, you can use these types of coolers for the following essential activities.

Get Perishable Goods Form the Grocery

Once or twice a week, people are forced to go to groceries to make purchases and shop for the products to use at home. Most groceries' products are always put in refrigerators; hence, they are cold and fresh. It would be best if you also bought them cold to ensure they have been preserved well.
However, carrying anything cold is very comfortable. When something is icy, it is impossible to bring the equivalent feeling of being on fire for a long time. You can get an alternative of carrying your grocery products easily by the use of coolers. They are very convenient for use since plastic bags continue to bring global warming and adverse effects on the climate. It would be best for better sustainable development to stop using plastics and get alternative ferry goods.
The portable cooler is efficient and environmental-friendly to help you preserve your products and keep the earth healthy. For instance, when you have a boat cooler bag, you can buy your products and continue participating in other activities before going back home, and your products would still be fresh.
Sometimes, you can get caught in an extended jam that might last for hours. The only way to get your products home news by refrigerating them on the go.
Now, you don't have to rush to reach home anytime you have to go to a grocery store to get your home products. Some groceries also close when you are still working. Attempt to go early, store your products on a portable cooler, and wait until you return home. It is very convenient to finish your work, go to the salon, or run more errands while your food is still preserved at the right temperature.

A Perfect Fish Box

Fishing is one of the best outdoor activities for most people around the world. It is also therapeutic, and spending time with your loved ones fishing is highly recommended by psychologists. However, fish is very perishable when taken out of the water. When you want to reach home and have a full meal of protein, you should use a cooler to preserve your fish and have them fresh when you arrive home later in the evening.

Get a marine cooler bag and avoid using containers that still needs you to put in ice and other chemicals to store and preserve fish. When you place a fish trap, or go fishing with friends or family, carry the coolers with enough ice. The bag is very portable, and you will not hassle carrying a massive bundle during your fishing trip.

Make your catch and throw the fish into your bag. You can fish all day long, and the fish will be kept fresh until the evening when you will now decide to go back home and cook your fish for a satisfying and delicious protein meal. The insulation effects are not compromised by anything, such as the environment or outside heat. After a long fishing trip, getting fresh fish home is one of the most challenging tasks for most fishers. At last, the secret is out in the open.
These coolers can also be used to carry your bait, keeping it alive until you start your fishing activity. A beach cooler bag is also used the same way.

The Perfect Emergency Freezer

Have you ever had a power blackout and end up losing food that was in your freezer? Most freezers also break down sometimes with no apparent reason leading to food getting spoilt. There is no solution to that, and you have to throw away the food you had worked to get.

When this happens, and you have a golf cooler bag, you will have no stress and throw away your food. You can also save your money to go to the drain if you had to throw away your food. When the fridge breaks down, transfer all the perishable foodstuff to any coolers you have, and preserve your food as you get a new freezer.

Sometimes, you may need to defrost your freezer, and you need a place to preserve your food. A lunch cooler bag is useful to hold your products for a while as you work. You will finish and take them back still fresh.

Convenient for Preparation and Serving Food

The insulated bag is mainly used for two primary purposes: travel cooler bags and beach cooler bags or food storage such as lunch cooler bag and boat cooler bag. However, you can also use coolers to prepare food.

The camo cooler bags have flat lids that you can use when preparing food by cutting any food item. It is also useful when preparing sandwiches. Cooking in the wild or camping, having a camo cooler or a Realtree cooler, is efficient to help food preparation, preservation, and transport.

You can also use the Realtree cooler lid as a plate since it is big enough to serve two grown people. Your campsite is livelier with these coolers around.

Final Words
Coolers are essential in many premises. You can get more customized benefits by using the soft coolers here. Ensure you get them cheaply from the stores and clean them regularly to ensure the food is fresh and doesn't get affected by germs. Get the best small cooler or a variety you prefer. The coolers will make you have peace with your food during shopping or camping.