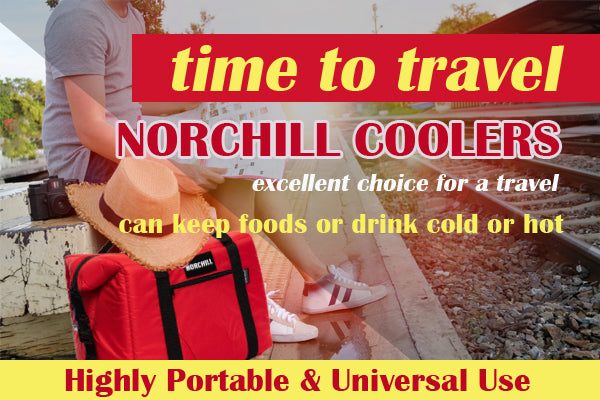 A cooler bag is a highly insulated bag you can use to preserve foods or keep them cold or hot. It is an excellent option for many people because it is easy to carry around while traveling. Also, being fashionable and trendy makes is an excellent choice for a travel cooler.
The soft sided cooler, just like a camo cooler, is an excellent choice for leisure items that you can add to your home. There are many benefits of using it instead of a hard box type. Here are some reasons why you may choose to buy this bag:

Temperature Balance

This insulated bag can keep your food in the right temperatures. That means you are assured that the food you carry will remain at the same temperature for long. The temperature balance feature makes it important to own a lunch cooler bag.

With that, you can prepare food and leave without worrying about visiting a restaurant during lunch hours. It is an excellent choice for you if you go to work every morning and want to save on lunch. Also, it is perfect for adventure if it will not be possible to cook in the woods.

Highly Portable

One great feature of these bags is their portable nature, making them an excellent choice for anyone. It is easy to move around compared to the hard box type. The materials used in making each type are different, and the light materials used in this bag make it a more portable cooler.

Like the camo cooler, you can easily fold this type of refrigerator cum bag and carry it around when empty. Also, taking it for adventure when it is full does not make you feel fatigued as it is lightweight. The flexibility that it comes with is an excellent feature for you if you are looking for a simple yet effective solution.

Unmatched Protection

It is the best way that you can protect anything you are carrying. Most soft sided cooler bags come with a sturdy body that resists any pressure or shock. That means you should not worry about falling or getting hit by any object from the outside. The hardened body ensures that the contents remain in good condition.

Also, it has locks that you can use to seal the bag. That prevents any spillage, thus keeping your food in the bag for as long as you want. These features make it a perfect travel cooler and also an excellent portable cooler for long-distance traveling.

It is Unisex

Gender independency is another reason why you should choose this soft cooler. Primarily, it becomes a suitable bag for the family since anyone can carry it. However, for kids, you may need to choose the best small cooler to move with and experience no problems.

The unisex feature is essential for you if you have some opposite gender users in your home. Therefore, you can consider a realtree cooler over the hard box type that does not look good, especially on ladies. It is fit for a variety of consumers, especially for those working in white-collar jobs.

Budget Friendliness

There are different options that you have when it comes to purchasing this type of soft sided cooler. You can choose depending on the size or the purpose of buying it. For instance, there are different sizes, some of which are best for adults and the best small cooler option, which is great for kids.

Also, the purpose you are buying it for can affect the price you pay for it. For instance, a marine cooler will cost a little bit more than a boat cooler. Therefore, you will not miss one within your budget so long as it serves your purpose correctly.

Reusable

The durability of this insulated bag is unmatched. They last better than the hard box type, and that, coupled with the great choice of material makes them reusable. Therefore, it is perfect for use even long after purchasing it, and that gives you value for your money.

As such, when considering publicity, this insulated cooler should be your go-to option. You can reuse it as many times as you can and also gift it to someone else.
Plastic-Free Materials

When buying a realtree cooler, you want something sturdy that assures you of long-term use. This type is the perfect option you have due to its unique materials. The plastic-free material used in making this soft cooler means that it will not break easily like the hard box type.

This type features materials such as nylon, polyester, and other fabrics. These materials prevent it from wear and tear. Also, these fabrics are waterproof, thus preventing them from soaking and losing their strength. That makes it a great marine cooler, beach cooler bag, or a boat cooler that you can use for years.

Universal Use

The best thing about insulated cooler bags is that you can put them into any use. You do not necessarily need a beach cooler bag when going to the beach. You can use even a golf cooler bag for that purpose since it works perfectly. That makes the bags suitable for universal use.

Also, they can carry anything that you would like to put inside. For example, you can place some cans, cooked foods, bottles, or other perishable and non-perishable things. It is the best way to keep everything that you would like to move safely.

It is Environmentally Friendly

It is also essential that you go for an environmentally friendly item. This type of bag is the best in preserving the environment when compared to the hard box type. Primarily, it supports environmental protection, starting with the materials that the manufacturers use to make it.

As mentioned earlier, this type of bag does not use plastic materials and becomes easy to dispose of when you no longer need it. The nylon materials and other fabrics are natural, thus supporting decomposition. Therefore, this feature makes it a more environmentally friendly option than the hard box type.

Easy to Clean

The soft materials that make the equipment are easy to clean. That is unlike the hard box type that can be a little challenging when cleaning. You only need water and oil to clean the bag with less effort.

The cleaning feature makes it perfect for outdoor activity. You can go with it to the camp or make it a golf cooler bag. You can clean it easily, especially when you do not have cleaning agents. Also, the materials support quick drying as they are fabrics. Besides, the water-resistant feature makes it easy to dry because it does not get into the fabric.

Conclusion

A cooling bag is a perfect accessory for your day to day activities. The main difference between it and a hard box type cooler is that the latter is suitable for holding a ton of food that you won't be moving around with from your house.

Therefore, it is not perfect for activities such as camping and many others that may require moving around from one place to another. A lunch cooler bag is an excellent choice for you if you need something to move around with comfortably.

If you would like something you can fold and store easily or even move with for short and long trips, then a cooler bag will work correctly. The benefits of a cooler bag highlighted in this article will help you decide whether it is a perfect choice. It would be best if you considered the purpose of buying a cooler, and you will find the ideal type.